Found November 24, 2012 on Fox Sports Detroit:
Last week, the Michigan Wolverines debuted a new, exciting offensive scheme. Why didn't they use it against Ohio State? Against Iowa, Devin Gardner spent most of the game at quarterback, with Denard Robinson at his new superback slot. Robinson lined up at running back, slot receiver and took some direct snaps in the shotgun. Robinson was the focus of the Hawkeyes defense on every play, and that allowed Gardner to put six touchdowns on the board -- three running and three passing. Robinson didn't score, but he rushed for almost 100 yards as Michigan had their way with a baffled Iowa defense. This week? Even though a tweaked version of the system worked in the first half, giving Michigan a 21-20 lead, Brady Hoke and offensive coordinator Al Borges junked it in the second half. The results were disastrous. The Wolverines never crossed midfield in the last two quarters, and even though Michigan's defense valiantly held Ohio State to a pair of field goals, that was enough to beat the Wolverines. It didn't become immediately obvious that Michigan was going to go away from what worked last year. Gardner spent a good deal of time at quarterback in the first half and got the team on the board twice. He hit Roy Roundtree for a 75-yard touchdown pass and scored a rushing touchdown to give the Wolverines a 14-10 lead early in the second quarter. Even after Ohio State came back to score, the new Michigan offense got the lead right back. This time, Robinson lined up at quarterback and turned one of his trademark read-option plays into a spectacular 67-yard touchdown run. When the teams came out for the second half, though, everything had changed. Suddenly, Robinson was behind center nearly every time he came in, and the offense became ultra-conservative. Ohio State put nine players in the box, daring Robinson to throw the passes that he and Hoke insisted he could throw. It never happened. Instead, the Wolverines ran time after time into the heart of the Ohio State defense, not even bothering to get Robinson onto the edges where he can do so much damage. It all started on the first drive of the half. Gardner completed a pass to the Michigan 41, but things bogged down from there. Thomas Rawls ran up the middle for one yard before Robinson gained six to make it third-and-3. A week after having such success on third down with Gardner and Robinson on the field together, Borges decided to skip that and ran a simple dive play into the teeth of Ohio State's line. Rawls didn't gain an inch, making it fourth down. After a timeout, Michigan decided to go for it. Now came the Gardner roll out, with the option to pitch to Robinson, right? Or a screen? Or, even, to baffle Ohio State, a quick pass from Robinson to Roundtree, Jeremy Gallon or Drew Dileo? Anything to get the Buckeyes off balance would have been a great plan. Nope. Robinson ran a quarterback draw that was swarmed under by the Buckeyes before he got a full step up-field. He lost two yards on the play, and Michigan never got that close to midfield again. They still had plenty of time. They got the ball five more times, and one touchdown would have been enough to win the game. Unfortunately for the Wolverines, they kept shooting themselves in the foot. Gardner hit Gallon for a 30-yard pass on the first play of the next drive, but Robinson was at quarterback on the next play and fumbled away the ball. With time running out, Hoke and Borges realized that running up the middle wasn't working, so they decided to put Gardner under center and start throwing the ball. That might have been a good plan, had they lined up Robinson in the backfield or in the slot. They did neither and watched the clock run down and a BCS berth vanish with the most explosive player in school history watching from the sidelines. Robinson touched the ball only once in the fourth quarter -- with more than 12 minutes left. Down the stretch, Gardner was turned into a drop-back passer, not even getting to use the play-action roll-out plays that had made him so successful in his previous three starts. All week, Hoke, Borges and his two quarterbacks glowed about the possibilities of having Gardner and Robinson on the field together, especially with another week to practice. They put in new plays, and Gardner even said that he hoped Ohio State hadn't been paying attention to the Iowa game. When Robinson sustained his elbow injury against Nebraska, Hoke and Borges chose to go with Russell Bellomy instead of Gardner -- a decision that cost them any chance of winning the game. Against Ohio State, they seemed equally baffled as to what to with the quarterback position, and the biggest game of the season slipped away. At 8-4 in a down year for the Big Ten, Michigan will still go to a New Year's Day bowl, probably in Florida. Fans, though, will be justified in wondering all winter if it shouldn't have been Indianapolis and Pasadena for the Wolverines in the postseason.
Original Story:
http://www.foxsportsdetroit.com/11/24...
THE BACKYARD
BEST OF MAXIM
RELATED ARTICLES
Michigan Football lost at Ohio State on Saturday by a final score of 26-21. The Wolverines took a 21-20 lead into halftime, but were unable to even penetrate into Ohio State territory in the second half. Michigan received the ball to start the second stanza and seemed ready to punt on a 4th down and 2 from their own 48 yard line. In fact they were ready to punt and had the punt team...
Michigan quarterback Denard Robinson is known to have quite the set of wheels, but his toughness rating jumped to another level Saturday against Ohio State. Robinson, who was running up the field behind some solid blocking, found himself in the middle of a tackling sandwich by two Buckeye defenders, who collided into him with airborne hits from either side. But the joke was on the...
COLUMBUS, Ohio Denard Robinson was a jack of all trades in the first quarter Saturday against Ohio State. Robinson lined up at quarterback in the shotgun formation on Michigans first play from scrimmage, and eluded penetration to gallop for 38 yards around right end. Nicknamed Shoelaces for regularly losing his cleats, which he does not tie, Robinson was true to form on that run...
MAN OF STEEL
Denard Robinson broke this massive 67-yard touchdown run to give Michigan the lead with less than a minute to go in the half.  Shoelace broke through two would be tacklers and then was off to the races and no one came close to him afterwards.  Denard has 124 yards on 6 carries and will look to add to his totals after the half.
This is a scary sight for opposing defenses Michigan vs Ohio State 2012 will kick off at noon on Saturday in Columbus. The game will be televised on ABC/ESPN. For a complete game preview click here: Michigan vs Ohio State. For the Extra Points, read on. Last week Devin Gardner became the first Big Ten player with 3 passing and rushing touchdowns in same game since Indiana's Antwaan...
Brady Hoke joins his "Team" as they enter the field in The Big House by jumping up to touch the Go Blue M Club Supports You banner in one of the country's greatest college football traditions. "THE TEAM, THE TEAM, THE TEAM." If you are a life-long fan of the Michigan Wolverines, you are familiar with those words that highlighted iconic coach Bo Schembechler's legendary...
Michigan coach Brady Hoke says he expects junior Devin Gardner to get a fifth year of eligibility. Hoke says documentation for Gardner's medical-redshirt request is being sent to the Big Ten. Gardner started the last four games of the regular season at quarterback. He was limited to three games as a freshman at least in part because of a back injury. If a medical hardship is...
Michigan coach Brady Hoke says he expects junior Devin Gardner to get a fifth year of eligibility. Hoke says documentation for Gardner's medical-redshirt request is being sent to the Big Ten. Gardner started the past four games at quarterback. He was limited to three games as a freshman at least in part because of a back injury. If a medical hardship is granted, Gardner will...
He ran to his right, cut upfield, shrugged off a sandwich by two defenders at the 45, and sprinted to the end zone to give Michigan a 21-17 lead just before the half. It was the stuff of legends – the senior Denard Robinson making a highlight-reel play in the game's biggest rivalry. It capped an impressive first half for the Michigan offense that was matching Ohio State punch...
The Ohio State State Buckeyes are 11-0 and will look to remain undefeated against the Michigan Wolverines today. The two teams will play today at noon EST at Ohio Sadium. The game can be seen on ABC. The over/under for the game between Michigan and Ohio State is 53.5 points. Ohio State is a 4 point favorite. While Ohio State is undefeated they are banned from post season play so...
The Ohio State Buckeyes are undefeated, yet will go un rewarded this season. No shot at a BCS national championship and no opportunity to play in the Big Ten championship game. But for one afternoon in November none of that mattered. A win in The Game againt the rival from the north is the only thing that mattered to the Buckeyes on Saturday. With the ______SCORE_____ victory...
Last week, Matt captured his third prediction victory of the year with his 41-13 pick. Katie and Justin were both close as well, while Sam had his worst pick of the season. This week is the big one, the one we've all been waiting for since Michigan beat the Buckeyes a year ago. Ohio State is favored and looking for an undefeated season, while Michigan is still hoping to keep its...
Wolverines News

Delivered to your inbox

You'll also receive Yardbarker's daily Top 10, featuring the best sports stories from around the web. Customize your newsletter to get articles on your favorite sports and teams. And the best part? It's free!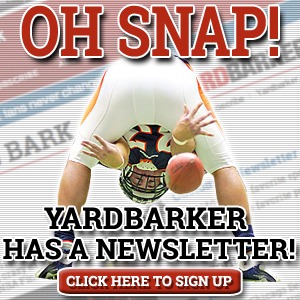 Latest Rumors
The Backyard

Today's Best Stuff

For Bloggers

Join the Yardbarker Network for more promotion, traffic, and money.

Company Info

Help

What is Yardbarker?

Yardbarker is the largest network of sports blogs and pro athlete blogs on the web. This site is the hub of the Yardbarker Network, where our editors and algorithms curate the best sports content from our network and beyond.