Found June 24, 2013 on Fox Sports South:
The drills might look the same, but the atmosphere couldnt be more different. Hollywood often portrays Army training in the same light as football tryouts. The movies show recruits running sprints or grinding their way through obstacle courses with a hail of encouraging cheers coming from their teammates and drill instructors who yell at them to keep pushing. In reality, the Darby Queen obstacle course at Fort Benning, Ga., home of the Rangers and the Army Airborne School, is as quiet as a library. Recruits scurry over walls, shimmy over logs, hop along a maze of stumps, and climb up 20 feet of rope to a wooden platform without so much as an audible grunt. The only sounds are the chirping of birds and the occasional whispered, Come on, from their fellow soldiers. It is the antithesis of the rah-rah football field with whistles and cheers and the constant banter of athletes bonding as a team. If you think about it for longer than the length of a scene from Full Metal Jacket you realize that this is by design. Todays soldier approaches by stealth and strikes before the enemy knows he is there, while todays football player relishes in his role as an entertainer, the well-paid star of a reality show where everything but the outcome is scripted in advance. Glen Coffee, the former Alabama Crimson Tide and San Francisco 49ers running back, knows both those worlds. He rejected one in favor of the other. I am not an entertainer, Coffee told the Sacramento Bee after his sudden, unexpected retirement from the NFL in August 2010 after only one season. I see football as being the same as being a singer, being a dancer or something along those lines. When we fill out our W2s, we're in that category of entertainers. That's not me. I want to be doing something to better myself, to better someone else. Glen Coffee is not an entertainer. No, as of last Friday, Glen Coffee is now an Airborne qualified solider in the United States Army with hopes of becoming a member of the elite Special Forces, often referred to by civilians as the Green Berets. I've always considered myself a warrior, somebody who would fight for what he believed in, Coffee told al.com. It hit me like, What do you think the military does? What do you think the military is full of? Warriors. All of a sudden, I had this respect for the military, and I just realized that there is no America without the men and women who serve this country. I figured that if I'm able, the Lord has blessed me with an able body while I'm young, to get out there and get dirty. Getting dirty in Airborne school meant walking away from a four-year, 2,578,250 contract with the 49ers that included a 828,250 signing bonus. An E-4 Specialist or corporal in the Army makes 25,480 a year. The last man to give up a rich NFL career to become a soldier was Pat Tillman, who walked away from the Arizona Cardinals to become an Army Ranger in June 2002. Tillman was killed by friendly fire on April 22, 2004, in Sperah, Afghanistan. He was 27. Coffee had to go through standard Army basic training before attending a three-week jump school where he was first hoisted on a cable to the top of a 250-foot jump tower that erupts above the Georgia pines near the Ranger Memorial and Bennings parade grounds. Once Coffee, along with his chute and 35 pounds of gear, reached the top of the tower, a voice over a loudspeaker gave him a three-second countdown before he was cut loose to float back to earth. No NFL defense ever looked so terrifying. In the final week of Airborne training, Coffee and his classmates jumped from the back of a C-130 flying at 130 miles an hour 1,200 feet above the Fryer Drop Zone. Like all soldiers who become Airborne qualified, Coffee had to make five successful jumps, including one in the dead of night. After Fort Benning Coffee will embark on another 60 weeks of training in something called the Special Forces Qualification Course or Q Course that starts with intense, long-distance land navigation training in the hills of North Carolina. There he will be required to get himself and his gear, alone, from one point to another across treacherous terrain in adverse conditions and in a short amount of time. If he succeeds, the training will get only tougher from there. Why would he do it? Why would a third-round NFL draft pick, a man whose name is still uttered with reverence by Crimson Tide fans everywhere, give it all up to lace up tan boots, jump out of planes, and spend the better part of two years training to serve in the U.S. Army for less money per year than the lowest-paid NFL player makes in a month? I know my motivation and I know my focus, Coffee told al.com. I just felt like being in an elite unit would pretty much weed out anybody who didn't have the drive and focus that I believe I have. I feel like if I make it in Special Forces, that guy to my left and my right is somebody I could depend on with my life and vice versa. In the words of Gen. George S. Patton, We should thank God that such men lived.
Original Story:
http://www.foxsportssouth.com/college...
THE BACKYARD
BEST OF MAXIM
RELATED ARTICLES
The drills might look the same, but the atmosphere couldnt be more different. Hollywood often portrays Army training in the same light as football tryouts. The movies show recruits running sprints or grinding their way through obstacle courses with a hail of encouraging cheers coming from their teammates and drill instructors who yell at them to keep pushing. In reality, the...
RIP
Alabama fan Dick Coffee attended 781 consecutive Crimson Tide games—home and away—since 1946, good for the second highest attendance record streak ever.
Alabama superfan Dick Coffee, who attended 781 consecutive Crimson Tide football games, has died at 91. "He was a great American and a great Alabama fan," friend Oakley Melton, 85, told The Birmingham News. "There's never been anyone greater. He would go if it was raining, snowing, sleeting. Dick Coffee would be there, and his record was unblemished." Coffee...
NFL players are known for the bad things they do- or should I say "allegedly" do.  I.e. Ocho Cinco, Ray Lewis, Aaron Hernandez, OJ Simpson (the list could go on for while). When someone leaves Tuscaloosa to go on to bigger and better things, the perfect hope is that one day they will return and give back to the town that shaped them into the success they have become. In a town...
Coffee didn't miss a 'Bama game from 1946-2013. (Photo: ABC 33/40 Birmingham) Some fans, many not actually graduates from the schools that they support, claim to be diehards. Some may attend every home game, or every "big game," but eventually miss the action in person once or twice. Alabama fan Dick Coffee was unlike any other fan. He attended 781 consecutive...
Dick Coffee, who attended 781 consecutive Alabama Crimson Tide games and 51 consecutive bowl games, passed away at the age of 91.
Expectations are high for the defending BCS champion Alabama Crimson Tide in 2013, naturally. Popular sports book 5Dimes has set the bar high as well, putting Alabama down for an over-under of 11.5 wins this season. Considering many expect Alabama to play 14 games with a trip to the SEC Championship Game and a bowl game, that may seem like a safe bet to many. 5Dimes released...
No one expects an amateur golfer to win a PGA event. Alabama golfer Justin Thomas is not only an amateur, he is very young, only an upcoming junior for the Crimson Tide. Nevertheless, Thomas had a very solid performance in the PGA Travelers Championship at TPC River Highlands in Cromwell, Conn.
Cardinals News

Delivered to your inbox

You'll also receive Yardbarker's daily Top 10, featuring the best sports stories from around the web. Customize your newsletter to get articles on your favorite sports and teams. And the best part? It's free!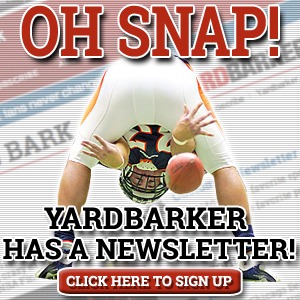 Latest Rumors
The Backyard

Today's Best Stuff

For Bloggers

Join the Yardbarker Network for more promotion, traffic, and money.

Company Info

Help

What is Yardbarker?

Yardbarker is the largest network of sports blogs and pro athlete blogs on the web. This site is the hub of the Yardbarker Network, where our editors and algorithms curate the best sports content from our network and beyond.