Found February 25, 2013 on NFL Draft Zone:
There is simply not alot that needs to be said about Connecticut linebacker Sio Moore in terms of telling you why you should be reading this. Since the end of his senior season, Moore finally began receiving the credit he had always deserved. First came an invite to the East/West Shrine All Star Game, followed up by a late Senior Bowl invite where he opened up eyes to the extent that he was unanimously considered one of the overall biggest risers from that week of practice. Moore now competes in the Combine in Indianapolis where he looks to move his draft stock into the first 32 picks. An All-Conference LB with a perfect build, Moore is always around the ball, and logged 15.5 tackles for loss as a senior for the Huskies. It was my pleasure to interview Sio for NFL Draft Zone. Shaun DePasquale: Thank you for taking the time to speak with me today Sio. Can you tell me where you're training for the NFL Draft? Sio Moore: I'm currently down in Pensacola Florida training for the draft. I'm enjoying the weather the work and the process down here it's been amazing. SD: What do you feel are your strengths and weaknesses (things you may need to work on)? SM: I'm an all around player. Going to UConn our coaches worked to have us be players who were students of the game off the field and players who were versatile on. I feel like I play with my hands well and I have a nose for the football. I'm a football player before I'm anything. I know how to play ball and play the right way. Playing the position of linebacker now, the fundamentals and technique required to play that position is always an ongoing work in progress. You have to be a student, continuously work with you hands, feet, shoulders, hips, and tackling. All the facets of the game have to be improved on everyday. If you want to be great. If there were any weaknesses I have my coaches have worked with me at Uconn to make them my strengths. SD: How do you feel your time at UCONN helped you prepare for the NFL? SM: My time at Uconn was everything to me. Having Coach Randy Edsall and position coach Todd Orlando and Coach Lyndon Johnson and strength Coach Wilson was vital to me. They laid the ground work for me early in my career on how to be a good player and how to make yourself a good ball player before even stepping on the field. Then in my later years, Coach P, our current head coach, Coach Wholley our linebacker coach, and Coach Brown our D Coordinator really helped elevate my game to a new point of versatility as well fundamentals to be able to play anywhere on the field and not skip a beat. I am a product of my program and the amazing coaches its provided throughout the years. They focus on the person before the player. If you make the person better naturally you the player will become better. Football is life. You have to be reliable, accountable, and trustworthy. After these things are understood a FOOTBALL player is born. SD: What was the East/West Shrine & Senior Bowl experiences like for you? SM: The experience playing in the two bowl games was great. I got to work with a great position coach in Coach Willis and head coach Jerry Glanville. The competition was great and I'm glad I was able to play with those guys and showcase what I'm able to provide on and off the field. The senior bowl was another great experience for me. Being able to work hands on with Coach Dennis Allen and linebacker and D coordinator coach Tarver was amazing. They allowed me to come in there in the middle of the week and let it fly. I had a point to prove going out there that I'm an elite player and can make plays in any part of the field and I'm happy I was once again able to bring energy leadership and a good game out to prove to people and teams that I'm one of the good players coming out of Uconn this year. SD: Have you received any feedback from NFL scouts? SM: I have not received much from NFL scouts at this point in time but going into the combine I hope so. SD: What position or schemes do you feel you fit best? SM: Being at Uconn and learning to play the position of linebacker with the right attitude, fundamentals and technique, I'm able to play in any scheme. I know how to slide over the top beat double teams and read over the three technique in a 4-3 and I also know how to use my hands and punch gaps and play with leverage in a 3-4. As I said I'm a football player. You have to be able to adapt. My coaches at Uconn have taught me to do so and be a guy that does not need to come out the game and has the ability to play in whatever package we have. SD: What has been your greatest accomplishment, athletically or personally ? SM: Personally my greatest accomplishment is the point I'm at today with myself and my life but these things aren't accomplished until I make the most of these opportunities and have a finished product at the end of the day that doesn't just reflect me but Inspires, motivates, and helps other that may come after me. That's life man. Being able to help pave the way for the people behind you coming up. SD: If you could have dinner with any 3 people, living or otherwise, who would they be and why? SM: If I could have dinner with 3 people right now, I'd be sitting with Martin Luther King. You talk about one of the greatest leaders, speakers, and human beings of all time. If you ever have the opportunity to speak with someone like that for just 5 minutes you become a greater person. My second would be Ray Lewis. You talk about heart, soul, passion, determination, and a fearless man? I need to know everything he knows in the course of dinner and ask him if I can just shadow him for a while too. The third would be my brother and Teammate Jasper Howard who was taken from us on October 18, 2009. Talk about a man playing each play like its the last and making life better for his family. I'd love to see home again. SD: What player growing up did you most admire and model your game after? SM: As I started to watch the game more and more Ray Lewis was and still is my favorite player in the game. He's everything you want in the leader of your defense and team. SD: What message would you like to send to NFL teams about Sio Moore? SM: The message I will send to teams will be provided by my character my leadership abilities my work ethic and my knowledge, understanding, and desire to great. SD: Last question, what would be your first purchase with an NFL paycheck? SM: I couldn't even tell you what my first purchase would be right now. I'm so focused in the process itself right now, that's not what I'm worried about. SD: Thank you so much for your time Sio. Good luck in your journey! Please give Sio a hello and a follow on Twitter @MrUconn3. You can follow me on Twitter @ShaunDePasquale
Original Story:
http://feedproxy.google.com/~r/nfldra...
THE BACKYARD
BEST OF MAXIM
RELATED ARTICLES
A UConn football player remains hospitalized after being involved in a car crash Saturday morning near the University of New Hampshire campus. Senior running back Martin Hyppolite was reportedly riding in the passenger side of a car that struck another along Route 4 in Durham, N.H. The driver of the other vehicle, 74-year-old Bruce Larson, was pronounced dead at the scene while...
During the 2013 NFL Combine, former UConn Huskies defensive end Trevardo Williams clocked a 4.57 40-yard dash. It turned out to be the fastest among all the defensive lineman at the combine. He also did it on an injured ankle that caused him to be replaced at the 2013 Senior Bowl, ironically enough by his teammate Sio Moore. Williams...
Huskies News

Delivered to your inbox

You'll also receive Yardbarker's daily Top 10, featuring the best sports stories from around the web. Customize your newsletter to get articles on your favorite sports and teams. And the best part? It's free!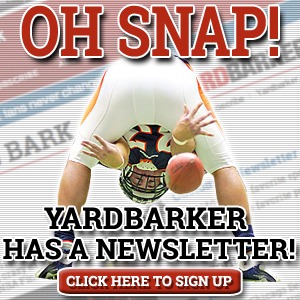 Latest Rumors
The Backyard

Today's Best Stuff

For Bloggers

Join the Yardbarker Network for more promotion, traffic, and money.

Company Info

Help

What is Yardbarker?

Yardbarker is the largest network of sports blogs and pro athlete blogs on the web. This site is the hub of the Yardbarker Network, where our editors and algorithms curate the best sports content from our network and beyond.