Found November 02, 2011 on College Football Zealots:
Fresh off of it's victory over the rival Florida Gators this weekend, the Georgia Bulldogs got some bad news this week. Second leading rusher, Richard Samuel (240 yds and 1 TD), underwent surgery Tuesday morning to repair ligament damage in his left ankle. Samuel's story has been well documented on this site and it's a shame that coming off of his biggest moment as a Bulldog that he has sustained a season-ending injury (depending on rehab Samuel might be able to play in any games the Dawgs play after the regular season). To add to the RB depth chart woes came the news that three (yes, three) Georgia Running Backs were suspended for "violation of team rules" and will all serve a one-game suspension this week against New Mexico State. Speculation has been rampant that it was a failed drug test that is behind the suspension for these players. ESPN has gone as far as to quote a source that the suspensions are indeed drug related. Obviously, this is yet another black eye on what has been a tough couple of years for the University of Georgia in regards to the discipline of their football team. But in all honesty, we are dealing with 18-20 year old kids here and 18-20 years old do a lot of stupid things (think back to when you were this age and how many things you can't believe you did or took part in). How many 18-20 year old kids do you think have tried or use drugs "socially" or "recreationally". I think the percentage is probably a lot higher than you think. I'm not condoning the actions of these players as they should have thought about the repercussions before acting. What the Georgia football players need to realize is that they are under a microscope when they play for a University as large as Georgia and that they are held to a much higher standard than other people their age. Maybe the most surprising aspect of this is that LSU just got done suspending a few players for the same thing so you would have thought that this would have been a pretty large discussion point and that the players would have made a better decision. Much like the LSU issue (which has largely gone away) will be forgotten with time if these players keep their heads on straight from here on out. One interesting thing that you can also look at is the inconsistencies of drug policies around college football. While a first failed test gets you suspended for 10% of games at Georgia, the only other SEC school you would get a mandatory suspension is Kentucky. Something does need to be done about this. This is something that should be be uniform across the NCAA whatever the penalty may be. In terms of short term impact, Georgia is now without Isaiah Crowell (689 yds rushing, 4 TDs), Carlton Thomas (200 yds, 2 TD) and Ken Malcome (1 carry on the year). The biggest disappointment besides Crowell (who is a budding star) has to be Ken Malcome. He was touted as a pretty good recruit when he came to campus but has struggled to get on the field and has been stuck behind Crowell, Samuel, Thomas and Brandon Harten on the depth chart. This would have been a great shot for him to show what he could do in game action. Instead of turning to Ken "Boo" Malcome, the Dawgs will turn to 5'7" Brandon Harten as their starting RB this weekend against New Mexico State. Harten has 11 carries for 33 yards on the year. Mike Bobo says the back-up will be Kyle Karempelis, a walk-on I had not heard of before this happened. One interesting fact is that Karempelis rolled up over 5,700 yards and 93 TDs in his High School career. In addition to those two I expect FB Zander Ogletree to slide down and take some carries with big Bruce Figgins leading the way. If those three are unsuccessful then expect to see some defensive players like Branden Smith and Nick Marshall take some snaps at RB (Smith will probably get some P/T at RB regardless of the success of the other players).
Original Story:
http://www.collegefootballzealots.com...
THE BACKYARD
BEST OF MAXIM
RELATED ARTICLES
And the hits just keep on coming for the Georgia Bulldogs. Earlier today UGA announced that running backs Isaiah Crowell and Carlton Thomas, the team's leading and third-leading rushers, respectively, as well as fellow RB Ken Malcome have been suspended for the New Mexico State game Saturday.  That news came on the heels of Richard Samuel, UGA's…
It didn't take long in Athens for things to come fall back to reality  after Georgia's rare victory against Florida at the World's Largest Outdoor (Censored by Dr. Michael Adams). Three Bulldog running backs, including freshman sensation Isaiah Crowell, have been suspended for violating unspecified team rules. "Georgia running backs Isaiah Crowell, Carlton...
How much stock can you put into the following quote by Georgia linebacker, Jarvis Jones, in response to his current NFL aspirations, "I'm going to be here as long as I can. I love the university. I love the guys here. I love being in Athens. Most of all, school is going to come first. I love my coaches and right now, I don't think I'm ready to play in the NFL...
Georgia outside linebacker Jarvis Jones has a simple formula for his success this season. Relentless determination. ''I'm not fast. I'm not strong,'' Jones said. ''I'm really not. People think I am, but I'm really not. I'm going to come at you the same way every time. I'm going to give you everything I've got every play, and if...
ATHENS - Isaiah Crowell is on pace to become just the fourth Georgia running back in the last 20 years to top 1,000 yards rushing.
ATHENS, Ga. (AP) -- Two people familiar with the results say Isaiah Crowell and two other Georgia tailbacks were suspended for Saturday's game against New Mexico State after failing drug tests administered last week.
Georgia Bulldogs running backs Isaiah Crowell, Carlton Thomas and Ken Malcome will be suspended for the Bulldogs' game against New Mexico State game on Saturday, coach Mark Richt confirmed.
Did Georgia's cocktail party triumph over Florida give Mark Richt and the Bulldogs a recruiting boost? Rivals.com's Keith Niebuhr breaks it down in the Southeast recruiting mailbag.
ATHENS, Ga. (AP) -- Isaiah Crowell and two other Georgia running backs have been suspended for Saturday's game against New Mexico State for unspecified violations of team rules.
Bulldogs News

Delivered to your inbox

You'll also receive Yardbarker's daily Top 10, featuring the best sports stories from around the web. Customize your newsletter to get articles on your favorite sports and teams. And the best part? It's free!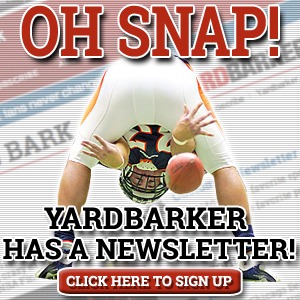 Latest Rumors
Best of Yardbarker

Today's Best Stuff

For Bloggers

Join the Yardbarker Network for more promotion, traffic, and money.

Company Info

Help

What is Yardbarker?

Yardbarker is the largest network of sports blogs and pro athlete blogs on the web. This site is the hub of the Yardbarker Network, where our editors and algorithms curate the best sports content from our network and beyond.