Found November 17, 2012 on NorthWest Sports Beat:
Turning the corner? University of Washington Huskies fans have been waiting all year long for a game like this from QB Keith Price. It was presumed that after last year, Price would be one of the top QB's in the nation in 2012, but that just hasn't been the case. Some speculate that we haven't seen last years form because of all of the roster moves and shakeups that have been occurring since the offseason, but one would ask, why now then? At least I do. Why all of a sudden do we see the best game out of Price all year on the third from last regular season game? At this point, I couldn't tell you why, but all I know is I'm glad it came when it did. We now have rolled off three in a row, and with only Colorado, and Washington State remaining, the Dawgs could very easily win the last 5 games of the year. A major upswing heading into the bowl season. But enough about that, let's take a look back at what now has become Keith Price's best game of the year. Coach Sark finally has Keith Price back to his old self Getting it done in the air Price wasn't perfect by any means on Saturday night, but he was effective. No interceptions were thrown, which have been Price's Achilles heel this year. With part of the reason his numbers haven't been where they were thought to be this year being that the Huskies have found a suitable replacement for Chris Polk in Bishop Sankey, Price still has been forcing balls into coverage that is just too tight. The passing game will always be a huge part of the Huskies offense, just look at all the past great QB's that have worn the purple and gold, but with a beast in the backfield like Sankey, it takes some of the pressure off the QB. Or that should be the case at least. Whatever happened in the past, is just that, in the past. If we can see this sort of output from Price in the remaining two games, and the bowl game, then his season will not be considered a failure. I think he has finally broken the chains, and feels confident once again. Two TD games are not great in the NCAA world, but when you add a rushing TD to that as well, then you have to start paying attention. Strong finish is a must With the exception of the win vs. Portland State, the Huskies limped to the finish line in every other win leading up to the offensive explosion on Saturday night. Sure you can't expect to blow out ranked teams like Stanford, and Oregon State, but we should expect to score 22 plus points more than twice in a year as well. Price's 277 yard game against Utah is a start to an easy finish for the Dawgs. A finish to the season that us fans are expecting to win out. With Bishop Sankey rolling through the toughest of tough defenses in the Pac-12 all year so far, the next two games shouldn't be a problem for him either. But this piece is about Price, and I think he will be steamrolling through the Buffs and Cuagars defenses too. Saturday morning we will see if last week was just a fluke, or if the 2012 version of Keith Price is back to his 2011 form. CLICK HERE TO CHECK OUT THE HUSKIES CLUBHOUSE PAGE AT NWSPORTSBEAT!
Original Story:
http://www.nwsportsbeat.com/washingto...
THE BACKYARD
BEST OF MAXIM
RELATED ARTICLES
Keith Price threw a career-best five touchdown passes and Washington overcame a slow start to whip hapless Colorado 38-3 on Saturday for the Huskies' fourth straight win. Bishop Sankey atoned for a first-half fumble at the 1 by running through Colorado's defense for 139 yards and collecting 48 more on four receptions as the Huskies (7-4, 5-3 Pac-10) won consecutive road...
(Boulder, Co.) - Keith Price threw a career-best five touchdown passes and Washington overcame a slow start to whip hapless Colorado 38-3 on Saturday for the Huskies' fourth straight win.
According to everyone weighing in on the Washington Huskies and Colorado Buffaloes game this Saturday,  the Huskies should have this game in the palm of their hands.  With the college betting odds putting the Buffaloes at a +21 point spread, however, covering the game may be harder than they think.  Colorado has not played well at all this year, but it remains to be seen if they...
Head Scratcher Ask 10, 50 100, or maybe even a thousand people and chances are slim that any of them would know a single thing about the Great Danes of Albany, let alone where the University of Albany is. On Tuesday evening, the Great Danes opened eyes of NCAA fans and Huskies faithful with a 63-62 upset of the Washington Huskies, a PAC-12 team, at Alaska Airlines Arena. Was it...
Things are looking up for the Husky Men's Basketball Team. Just a couple days after officially landing Darin Johnson on the first day of the early signing period, the Dawgs locked up Nigel Williams-Goss as well. According to a blog post from Percy Allen, Williams-Goss is ranked anywhere from #39 to #47 by the national recruiting services. His coach at Findlay Prep in Nevada called...
Initial (Over)Reactions Washington fans got to see just about every side of the Husky's tonight. UW, despite playing only seven guys, finished with a gutsy 84-73 win in overtime against a streaky Big East foe. The Huskies raced out to a big lead with a 17-0 run in the first eight minutes, aided by 8 points and 2 assists by a very confident Abdul Gaddy during Washington outburst...
Huskies News

Delivered to your inbox

You'll also receive Yardbarker's daily Top 10, featuring the best sports stories from around the web. Customize your newsletter to get articles on your favorite sports and teams. And the best part? It's free!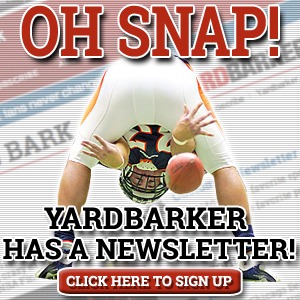 Latest Rumors
Best of Yardbarker

Today's Best Stuff

For Bloggers

Join the Yardbarker Network for more promotion, traffic, and money.

Company Info

Help

What is Yardbarker?

Yardbarker is the largest network of sports blogs and pro athlete blogs on the web. This site is the hub of the Yardbarker Network, where our editors and algorithms curate the best sports content from our network and beyond.