Found January 06, 2013 on Fox Sports:
I am already dreading the movie that will surely be made about Notre Dame if it beats Alabama on Monday night in the BCS title game. In these Notre Dame movies, literary license means pouring on the sweetener until it's pure sap. There will be the touching moment in the Pittsburgh game when coach Brian Kelly (played by Jack Black or the pudgy guy on Modern Family) sagely takes young quarterback Everett Golson out of the game in a teaching moment. Golson looks lost on the sideline. But then, with the game slipping away, Kelly wisely puts Golson back in. Golson completes the big pass and wins in triple overtime. It was the moment that Golson became a man, the moment Notre Dame knew its magic was back. That actually isn't far from how the moment is already being portrayed by the media and by Kelly himself. It is the moment that supposedly turned Golson into a star quarterback. The truth is that Kelly wasn't looking to teach, but only to get a failing QB out of the game. When the backup was worse, he desperately went back to Golson, who did play well. And Notre Dame would have lost if Pitt hadn't missed a short field goal. I went to plenty of Notre Dame games this season, and, as usual, the truth was much more interesting, and grittier, than the fiction that already is becoming the narrative. Kelly has had a big hand in developing Golson, who drove him crazy early in the year. Golson is not a star yet, no matter how many times ESPN and others want to suggest he is. He's good now, though. The Kelly-Golson, coach-quarterback relationship, and Golson's development has been a great example of how Kelly has led Notre Dame's resurgence and rebuilt its mystique. You're going to hear a lot Monday night about Horsemen and Rudy and Rockne and the Gipper. Just count on it. Tolerate it. The Gipper story isn't exactly as you've been told. And several of Rudy's former teammates barely recognize that story. Robin Weber, former Rudy teammate, told me it was 90 percent fiction. This season will be plugged into those things. The truth is that Kelly has turned things around in his first few years by changing the attitude, adding to the program the spine it was missing under Charlie Weis. It's a blood-and-guts thing. Kelly also knows that college football is all about player development, while Weis thought it was about coaching genius. This year's team used that toughness to build confidence, but also spent the first half of the year hiding Golson. It has a historically great front seven on defense, but got lucky against Pitt (missed field goal) and Stanford (friendly officials). And Golson went from the sure fatal flaw to a solid, dependable player. The year wasn't easy. It wasn't smooth. But the season started with a game in Dublin, led by an Irish coach. It also had players arrested and suspended and accused. And the movie probably won't mention Declan Sullivan, the videographer killed on the scissor lift in practice a few years ago, when coaches allowed him to stay up there in dangerous winds. This team is very real with very real problems that can leave you uncomfortable. Kelly is real and human, too, with real leadership and real mistakes. On Saturday, he talked about his time at Assumption College, a Division II program with no scholarships. "I remember having to take my car, turn the lights on so we could paint the field Friday night before the Saturday game,'' he said at Sun Life Stadium, while workers painted Notre Dame's name in the end zone behind him. "The coaches did that. All of those experiences help formulate who you are today.'' Kelly seems to remember where he came from, whereas Weis thought he came from NFL heaven. And maybe that's a lead Notre Dame's players are following. Kelly came to Notre Dame with the reputation as an offensive genius and quarterback-builder. That's why it was so curious early this season when Notre Dame was living on a great defense with no quarterback. Kelly took Golson out during the first two home games. Golson also got hurt in a game, and missed another one with a concussion. Kelly then took him out during the Pitt game, too. The truth is that while Kelly was trying to turn Golson, a second-year player, into a player, Golson was driving Kelly absolutely nuts. Offensive coordinator Chuck Martin said times have changed in the past 10, 15 years, where coaches now feel they should use young players right away, rather than letting them develop slowly. Why? Because coaches get fired faster now and there's no point to developing "a guy now, so the next coach can play him later.'' Golson's growing pains were obvious. Despite the strange portrayal that he's a running quarterback, he actually is a passing QB. He doesn't run particularly fast, but does avoid tackles. Kelly and Martin kept trying to get him to run on occasion, but Golson is always looking to pass. On Saturday, Golson said he felt he had learned from all of his adversity, specifically all the times he was benched. But he did admit that at the time, it frustrated him, angered him. Especially at the Michigan game. He said teammates would come over to him to calm him down, console him. "He'd get down, frustrated,'' Martin said. "I'd say, `If you're NOT upset, I've got issues. If you're not looking at me with disdain, I've got issues.'' Kelly was not babying Golson along. He was just going with whichever player was better, Golson or Tommy Rees. But it also wasn't about a teaching moment. In the Pitt game, Kelly took Golson out, but then Rees was worse. So Kelly was desperate. And Golson had kept his poise. It's part of the spine and toughness Kelly has instilled in the team. Golson answered. And he calmed down, finally, for the Oklahoma game. It was the first time, Martin said, that Golson looked comfortable. But even then, Golson said, linebacker Manti Te'o was trying to comfort him. "We came in at halftime, and I can remember him coming over to me and was like, `We got you,' '' Golson said. " `We're going to take care of our part (on defense). We got you. Whatever you do, we got you.' '' Since then, Golson has become a good quarterback. Not great. Good. He has shown the toughness that it took to deal with being benched over and over. He also is loaded with talent, if not experience. But Kelly will still pull him Monday if he doesn't play well. Imagine Rees coming in to save the day. Not sure who would play him in the movie.
Original Story:
http://msn.foxsports.com/cfb/story/no...
THE BACKYARD
BEST OF MAXIM
RELATED ARTICLES
Can Manti Te'o lead the Irish to their first National Championship since 1988? This is the moment Notre Dame football fans, alumni, players, and students have been waiting for. 24 years since Lou Holtz won the Irish's last National Championship, and here they stand once again, on the verge of their official Return to Glory in the BCS National Championship Game against Nick Saban...
When Everett Golson sees a piano, he usually sits down and starts entertaining. He plays several instruments, keeps a keyboard in his room and loves to sing. Music is a huge part of his life, perhaps only topped by basketball. And in Golson's spare time, he plays quarterback for Notre Dame. ''He's pretty good at his hobby,'' Notre Dame offensive coordinator...
FORT LAUDERDALE, Fla. Everett Golson lacks the catchy nickname and Heisman Trophy of fellow redshirt freshman Johnny Manziel. But in terms of style, Golson resembles the only quarterback to defeat Alabama this season athletic, quick, a strong arm, ability to scramble. There are a lot of similarities, said Crimson Tide coordinator Kirby Smart, whose defense was frustrated by Johnny...
NOTEBOOK: After Texas A&M's scrambler Johnny Manziel got the best of Alabama, the Crimson Tide has vowed to make sure that they don't make the same mistakes against Notre Dame's mobile quarterback Everett Golson.
We could go in a lot of different directions in the lead-up to Monday night's BCS National Championship Game here at Crystal Ball Run. We could talk about the battle in the trenches between Alabama's offensive line and Notre Dame's defensive line or how Nick Saban plans on to defend Irish quarterback Everett Golson. The problem is you don't want to talk about any of...
#1 Notre Dame (12-0) v. #2 Alabama (12-1) The BCS National Championship Game Sun Life Stadium - Miami, FL - 8:00 PM EST on ESPN This is really going to happen. Irish fans have wallowed in and out of sincere doubt for years over whether this opportunity for a championship would ever come again. The university's balance between academics and elite football in...
(Eds: Adds details. With AP Photos.) By TIM REYNOLDS AP Sports Writer Luck of the Irish. For starters, it's a misleading phrase, in that most historians would tell you Irish luck is not necessarily a good thing. No matter - No. 1 Notre Dame enjoyed its share of fortunate breaks on its way to the BCS title game, with perhaps the bulk of those coming during a wild, wacky, marathon...
Welcome to the Anti-Preview on Subway Domer! Friends, I'm going to cut through the ********. This post was already written and then lost (always the ******* Anti-Preview) so I'm going to fly through this like a boss. Don't worry, don't worry... the good stuff will still be in here. For more blah, blah, blah, there will be an article in Huffington Post soon.  ...
Tonight, the Fighting Irish of Notre Dame will attempt to prove that their 12-0 record and No. 1 rankings are no fluke against what could be the makings of a dynasty in the second-ranked Alabama Crimson Tide. WHAT: BCS National Championship game WHO: Notre Dame Fighting Irish vs. Alabama Crimson Tide WHEN: 7:30 p.m. tonight WHERE: SunLife Stadium in Miami, Fla. TELEVISION: ESPN...
Fighting Irish News

Delivered to your inbox

You'll also receive Yardbarker's daily Top 10, featuring the best sports stories from around the web. Customize your newsletter to get articles on your favorite sports and teams. And the best part? It's free!
THE FIGHTING IRISH HOT 10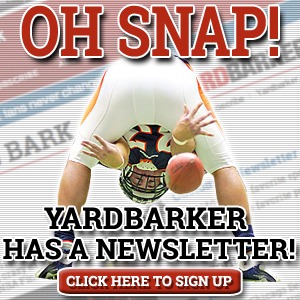 Latest Rumors
The Backyard

Today's Best Stuff

For Bloggers

Join the Yardbarker Network for more promotion, traffic, and money.

Company Info

Help

What is Yardbarker?

Yardbarker is the largest network of sports blogs and pro athlete blogs on the web. This site is the hub of the Yardbarker Network, where our editors and algorithms curate the best sports content from our network and beyond.