Found November 25, 2012 on Midwest Sports Fans:
PLAYERS:
Lane Kiffin
,
John Cena
,
Brett Favre
TEAMS:
Minnesota Vikings
,
Notre Dame Fighting Irish
,
Ohio State Buckeyes
,
Michigan State Spartans
,
Miami Hurricanes
,
Oklahoma Sooners
,
Kansas State Wildcats
,
Boston College Eagles
,
Wake Forest Demon Deacons
,
USC Trojans
,
Youngstown State Penguins
,
Virginia Tech Hokies
The North will indeed be represented in the BCS National Championship game, albeit by a program that in many circles in even more despised than any Southeastern Conference school could ever wish to be. After 24 long years the Notre Dame Fighting Irish are officially back, at least for now. Notre Dame head coach Brian Kelly gets showered with Irish-colored Gatorade after his team completed an undefeated regular season by beating USC. (Image credit: AP Photo/Mark J. Terrill via OnlineAthens.com) Is Undefeated Notre Dame Really #1? The won-loss record does not lie. With the exception of ineligible Ohio State, Notre Dame finishes the regular season as the lone undefeated team in America. The question remains though, are the Domers really one of college football's top two teams? Analyzing The Schedule Let's start by looking at the strength of schedule and style points. The Irish opened by routing Navy, which serves as Notre Dame's glorified FCS foe. Then in the Big Ten portion of the schedule, ND defeated lowly Purdue by a field goal before winning at Michigan State and then Michigan at home. Then the Irish put up an impressive performance blowing out the Miami Hurricanes in Chicago before dodging their first major bullet with their controversial overtime win at home versus Stanford. That was followed by another narrow three-point win at home versus mid-major BYU, another game which on paper figured to be one that ND should have won with more ease. Perhaps the biggest signature win was defeating the Oklahoma Sooners 30-13 in Norman. Before Kansas State got them earlier this year Oklahoma had been virtually unbeatable at home in recent years. The following week for Notre Dame was the "letdown game" versus Pittsburgh where the Irish had to come from two touchdowns down in the fourth quarter before eventually winning in three overtimes. The schedule concluded with the Irish downing lowly ACC foes Boston College and Wake Forest before completing the 12-0 regular season with the win against Lane Kiffin and free-falling USC. In all, it is not a bad body of work at all. If you like video game offensive numbers, then you might be more impressed by outfits such as Oregon or Oklahoma. But if you like defense, then the Irish should rightfully be at the top of the list. No opponent scored more than 20 points against Notre Dame in regulation in any game this season. In all, the Irish conceded an average of a mere 10.5 points per game. The strength of schedule was not bad, but in the end the Irish ended up facing only three opponents who will finish the season ranked in the top-25. The Pittsburgh escape gets panned as a bad bump in the road, with the critics pointing to Pitt losing to FCS Youngstown State this season. There are isolated FCS ambushes of quality FBS opponents every year, and Pitt did also score an impressive win against Virginia Tech this year, and this weekend Pitt took down #18 ranked Rutgers. So Pittsburgh was a tough foe. Notre Dame v the SEC The Irish are a quality team that has now blossomed in Coach Brian Kelly's third season. I say it's about time. If BCS bids and National Championships were decided in recruiting rankings on National Signing Day, then the Domers would be in the championship hunt every single year. The ultimate test, of course, would be how Notre Dame would have fared as an SEC member in 2012. I say pretty good. They would had finished second or third in either the SEC East or SEC West; let's just put them in the same group as LSU and Florida. Obviously, the Irish will get their ultimate chance to prove themselves against the SEC Champion in the BCS National Championship Game, a game where they will go off as decided underdogs. Notre Dame v Ohio State Ohio State is another team that Notre Dame would be hard-pressed to beat. The Buckeyes flew under the radar while laying waste to the rest of the Big Ten this year under one-time Irish HC candidate Urban Meyer. The problem with Ohio State was the relative ease that they went through their schedule plus their ineligibility for BCS Bowl consideration this season. In a way, they are like the 1974 OU Sooners, who were the top team in college football that year but were also on probation, which at the time included no national television appearances. The only notoriety OU football got that year was through Zapruder-like film footage and updates on games from the school's SID during ABC's post-game scoreboard shows. By comparison, Notre Dame is the John Cena of college football this year. Like it or not, they were the main event most weeks (either via NBC or Brent Musberger) – and there were occasions where they were on the receiving end of the 2 ½ count before turning around and scoring the pin-fall (or pulling out the foreign object with the refs back turned). Whatever the Domers may have lacked in style points they definitely made up for in providing drama. And also, Notre Dame also had the good fortune of not scheduling 9-3 Northwestern this season. Is Manti Te'o Really a Heisman Finalist? Finally, the Heisman candidacy of linebacker Manti Te'o must be discussed. Personally, myself, I wouldn't mind seeing him win. And I'm one of those who feel that worthy defensive players should have the opportunity to win college football's most prestigious honor. Playing for Notre Dame has indeed provided Te'o with the necessary attention and platform to be a Heisman finalist from the defensive side of the ball. If Te'o were playing for a random SEC or Pac-12 program, people would definitely be talking about him as a top-ten overall NFL Draft prospect, but not as a Heisman finalist. Even if Te'o had signed on with USC (one of his other supposed finalists coming out of high school), he would be hard-pressed to get the media run he enjoys in South Bend. One good Te'o statistical nugget is that his seven interceptions are the most for any FBS linebacker since at least the year 2000. But if you are to go by current ESPN exit polling, quarterback Johnny Manziel of Texas A&M is projected to win the award, and he is currently listed first on the ballots of ten of the 15 ESPN voters. More On The Other Finalist One thing I would like to expound on that I didn't do on my Manziel piece a couple weeks back was Johnny's arrest earlier this year. In late June Manziel was arrested along with two others following a 2am fracas in College Station and was charged with disorderly conduct and producing a false identification (allegedly a fake Louisiana ID that had him as age 21). It was said that a fight occurred after Manziel's friend had allegedly made a racial slur towards another patron. Obviously, the matter was cleared up and Manziel was allowed to play and become college football's biggest story of the year – but this also gives some background on why he perhaps has been handled with kid gloves by Texas A&M to this point. To me, the incident sounds like a page straight out of Brett Favre's early days, and someone in social media referred to him as a possible "ticking time bomb." I guess someone could run a smear campaign towards Manziel's Heisman credentials in the next week by pointing out the episode, but since it happened long before the season I believe it remains as a non-story at this point. Unless Dan Wetzel/Charles Robinson digs up some real Reggie Bush-like dirt in the next two weeks, I don't see anything derailing Johnny Football's Heisman run off the tracks. What a Season But you will see Manti Te'o in New York as a Heisman finalist. You will also see Notre Dame in the national Championship game. And like them or not, Notre Dame in the mix is never a bad thing for business in college football. And if they were to down the best the SEC has to offer, they will also silence even their staunchest haters. The post Like It Or Not, Notre Dame Is #1 and Manti Te'o Is a Legit Heisman Candidate appeared first on Midwest Sports Fans.
Original Story:
http://feedproxy.google.com/~r/Midwes...
THE BACKYARD
BEST OF MAXIM
RELATED ARTICLES
The postgame roars from Notre Dame's locker room echoed right through the Coliseum's thick cement walls and metal beams Saturday night, moving around the 89-year-old arena like a long-absent force of nature. After decades away, the Fighting Irish are back on top of college football - unmatched atop the rankings, unblemished in the standings, and unequivocally ready to try...
The Notre Dame-USC matchup on Saturday evening that saw the Fighting Irish prevail 22-13 to win their 12th game of the season handed ABC the best ratings they've had for a game this season, drawing a 10.3 overnight that has crushed any game broadcast on any network this season, besting CBS's Alabama-LSU matchup from three weeks ago, which drew a 7.0 rating, by nearly 50%...
The nightmare scenario for many college football fans around the nation has come true. Notre Dame will play for a BCS national championship in January. Notre Dame linebacker Manti Te'o put together a Heisman Trophy worthy season on defense. Getty Images. It may have taken a while but Notre Dame finally feels as though their approach to college football has been justified. Running...
Last week, the spotlight was too bright for the #1 and #2 teams in the country as Kansas State and Oregon both lost. This week every team in the spotlight won and it was Notre Dame and the SEC that were the big winners. The Notre Dame Fighting Irish finished off a storybook regular season by beating USC 22-12 and going 12-0. The Irish fought against the odds this season...
The Pigskin High Holidays are the "most wonderful time of year" for football fans. We feasted Saturday on a buffet of big-time college football, highlighted by Notre Dame's brilliant defense and Texas A&M's dazzling Johnny Football.
Jack Cooley had 13 points and 13 rebounds Saturday to lead Notre Dame to a 69-52 win over St. Francis of Pennsylvania. Eric Atkins and Cameron Biedscheid each scored 13 points as well for the Irish, and Garrick Sherman had 11 points in his first start of the season. Umar Shannon scored 14 points and Ollie Jackson had 12 points on four 3-pointers for St. Francis (0-5), which lost...
Forget about playing the game. I believe the USC-Notre Dame outcome should instead be decided by the two gentlemen below. Two Bagpipers enter. Only one leaves. (Well, actually, I have no idea how these bagpipe showdowns work. I assume someone wins, yes?) Anyway, THINGS ARE GETTING WILD AND CRAZY. GET READY FOR USC-NOTRE DAME. These [...]
A look at No. 1 Notre Dame's offensive starters and key reserves for tonight's matchup vs. USC.
Nevermind what haters say, ignore them 'til they fade away. - T.I. Yep, let the haters hate as Notre Dame is headed to the National Championship game for the first time since their last undefeated and national championship season in 1988 following a 22-13 win over bitter rivals USC. Unlike that 1988 team this one will get to the title game on the backs of their defense, a unit...
Notre Dame head coach Brian Kelly prepared for a championship long before the season's opening kick.
Amongst offers from Texas, LSU, OU, Notre Dame and several others, Lancaster (Tx) cornerback Nick Harvey explains why College Station was the best fit for him.
College Football News

Delivered to your inbox

You'll also receive Yardbarker's daily Top 10, featuring the best sports stories from around the web. Customize your newsletter to get articles on your favorite sports and teams. And the best part? It's free!
THE COLLEGE FOOTBALL HOT 10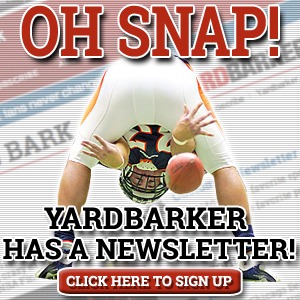 Latest Rumors
Best of Yardbarker

Today's Best Stuff

For Bloggers

Join the Yardbarker Network for more promotion, traffic, and money.

Company Info

Help

What is Yardbarker?

Yardbarker is the largest network of sports blogs and pro athlete blogs on the web. This site is the hub of the Yardbarker Network, where our editors and algorithms curate the best sports content from our network and beyond.