Found November 05, 2013 on The Detroit Sports Site:
Regarding the game itself, there's not much more left to be said about the Michigan State Spartans' dominating 29-6 victory over the Michigan Wolverines. Like many have already stated locally and nationally, it was a bloodbath from start to finish for the road team. Perhaps the most galling thing about the loss from a Michigan perspective, other than play calling and scheming, though, has to be how the Wolverines, who talked about not getting bullied and being ready for a fight were dismantled by Michigan State physically once more. This was worse than 2010 or 2011, two of the more iconic recent Spartan slap downs in the rivalry. With controlled aggression, Michigan State zapped any will Michigan had early and often, leaving them bloodied and completely battered by sundown. Bo Schembechler, who was hardly an impartial man both in and out of his prime, probably wouldn't have been rooting for his Wolverines this year during Saturday's mess. Instead, the coach who was famous for enjoying the stylings of toughness would marvel at Michigan State's aggressive front, hungry linebackers and ball hawking secondary. In that gruff tone, he would call the praises of Shilique Calhoun and Denicos Allen for their play and Mark Dantonio for his game plan and serious, businesslike approach to Michigan week. "In football, I'd much rather face an explosive but sloppy team than a hard-core, simple squad that does all the little things right," Schembechler wrote with John U. Bacon in Bo's Lasting Lessons. "…That, to me, was what made our games against Woody (Hayes) so great. They say it was dull, unimaginative football. Fine. But if you get out an old film from one of those ten games—doesn't matter which—you will see two teams that set up so perfectly at the line of scrimmage, with flawless stances and airtight tackling—there were zero missed tackles on either side, all day—that it looks like a completely different kind of football from what you see today." In other words, the coach would have been most impressed with the Spartans on Saturday. Mostly, though, Schembechler would probably gaze upon Michigan's offensive and defensive lines and bark his frustrations loudly. "Where's the toughness? Where's the fighting spirit?" You can almost hear it through your computer screen. He would find it deplorable that the Wolverines had to resort to pushing, shoving and jawing after the whistle to defend their football manhood, and would be ashamed that a Michigan senior dared twist a helmet on the turf. Regarding moral dilemmas, Schembechler said it best in his book. "We always knew what the right thing to do was, so we just did it. And we slept well at night!" The phrase coined as a usual Wolverine excuse in losses, "we didn't play Michigan football," couldn't have been proven more true top to bottom. Now, with a tough but not impossible finish to the season, the Wolverines have to learn a lesson in toughness from their Spartan counterparts. Against Nebraska, each man has to be willing to sacrifice personal glory or fulfillment to simply win their one on one battle. That's it. Back to football basics in the most true sense. Certainly, the Wolverines can still win out. In a strange Big Ten season, why not? The Cornhuskers, a team which needed a miracle to escape Saturday, aren't unbeatable. Northwestern, looking more finesse than power by the day, is in the midst of a disastrous season and when it comes to Michigan and Ohio State, always throw out the record books and forget what you previously knew about each team prior to the game. It won't happen without mental toughness, though. First, the Wolverines have to believe they are tougher and get back to executing like they are. That involves being the bigger man during scrums and walking away. Second, the Wolverine offensive line has to take their bad day in East Lansing to heart and push back against the Cornhuskers' defensive line. Taking ownership is the only way Michigan can find a way out of their mess. Fortunately for them, there's still three weeks left to save face. Local Big Ten This Week: Nebraska at Michigan Michigan State: Idle Player To Watch: Michigan: Taylor Lewan, T. After his embarrassing day in East Lansing and time running out in the year, Lewan has to come through with a better game for the Wolverines. Quite honestly, he has to be a leader by setting a good example first and playing well second. Monday was a decent first step when Lewan apologized for the incident in question. If Lewan sets the tone and the rest of the line responds, Michigan could be in good shape against a Nebraska defense which hasn't had a great year defending the run allowing an uncharacteristic 176.3 yards per-game, 75th in the nation. Standings Update: #18/19/18 (BCS) Michigan State 8-1 (5-0 Big Ten Legends) Michigan 6-2 (2-2 Big Ten Legends) Max DeMara is a senior editor at The Detroit Sports Site. You can find him on Twitter @SportsGuyTheMax
Original Story:
http://www.thedetroitsportssite.com/2...
THE BACKYARD
BEST OF MAXIM
RELATED ARTICLES
Michigan senior offensive lineman Taylor Lewan is regarded as one of the best college football players in the country and is slated to soon be a first round NFL draft pick. But he's also quickly gaining a reputation for being a dirty player. The video below, which shows Lewan twisting Spartans safety Isaiah Lewis' facemask on the ground this past Saturday, isn't doing wonders...
Melanie Maxwell | MLive.com Not how a Michigan captain should act This is just unacceptable. Two years ago I called out William Gholston for his antics in this game, so it's only fair that I do the same now. Taylor Lewan is a senior and a captain, and to see this kind of behavior is embarrassing. Earlier in the week Lewan said Michigan wouldn't get "bullied&quot...
College Football News

Delivered to your inbox

You'll also receive Yardbarker's daily Top 10, featuring the best sports stories from around the web. Customize your newsletter to get articles on your favorite sports and teams. And the best part? It's free!
THE COLLEGE FOOTBALL HOT 10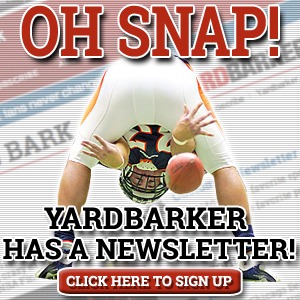 Latest Rumors
Best of Yardbarker

Today's Best Stuff

For Bloggers

Join the Yardbarker Network for more promotion, traffic, and money.

Company Info

Help

What is Yardbarker?

Yardbarker is the largest network of sports blogs and pro athlete blogs on the web. This site is the hub of the Yardbarker Network, where our editors and algorithms curate the best sports content from our network and beyond.