Found April 25, 2013 on Bush League Chronicle:
The scandal involving former Notre Dame linebacker Manti Te'o is expected to follow him for the rest of his life. And being that the NFL Draft is upon us this weekend, it was only natural for journalists to delve back into what exactly happened.In January, Deadspin broke a story claiming that Te'o's girlfriend, who he believed died of cancer during the season, never existed. The story included detailed information behind the story of the ficticious woman known as Lennay Kekua. Now, Te'o offered up an odd explanation as to why he skipped her funeral, when in fact he claims he still didn't know the whole thing was fabricated.From Vanity Fair:The only time he wasn't completely honest, Te'o says, was when he spoke to the group of journalists on December 8. "Put yourself in my position," he says. "I've just found out my girlfriend is a big prank. And I think she's just died and people are asking me about her. And I'm just a 21-year-old guy getting this question on a national stage just two days after it happens." Yes, he has regrets and embarrassment—but only up to a point. As he puts it, "I would say I was naïve and I was just unlucky. I was naïve in that I trusted this 'person.' But a lot of things just happened, all together, to make this just a case of bad luck."But still. A football game over a funeral? Really? Te'o takes a deep breath. "You have to understand," he says. "This is a person I've never seen before. So I didn't want to be seeing her for the first time dead in a casket. I didn't want to see that. I wanted the first time I was seeing her to be the first time I see her. In the kingdom of heaven." Then, silence.Riiiiiiight.Look, Te'o clearly has some sort of issue in thinking things out. This is what got him in trouble in the first place. But even Te'o believes he may not ever rebound from the traumatic experience."Honestly, I'd say I'm never going to be completely normal. Never. It's still with me now. It's always going to be something that's just there all the time, in the back of my head."Hopefully Te'o can put this whole ordeal behind him and make a name for himself in the NFL. But regardless of how his professional career pans out, some folks will never let him live this scandal down.Via Deadspin
Original Story:
http://www.theblcblog.com/2013/04/man...
THE BACKYARD
BEST OF MAXIM
RELATED ARTICLES
Manti Te'o must wait one more day to find out his future after a tumultuous four months. The Notre Dame linebacker was not taken in the first round of the NFL draft Thursday. And so fans, and even people who don't normally care about football, will buzz for another 24 hours about the fake girlfriend hoax and its repercussions on his football career. But what likely dropped...
Not much setup required on this one. Unless you happen to be one of those lost, unfortunate souls too stubborn, too clueless or just flat-out too stupid not to be religiously watching arguably the best series currently on television: "Game of Thrones," HBO's brilliant retelling of the George R.R. Martin epic fantasy series, A Song of Ice and Fire. In this video from NowThisNews...
Peter Schrager says the Notre Dame product will have to wait one more day for his NFL career to begin.
It must have felt like forever, but Manti Te'o's day finally came early in the second round.He was selected by the San Diego Chargers. So he joins a team some consider to be in turmoil, however he seems to be going in at a good time with San Diego bringing in a new coach with a new system.Can he be a success there? Sure, why not. He can also be a failure.Te'o played for...
A hoax involving a fake girlfriend and a poor performance in the national championship game didn't scare the San Diego Chargers away from picking Notre Dame linebacker Manti Te'o in the second round of the NFL draft Friday. Rookie general manager Tom Telesco traded with Arizona to move up seven spots and select Te'o with the 38th pick overall. Te'o dropped into...
I apologize ahead of time for referring to Manti Te'o as Manti Teo moving forward in this post. For whatever reason, the software I use to create this website, and the SEO plugin I incorporate to get it indexed in the search engines have issues with that apostrophe. I don't know why. I've tried numerous things to fix it, but it just won't work. I apologize in advance for...
Most of the focus last night was on the tumultuous evening of former West Virginia quarterback Geno Smith. However, Smith wasn't the only high-profile prospect to slide out of the first round. Former Notre Dame linebacker Manti Te'o also didn't hear his name called on the first day of the NFL Draft, and we'll have to wait until tonight to see how long his slide continues...
The Chargers traded up to pick Notre Dame linebacker Manti Te'o with the 38th overall pick in the NFL Draft.Fantasy Spin:Te'o was a Heisman Trophy finalist last year at South Bend while leading the Irish to the BCS title game. Te'o fell to the second round because of a bizarre off the field incident but he should still be a solid contributor at the pro level.
One of the big story lines of 2013 NFL Draft was where was Notre Dame linebacker Manti Te'o was going to be drafted. Te'o ended up getting drafted by the San Diego Chargers with the 38th overall pick in the second round  and well, Manti thought he was getting pranked when he received the call. That info comes courtesy of Sports Illustrated's Jim Trotter: ...
Georgia Bulldogs linebackers Jarvis Jones and Alec Ogletree were selected 17th and 30th last night in the first round of the 2013 NFL Draft. Manti Teo from Notre Dame was picked….well, his first draft status was imaginary. I don't mean to keep piling on Teo….Yes, I do. Two Georgia Bulldogs LBs heard their names called at Radio City Music Hall; and ZERO LBs from Notre Dame came...
Fighting Irish News

Delivered to your inbox

You'll also receive Yardbarker's daily Top 10, featuring the best sports stories from around the web. Customize your newsletter to get articles on your favorite sports and teams. And the best part? It's free!
THE FIGHTING IRISH HOT 10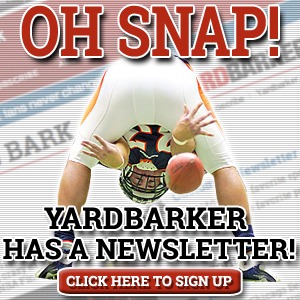 Latest Rumors
Best of Yardbarker

Today's Best Stuff

For Bloggers

Join the Yardbarker Network for more promotion, traffic, and money.

Company Info

Help

What is Yardbarker?

Yardbarker is the largest network of sports blogs and pro athlete blogs on the web. This site is the hub of the Yardbarker Network, where our editors and algorithms curate the best sports content from our network and beyond.