Found December 31, 2012 on isportsweb.com:
With Saturday's 17-16 victory over TCU in the Buffalo Wild Wings Bowl, Michigan State was able to come away with a win in their second straight bowl game and finish the season at 7-6, the 5th winning season for the Spartans in the past six years. But despite ending the season on a good note and winning a bowl game in consecutive years for the first time since 1989-90, it was still nowhere near the type of season Michigan State was planning on having. After all, they came into the season with the highest expectations they've had in years. Coming off of back-to-back 11 win seasons, the Spartans were ranked as high as 13 in the preseason AP poll and were also expected to have one of the best defenses in the nation. However, even with the high expectations placed upon this years' squad, there were still some questions surrounding this team. One of the most glaring of these questions was how they would replace possibly the best passing attack in school history? With the departure of quarterback Kirk Cousins as well as receivers BJ Cunningham and Keshawn Martin, how would junior Andrew Maxwell and his young, inexperienced receiving core step up and fill the void? When the season got underway, Michigan State opened up with a big win at home against Boise State. At the conclusion of this game, it was clear for the Spartans that a new star had emerged. Junior Le'Veon Bell had a breakout game, carrying the team and the ball 44 times for 210 yards and 2 touchdowns. Le'Veon Bell had a coming out party against Boise State, rushing for 210 yards, 2 touchdowns, and this memorable hurdle. (Photo by Gregory Shamus/Getty Images) The next week Michigan State traveled to Mt. Pleasant where they blew out Central Michigan 41-7. Now at the end of week 2, the Spartans stood at 2-0 with a big game against Notre Dame coming up the next week. However, at this point in the season, it was still a little unclear on how good this Michigan State team was. While the defense had not disappointed, having not given up a touchdown yet on the season, the offense was still a major question mark of this team. Bell was basically carrying the offense in the previous two games and the passing attack had at times stalled and struggled to get much of anything going. What would happen if a good defense could stuff the run? How would the Spartans respond? We found out the next week against Notre Dame. In that game, Manti Teo led an Irish attack that stuffed the run and completely stalled the passing attack en route to a 20-3 Irish victory. This game demonstrated something for the Michigan State: that the defense and Bell could only take this team so far. Sooner or later Maxwell and his young receivers would have to step up in times of need for the Spartans. After putting away Eastern Michigan late behind another 253 yards from Bell, the next week ESPN College Gameday paid a visit to East Lansing for Michigan State's matchup against Ohio State. This hard fought game resulted in the Spartans' first heart wrenching loss of the season, dropping the game to the Buckeyes 16-17, falling to 3-2 on the season. The next week against Indiana, the offense got going a little bit in a comeback effort against Indiana to win the 31-27. It was this game, where the passing game began to resemble what we have been accustomed to seeing the past two years. It wouldn't stay like that for long though. The very next week in the rain against Iowa, Michigan State led the game all day before surrendering a touchdown late to tie the game up at 13, sending the game into overtime where the Spartans eventually lost in 2OT 16-19. At this point of the season, the Spartans stood at 4-3 with a game against in-state rival Michigan coming up the next week. It was really a sort of gut check time for the Spartans. In the midst of a disappointing season, it was time to see how tough they were, dig deep and turn it around with a big win against their biggest rival. As the game played out, Michigan State was, for the second week in a row, leading in the final minutes of the game. However, when Michigan kicker Brendon Gibbons nailed a field goal in the last minute to win the game 12-10, the Spartans suffered their 3rd gut wrenching loss of the season, dropping them to 4-4. In the final four games of the season, Michigan State now had a goal of just simply finishing the season strong and get to a respectable bowl game. That next week, the Spartans played yet another close game, this time coming back against Wisconsin and finishing them off in overtime. What followed was back-to-back heart breaking home losses to both Nebraska and Northwestern before Michigan State closed out the season on the road against Minnesota, once again on the shoulders of Bell who had a monstrous 266 yard game to help the Spartans become bowl eligible for the sixth straight year. When the bowl game finally got here, and late in the 4th quarter, TCU kicker Jaden Oberkrom nailed a 53 yard field goal with 2:42 to go in the game…"Here we go again," Spartans fans thought. This was going to be yet another one of those heart wrenching losses. However, Michigan State did not allow this to happen again. Backup quarterback Connor Cook was placed into the game and led a drive deep within TCU territory before setting up a potential game winning 47 yard field goal for senior kicker Dan Conroy. When Conroy ran out onto the field, Lord knows what was going through his mind. Conroy had a disappointing season himself, making just 70 percent of his field goals. With all the close games, it left some to wonder where they would be if Conroy had made a few more field goals. Nevertheless, Conroy ran out onto the field and nailed the field goal, solidifying the victory for the Spartans. Dan Conroy celebrates after nailing a game winning 47 yard field goal for the Spartans against TCU.(Photo by Christian Petersen/Getty Images) "With so many close games, losing like we did so many games in this season, to have one go our way this way was definitely exciting," Conroy said after the game. And that's really how the season can be summed up. With all the close games throughout the season, a couple of plays made here or there throughout the year could have completely turned their season around. But as this season has come to a close, the future of this Michigan State football program is at somewhat of a crossroads. They are at the point where they will continue to grow and go back into the direction where they were or they will regress back into a bottom feeder of the B1G conference. It's nothing new for Michigan State though in the Dantonio era. They were at a crossroads just three years ago after a disappointing 6-7 season and a late season incident where 14 players were either suspended or dismissed from the team, the Spartans were left very short handed for the Alamo Bowl against Texas Tech. At the conclusion of that season, it was unclear exactly where the Michigan State program was. The program was in peril, they could either sink back to the bottom of the Big Ten OR they could rise from the ashes, dust themselves off and become great. They chose the latter. Faced with this crossroads, Michigan State took a turn in the right direction, Coach Mark Dantonio and leaders like Kirk Cousins, Greg Jones, and Eric Gordon, would go on to help Michigan State to win 22 games over the next two seasons. And now, after another disappointing season, where will this Michigan State program go from here? There are certainly several variables that will go towards determining what kind of season Michigan State will have next year. For starters it all begins with who will return next year for Michigan State. The decisions of players like Le'Veon Bell, Dion Sims, and William Gholston will all have a hand in what type of success the Spartans have next year. For Bell though, he put this team on his back all season long, running for 1793 yards and 12 touchdowns. Many want him to return for one more year but for Le'Veon, he has almost has no choice but to go to the NFL. Running backs have the shortest shelf lives in football and another 400 touch season at Michigan State could potentially cost him millions of dollars. "It's a whole bunch of other factors that's going to go into the decision," Bell said. "I want to make sure I do things the right way, talk to my family about it, the players and coaches about it. Make sure I get output from everybody and see what everybody thinks." Another thing to keep an eye on next year for this Michigan State football program will be the quarterback position. While Maxwell started all 13 games this season, on numerous occasions, he failed to rally the troops or get much of anything going on offense all season. Just as we saw in the bowl game, expect to see Connor Cook competing for some snaps early on next season. The position is up for grabs. But as Michigan State puts an end to their 2012 campaign, a rather disappointing one at that, the program is still in good shape. The best shape it has been in for a long time at that, it's been a long time since the Spartans have had a streak like the one they have going now. One thing is for certain though, just like they did three years ago, Dantonio and his players will do their best to turn next season around and have the type of season they were expecting to have this year.   Follow Ryan Squanda on twitter @squandarunner
Original Story:
http://feedproxy.google.com/~r/isport...
THE BACKYARD
BEST OF MAXIM
RELATED ARTICLES
It was a long and difficult season for the Michigan St Spartans, as they didn't quite live up to early season expectations. But they finished the season strong, with a win over TCU in the Buffalo Wild Wings Bowl. But that was the only victory the Spartans were able to claim. You may have seen the Spartans defense thoroughly dominate in the 2nd half of the bowl game, but that doesn't...
Michigan State senior kicker Dan Conroy nailed a 47-yard field goal with 1:01 left to give the Spartans (7-6) a 17-16 victory over TCU (7-6) in the Buffalo Wild Wings Bowl. Le'Veon Bell carried the load for the struggling Spartan offense as he had 32 carries for 145 yards and a touchdown. The Horned Frog offense did a very good job of containing Bell in the first half, holding...
The Michigan State Spartans know all too well what it is like playing in close games in 2012. Entering last night's Buffalo Wild Wings with a record of just 6-6, things could have played out quite differently for Sparty this season with a few better bounces. Alas, that was not the case for MSU this past season, having lost five of its six games by a total of just 13 points, but...
Though it took until the late stages of the calender year, finally, Mark Dantonio and the Michigan State Spartans' coaching staff made the bold move they had to make with their offense. In the process, they may have found a dependable answer at quarterback for the near future. The Buffalo Wild Wings Bowl was getting downright embarrassing for Michigan State's perpetually inconsistent...
Following Michigan State's come from behind victory over TCU in the Buffalo Wild Wings Bowl, Mark Dantonio spoke with the media.
(Eds: APNewsNow. Will be updated. With AP Photos.) By NOAH TRISTER AP Sports Writer Michigan State finished one game over .500 after winning its final game by one point. It was an appropriate ending to a season full of close victories and excruciating defeats. The Spartans played nine games decided by four points or fewer, including their first seven in Big Ten play. They ended...
What Michigan State bowl record did Mike Sadler set against TCU in the Buffalo Wild Wings Bowl? That and more in the following game notes.
  If I had to describe this game in one word, it would be UGLY. As I mentioned in my preview/prediction, this game had the potential to be one of the most boring/ugly bowl games of the year. Unfortunately for your eyes and my own, I was right. TCU got off to a hot start, and had the Spartans down 13 at the half. Mark Dantonio decided to rotate Connor Cook and Andrew Maxwell...
Spartans News

Delivered to your inbox

You'll also receive Yardbarker's daily Top 10, featuring the best sports stories from around the web. Customize your newsletter to get articles on your favorite sports and teams. And the best part? It's free!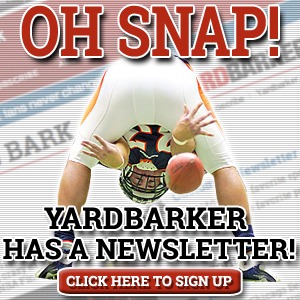 Latest Rumors
Best of Yardbarker

Today's Best Stuff

For Bloggers

Join the Yardbarker Network for more promotion, traffic, and money.

Company Info

Help

What is Yardbarker?

Yardbarker is the largest network of sports blogs and pro athlete blogs on the web. This site is the hub of the Yardbarker Network, where our editors and algorithms curate the best sports content from our network and beyond.