Montee Ball Get's a Ticket, and It News? The most recent story popping up all over the interwebs is pertaining to the recent ticket Wisconsin star running back Montee Ball received this weekend. Apparently Ball received a $429 fine for standing on someone's porch during the annual Mifflin Street block party. The two details we have are that the resident didn't want Ball on his porch and that alcohol wasn't an issue. So where is the story? photo credit: btn.com The media is obsessed with bad news. It is likely that Ball did three or four things good this week, but he gets credit for the bad thing. This is such a non-issue that it has no business being a top story on ESPN's NCAAF page, but it is. There are times where arrests can be newsworthy but this incident should have never been mentioned on a major mainstream outlet. A blog would be fine, but not on ESPN. What exactly is ESPN's agenda and why did the editor think that this story should be mentioned? We understand there is a lack of news in college football, but these student athletes deserve some space. This isn't Hollywood or the pros. These young men aren't even getting paid, but Montee Ball is receiving the same exposure for a non-story as an NFL player would for the same instance. I understand the need for content and the fight for attention in the crowded sports space, but ESPN should know better. Montee Ball if you are out there and you happen to stumble upon this site and the particular article, I apologize on behalf of the entire media for dragging your name through the mud this weekend over a stupid ticket. I would send around a collection plate to pay your fine, but I don't want you to get in trouble with the NCAA. Good luck this of-season, and stay away from the crowds that will get you caught up. By crowds I mean the media, stay away from us, we will get you in trouble. BeyondU Sports BeyondU Sports - Best College Sports Blog Site
Original Story:
http://feedproxy.google.com/~r/Beyond...
MORE FROM YARDBARKER
Badgers News

Delivered to your inbox

You'll also receive Yardbarker's daily Top 10, featuring the best sports stories from around the web. Customize your newsletter to get articles on your favorite sports and teams. And the best part? It's free!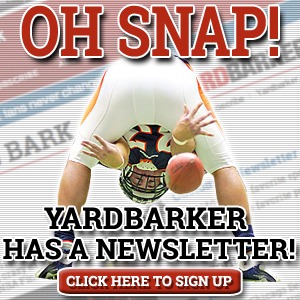 Latest Rumors
Best of Yardbarker

Today's Best Stuff

For Bloggers

Join the Yardbarker Network for more promotion, traffic, and money.

Company Info

Help

What is Yardbarker?

Yardbarker is the largest network of sports blogs and pro athlete blogs on the web. This site is the hub of the Yardbarker Network, where our editors and algorithms curate the best sports content from our network and beyond.