Found October 30, 2012 on Optimum Scouting:
PLAYERS:
A.J. McCarron
,
Brodie Croyle
,
Taylor Lewan
,
Justin Pugh
,
Kenny Okoro
,
Tanner Price
,
Michael Campanaro
,
Nikita Whitlock
TEAMS:
Alabama Crimson Tide
,
Mississippi State Bulldogs
,
Michigan Wolverines
,
Syracuse Orange
,
Wake Forest Demon Deacons
Thanks to Hurricane Sandy's ability to control the electricity in my house, I unfortunatly was able to publish the scouting notebook on Monday. However, after reviewing film from this past weekend, catching up on previous weeks, and having Alex Brown of Optimum Scouting fill in for one of our pieces.Two of the better SEC and overall junior quarterbacks in the country faced off this past weekend in AJ McCarron and Tyler Russell. Better realize their upside now and their talent on their respective Alabama and Mississippi State teams.Also, with offensive tackles being a "feature" position in the NFL Draft each year, I took a look at the top three juniors and top two seniors as of now. And finally, scouting notes from across the College Football landscape.       Alabama vs. Mississippi State was a Battle of Two of the Best…Quarterbacks? This section via Alex Brown of Optimum Scouting. Follow him on Twitter at @ABXXV25 In a "closer than the scoreboard indicated", yet strong Alabama victory over Mississippi State, junior quarterbacks A.J. McCarron and Tyler Russell showed why they should be considered among the best of their respective draft class. For McCarron, it's not a matter of flash or style points; what impresses scouts the most, is his decisive, consistently correct presnap and postsnap reads. In terms of coverage diagnosis, McCarron quickly scans through his progressions, wastes no time in making his mind up, and will even work down to his third option on some plays. And while it's not sexy, McCarron will not hesitate to hit his check down when the defense gives him an open hole to the flats; quick to setup and deliver, McCarron can release the football in a hurry in the short game, while taking enough velocity off of his throws to give his receiver a catchable ball. At the same time, though he excels in the diagnosis and progression reads, AJ McCarron's downfield accuracy should not be overlooked. Missing on just one of seven throws beyond fifteen yards versus Mississippi State's vaunted secondary, McCarron's outstanding ball placement, touch, and velocity control on deeper throws were on display in a variety of difficult throws. Off of the play action game, McCarron worked the middle of the field with deep crossing patterns by sliding in the pocket, anticipating throwing windows, and delivering a catchable, on target ball. More impressive, were his two corner route completions and deep post throw, all three of which he dropped the football into the bucket with touch, placement, and accuracy. Incorrectly labeled as a "game manager", due to his endless supply of 5-star running backs, a bevy of explosive young receivers, and an All-American offensive line, McCarron runs the ship with great efficiency and execution. Forgotten in all of this, is the fact that AJ McCarron himself was once regarded, as the top high school quarterback in Alabama history, was an ESPN Top 150 member, 4-star recruit and former Elite 11 quarterback camper. Much more physically endowed than his Alabama predecessors in Greg McElroy, John Parker Wilson, and Brodie Croyle, McCarron possesses the arm talent to make all the throws, has an ideal frame at 6'3 210 pounds, and more than enough athleticism and mobility to buy time inside or outside the pocket. At the end of the day, McCarron, who executes at a high level, wins football games, and has the physical tools NFL teams look for, may be the most consistent and well rounded non-senior quarterback eligible for the 2013 draft. The dark horse contending for such distinction, surprisingly was the quarterback Alabama faced this past weekend in Mississippi State's Tyler Russell. Not on my radar after a very average 2011 season where he struggled to find the field with senior Chris Relf atop the depth chart, Russell has been somewhat of a revelation with his improved coverage reading and plus physical tools. Standing 6'4, 220 pounds, Russell is a big-bodied, strong-armed passer capable of making "wow" throws to all levels of the field. Tough to stand in and take a hit while delivering the pass, it's Russell's calm, cool and collected demeanor within the eye of the storm that jumps off the tape. Due to his size, over-the-top arm slot, and snapping release, tipped balls at the line of scrimmage aren't a factor at all. Not afforded the same amount of time as McCarron, Russell dealt with a collapsing, muddied pocket against a dominant front seven. On top of the consistent pressure, Bama also rolled coverage to protect hot route windows, forcing pressure look progressions to take even longer in order to allow the pass rush time to bring down the passer. In a game where he had to be perfect to come away with a victory, Tyler Russell was anything but perfect; however, Russell did show off the physical tools, toughness, and leadership you want in a next level starting quarterback, stepping up in the wake of pressure, "staring down the barrel of the gun", and completing a variety of difficult NFL throws against a well-coached, elite level defense. A gut-wrenching example of positive play, but negative outcome, in the performance was Russell's masterful 97-yard drive. Climbing out of poor field position and converting multiple third down situations, Russell drove the football in the downfield passing game with poise in the pocket, anticipation of separation, velocity outside the numbers, and placement on bench routes. After all was said and done, however, the drive ended with a ill-advised, cross-body interception throw on the rollout, failing to put any points on the board and returning the football back to Bama at their 20 yard line. Facing the top team in college football, the margin of error is slim-to-none. Where Russell can take the next step as a quarterback involves the methodical pace at which he drops back to pass. Against an NFL-styled defense chalked full of NFL-caliber personnel, the level of urgency from setup to delivery, both physically with his lower half mechanics and mentally with his progression reads, must be improved and elevated. Additionally, after taking a number of hits throughout the first half, Russell's inability to hold 2nd and 3rd level defenders with eye discipline enable Bama defensive backs to get early jumps on his throws late in the game. Though still a work in process, Russell's problems are readily correctable with a more active lower half and consistent weight transfer upon delivery. A tremendous thrower with the skill set of an NFL starter that also holds the intangibles needed, Tyler Russell is undoubtedly a name to remember for potentially the 2013 draft, but more than likely the 2014 draft.-------------------- Breaking Down The Top Junior And Senior Offensive Tackles for 2013's DraftThe quarterback position is the "feature" position in the NFL, no doubt about that. But in the past five drafts, there has been an equal number of quarterback and offensive tackles taken in the Top 10 picks (and heavily in OTs favor if you look at Top 15). While I personally haven't focused entirely on junior prospects, I did take the time (through Hurricane Sandy and as I played catch-up today) to go through three of the more highly touted junior offensive tackles as well as our current two top seniors. After reviewing the film (2+ games on each), I came away most impressed (certainly surprisingly) with Jake Matthews, Texas A&M's right tackle. Matthews stood out to me with his quick, explosive, and quick to change direction footwork first and formost. His explosion off the line in pass protection coupled with his upside thanks to his elite flexibility, balance, and body control makes me believe he may actually have more NFL left tackle upside than his teammate and current Texas A&M left tackle Luke Joeckel. This is CERTAINLY a debate that myself and Alex Brown (our SEC scout) will have all this year. He still, however, has concerns on being more physical in the run game, establishing downfield hand placement against non-defensive linemen, and be more physical in protecting his inside shoulder. Sandwiched between the two Texas A&M junior offensive linemen in my personal rankings (as of now) is Michigan's Taylor Lewan. An offensive tackle that I had some concerns in the pre-season thanks to lack of ideal flexibility and limitations in his kick slide, Lewan has improved in both areas as well as doing almost everything else much better as a left tackle. He establishes a wide base, gets great inside hand placement, is very physical as he fights, readjusts, and drives with his arms, and plays both balanced and very physical as he blocks in space, on the move, and upfield versus non-defensive linemen. Still a bit stiff and leans at times to set the edge, Lewan's ability to dominate inline as a run blocker and technique as a complete offensive tackle makes his concerns overlookable. I won't elaborate much on Luke Joeckel because Alex Brown has done a fantastic job breaking down Joeckel (and Matthews) in this article: (Here) But I will say that my concerns with Joeckel stem from his lack of consistently being able to be strong with his hands, struggles against active hand changing rushers and doesn't protect inside leverage as well as I'd like. After those two, I've really grown more and more of a fan of Central Michigan's Eric Fisher (he'll be our #1 senior offensive tackle) thanks to his flexibility in his upper and lower half and lateral movement in pass protection, though he isn't as polished fundamentally as the top three blockers. And finally, Justin Pugh of Syracuse also really impresses in his punch on the edge and physicality as a blocker, but he's a little more stiff laterally and as a pass blocker. All five, in my eyes, are 1st round picks. Matthews, Lewan, and Joeckel are Top 10-15 (but not Matt Kalil level) as prospects, Fisher is around the mid to late first round value,and Pugh being in the late first round value range. ----------------- Scouting Notes from FBS and Non-FBSNotes by Jimmy O'Brien of Optimum Scouting -Wake Forest's best senior prospect is cornerback Kenny Okoro, a highly intelligent four year starter, with good size and reach.   Although his footwork was sloppy at times, with an  inconsistent backpedal, he displayed excellent short area quickness and lateral burst.  Okoro anticipates routes well, and, on several plays, he showed off his ability to instinctively play the ball in the air. Versus Clemson's base three receiver offense, Okoro generally lined up against the slot receiver, where he demonstrated the skills to mirror opponents with two-way go routes or to provide run support.  But the Clemson offense was clicking on all gears for most of the game, and Okoro had his share of poor plays; most notably, he was caught looking into the backfield, and out of position, on a touchdown pass to tight end Sam Cooper. -Though Wake Forest's offense was effective only in spurts, Junior quarterback Tanner Price flashed some intriguing potential.  Price was solid running the ball, on scrambles, zone reads, and even straight option plays. And he exhibited not only short and intermediate level accuracy, but also moxy in the pocket and the skill to deliver on target strikes on the move, such as his 27 yard touchdown throw on a Michael Campanaro skinny post.   Due to heavy rush pressure, exacerbated by Wake's offensive line injury problems, Price was forced to primarily work shallow routes, where he made quick reads and got the ball out on time.  However, as pressure continued to mount, he started dropping his eyes to the pass rushers, instead of focusing downfield, though he did demonstrate true grit in hanging in a crowded pocket and hitting fullback Tommy Bohanon in the endzone for a desperately needed score at the end of the first half.-Fullback Tommy Bohanon, along with solid lead blocking skills, flashed ability in the passing game, demonstrating good route running skills, sure hands, and the talent to extend to bring in a tough catch.  On his receiving touchdown, Bohanon was at full extension to make the grab, after initially lining up as a slot receiver. -Also in the pass game, wide receiver Michael Campanaro returned from missing several games with a broken hand to regain his spot as Tanner Price's number one target.  Despite just average size and speed, Campanaro excelled working the middle of the field, soft cushion areas in zones, and especially in traffic, where he made able use of his good hands and concentration skills.  Primarily working from the slot, where his lateral quickness and precise two-way cuts put most pressure on the defense, he made several key third down receptions to move the chains.  -On the defensive side of the ball, Wake nose tackle Nikita Whitlock was a disruptive force on several occasions.  Whitlock, an undersized fire plug inside, consistently maintained good pad level versus opponents, playing with excellent leverage all game.  He also displayed plus footspeed and range, getting out into the flat to thwart screens, and making multiple tackles along the sideline.  However, at only 5'11" and 260 pounds, Whitlock lacks the lower body power to hold up versus doubleteams, and was unable to generate any sustained pass rush.  He's a high motor street fighter inside, but his size makes it questionable as to whether he can be a difference maker as an interior lineman; and he has not yet demonstrated the quickness and explosiveness required to be a next level edge defender. -For California of PA, safety Rontez Miles continued his strong play, making a case for being a draftable player, come April.  Cal employs a 4-2-5 scheme, with Miles almost exclusively , versus Slippery Rock, set as a single high safety in the deep third.  A fluid athlete in space, Miles demonstrated excellent range and the ability to make plays at all levels of the field.  As a downhill attacker, playing with a linebacker mentality, he flashed plus closing speed and the willingness to deliver big hits to ballcarriers or receivers.  He's also an effective blitzer, who repeatedly exhibited great anticipation and timing;  in one instance, he blasted through the "A" gap registering and important red zone quarterback hurry and near-sack.  However, Miles' aggressiveness did hurt him on two occasions; twice he was sucked up to the line of scrimmage on play fakes, allowing receivers to get behind him for long completions.  Still, Miles is an absolute playmaker, who continued that trend on Saturday, first by blocking a punt that Cal recovered on the Slippery Rock 2 yard line, then later by scooping up a fumble and racing 30 yards for a go-ahead touchdown. -After Miles, Cal's next best prospect is tight end Blake Williamson, who possesses an NFL ready body, with a well-muscled physique, and demonstrated excellent overall athleticism.  Unfortunately, Williamson was injured early versus Slippery Rock and was unable to return to the game.  Still, he demonstrated good burst off the line, solid inline blocking technique, and the ability to engage and deliver blocks in space.  Williamson possesses sure hands and plus speed, and has the versatility to be moved anywhere in the offensive formation.  He's a powerful runner, who fights for extra yards, and also is a serviceable pass protector.  Barring a serious injury, Williamson should post excellent post-season workout numbers, and should get a shot at making an NFL squad as and undrafted free agent. -Cal's most important offensive player, quarterback Peter Lalich, missed the entire game with a lower leg injury.  Though not high on the NFL radar currently, Lalich's size (6050, 2230), experience, and moxy could make him an intriguing developmental prospect.  As a three year starter with command of an uptempo spread offense, Lalich possesses limited athleticism and an average arm, however arm strength could improve as his body fills out.  Best suited for a west coast system, Lalich is a timing quarterback, who is effective when able to deliver the ball on time and in rhythm, but whose accuracy suffers when required to work through read progressions or when forced to reset due to rush pressure. -For Slippery Rock, defensive end Jeff Thompson remains their best prospect, and he turned in a solid, but not spectacular, game versus Cal.  Thompson, a converted linebacker who grew into a defensive lineman, is an excellent athlete with long arms, who has already racked up 6.5 sacks for the season.  He was quick off the ball, with active hands, and demonstrated the ability to stack and shed, as well as flashing a nice swim move to split line gaps versus the run.  Thompson exhibited good upper body flexibility in being able to bend coming around the corner, coupled with plus speed from the edge; however, he lacks power in the bullrush and possesses an underdeveloped pass rush repertoire.  At 6'2" and 245 pounds, he's a bit undersized for defensive end, but his athleticism and previous experience suggest that he could get a look at the next level as a 3-4 outside linebacker.
Original Story:
http://www.optimumscouting.com/scout-...
THE BACKYARD
BEST OF MAXIM
RELATED ARTICLES
Quarterback AJ McCarron wore his knee brace again, wide receiver Amari Cooper was the most active he's been all week, and some other observations from Wednesday afternoon's Alabama practice.
They wont be the dominant forces on the Tiger Stadium turf when No. 1 Alabama and No. 5 LSU collide Saturday night. That designation would fall on the defenses, which are ranked first (Crimson Tide) and third (Tigers) in the nation. But for Alabama QB A.J. McCarron and his counterpart, Zach Mettenberger, this could be a defining game. McCarron has been quietly building steam as...
Covering Dixie Like Mildew  - The SWRT roundup of SEC news. Growing Up Brady? Kevin Scarbinsky compares Alabama starting quarterback A.J. McCarron to New England Patriots starting QB Tom Brady. (al.com) I Ain't Mad At Cha. LSU players claim that getting revenge on Alabama for beating the Tigers in the 2012 BCS title game is the farthest thing from their minds as they...
The Alabama Crimson Tide and LSU Tigers are set to face off this weekend in Death Valley. Thank you LSU for creating this. Tony Stark aka Iron Man quotes were interjected with LSU Head Coach Les Miles giving ever quotable lines. Everything just came together. Alabama could make it to the BCS National Championship game. I'm sure the LSU Tigers would like to stop that from happening...
Alabama coach Nick Saban says game manager is the ultimate compliment for a quarterback. He says that's what the top-ranked Crimson Tide has in the nation's top-rated passer AJ McCarron. No. 5 LSU would love to get similar efficiency from strong-armed Zach Mettenberger in Saturday night's game. Both are supported by punishing tailbacks and terrific defenses. McCarron...
Saturday night the Alabama Crimson Tide roll into Death Valley to meet the LSU Tigers. The Tigers are a 9.5 point underdog at home. Will this be the game of the century? Or just another roll of the Tide? Here are three bold predictions.1. Alabama's Defense Will Outscore LSU's OffenseAlabama's defense will outscore LSU's offense by two touchdowns. This may not be...
The Super Six Georgia reminded everyone of its potential, while the Irish passed the toughest test of what is becoming an intriguing and unbeaten season, their latest "Return to Glory" refrain. Alabama (8-0) The Tide toyed with previously undefeated Mississippi State, winning 38-7. A.J. McCarron, who leads the nation in passing efficiency, has yet to throw a pick in 177...
We watched four of our top ten teams go down last weekend so this will be the biggest restructuring of the DC poll in 2012 (so far). With the SEC, Big 12 and Pac 12 Games of the Century of the Millennium of the Week coming let's see how the standings look before our next round of shake ups. 1. ALABAMA (8-0): The Tide faced their "toughest" test of the season against...
College Football News

Delivered to your inbox

You'll also receive Yardbarker's daily Top 10, featuring the best sports stories from around the web. Customize your newsletter to get articles on your favorite sports and teams. And the best part? It's free!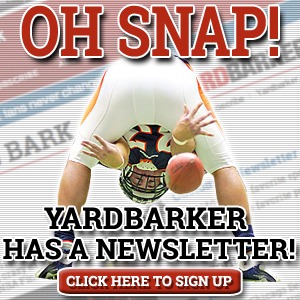 Latest Rumors
Best of Yardbarker

Today's Best Stuff

For Bloggers

Join the Yardbarker Network for more promotion, traffic, and money.

Company Info

Help

What is Yardbarker?

Yardbarker is the largest network of sports blogs and pro athlete blogs on the web. This site is the hub of the Yardbarker Network, where our editors and algorithms curate the best sports content from our network and beyond.