Found November 09, 2011 on Jakes Take On Sports:
PLAYERS:
Andrew Luck
,
LaMichael James
,
Darron Thomas
,
Zach Ertz
,
Paul Wulff
,
Coby Fleener
,
Levine Toilolo
,
Stepfan Taylor
,
Griff Whalen
,
Shayne Skov
,
Delano Howell
,
Chase Thomas
,
Michael Thomas
,
Kenjon Barner
,
Cameron Fleming
TEAMS:
Oregon State Beavers
,
Stanford Cardinal
,
Oregon Ducks
,
Washington State Cougars
THE BIG ONE: STANFORD VS. OREGON –
No. 3-ranked Stanford plays what may be the biggest football game in its history when it hosts No. 6 Oregon on Nov. 12.     It may not be quite as big as the Nov. 5 game between Alabama and LSU, but it's as close as it gets on the West Coast this season.
It is the first time in history two top 10 teams have played a game at Stanford, and the postseason implications for Stanford and Oregon are huge.   Both teams are in the national championship picture, and Stanford could put itself in prime contention for a spot in the national title game with a win.
Even though Stanford has two games after this one, a victory over Oregon would clinch a berth in the Pac-12 title for Stanford, and it would also assure Stanford of having the home field in that conference title contest.  If Oregon beats Stanford, it would need to win only one of its final two games against Oregon State and USC to get a berth in the Pac-12 title game.
The game will also go a long way toward determining whether Stanford QB Andrew Luck will win the Heisman Trophy.  The star on the opposing team, Oregon TB LaMichael James, leads the nation in rushing and is healthy again after missing two games with a dislocated elbow. James had a big game against Stanford last season, rushing for 257 yards in the Ducks win, and he could re-enter the Heisman picture with a big game in a Ducks victory.
He and the Ducks' ground game, which leads the nation in yards per rushing attempt, will be a major challenge for a Stanford defense that ranks fourth nationally against the run but has yielded some long runs in recent games.   Long runs are the Ducks' specialty, and teams with speed have had success getting to the perimeter against Stanford's defense.  No team has more speed than the Ducks, and no team gets to the perimeter as well as the Ducks.
Oregon QB Darron Thomas also had a big game against Stanford last year, and he too is healthy again after missing one game and parts of two others with a knee injury.  He is the kind of mobile quarterback that has given the Cardinal problems.
Stanford's defense could not hold up against Oregon last season, and it remains to be seen whether the Cardinal's vulnerability against quick, athletic offensive teams continues to haunt Stanford.
Although both teams average better than 46 points a game and rank among the top five scoring teams in the country, the game will be a sharp contrast in offensive styles. Oregon looking for the big play on every snap and pushes the pace of its offense to a frenetic level to take advantage of its speed and finesse.   Stanford relies on a power offense that uses a fullback and two or three tight ends to try to overpower and wear down opponents with long drives.
Stanford will have to establish the running game it prefers to control the ball, slow the pace of the game and counter the speed of Oregon's offense.  And, of course, Stanford needs Luck to control the game.   He will be without two prime receivers – TE Zach Ertz (knee) and WR Chris Owusu (concussion) — so he will have to find alternatives.
The one similarity of both offenses is that they have dominated play in the second half.   Close games involving both teams have become blowouts in the third quarter.  The team that can establish control in the third quarter will have the upper hand.
Stanford is riding a 17-game winning streak, and its last loss was to Oregon last season.   Oregon is riding an 18-game conference winning streak, and its last conference loss was to Stanford in 2009, the last time the teams met at Stanford.
NOTES
– Washington State coach Paul Wulff mentioned this week that the fact that game is being played on grass (at Stanford) instead of artificial turf (at Oregon) will be a distinct advantage for the Cardinal, because Oregon's speed is enhanced on its fast artificial
field.
– Stanford remained No. 4 in the BCS standings released Nov. 6 and was behind Alabama even though the Tide lost to LSU.  The Cardinal is No. 2 in the USA Today poll and No, 3 in the Harris poll, which are the two human polls used in the BCS formula, but Stanford is only ranked No. 7 by the BCS computers.    If Stanford beats Oregon, however, it is expected that Stanford would move to No. 3 in the BCS on Nov. 13, based primarily on the boost it would give Stanford's computer ranking but also on the influence it would have on pollsters.
— Andrew Luck's Heisman Trophy chances will probably be determined in the game against Oregon.   Typically,  a player's performance in a big, nationally televised game late in the season has the biggest influence on his Heisman chances.  He also needs to be on a team that finishes ranked among the top five to have a decent shot at winning it.   Luck is the solid front-runner in virtually every Heisman poll out there at the moment, but if Stanford loses and Luck does not play well, he may drop out.
— Stanford is riding a 17-game winning streak, the longest in the country, and its last loss was to Oregon last season.   The Cardinal led last season's game 21-3, but got overwhelmed by the Ducks in the second half of Oregon's 52-31 victory.   Oregon is riding an 18-game conference winning streak, and its last conference loss was to Stanford in 2009, the last time the teams met at Stanford.   Oregon was coming off an emotion win over USC the week before it lost to Stanford two years ago.
— Oregon is averaging 6.99 yards per rushing attempt this season.   No one else in the country is averaging as much as 6.0 yards a carry.
— The absence of TE Zach Ertz could reduce the Cardinal's use of its three-tight-end offense that has been so successful.   The Cardinal could plug in other players at those spots, but they are not the receiving threats that Ertz is.  Coby Fleener and Levine Toilolo still provide good targets, but the three-tight-end alignment, which provided so many option for the Cardinal and so many problems for defenses, will not be the weapon it was before Ertz's injury.
— ESPN's "College Gameday" will set up shop on the Stanford campus on Nov. 12, with its live preview of the day's games starting at 6 a.m.
SCOUTING THE STANFORD OFFENSE: Stanford is third in the nation in scoring (48.2 ppg) and it is eighth in total offense.   It relies on the balance of its power running game and the play-action passing of Andrew Luck, who is fifth nationally in pass efficiency.   The team's identity is as a run-first team and is led by Stepfan Taylor, who averages 99 yards per game, although three other backs get significant playing time.  The tight ends had been the Cardinal's strength this season, and despite the absence of Zach Ertz, Stanford still has two other topflight tight ends — Coby Fleener and Levine Toilolo.   WR Griff Whalen has become the top receiving threat, and he will be a bigger factor with Chris Owusu out for the Oregon game and perhaps longer.   The Cardinal's offensive line has played well this season and continues to improve.
SCOUTING THE STANFORD DEFENSE: The Cardinal's defense has been generally dominant, but it showed some vulnerability against the run the past few games even though it ranks third nationally in run defense.   The absence of ILB Shayne Skov and SS Delano Howell has hurt the Cardinal's run defense, which has yielded some long runs.   Skov is out for the season, but there is a chance Howell will play against Oregon.     Fast teams have had success getting to the perimeter on Stanford, and that is Oregon's forte.    OLB Chase Thomas has 12.5 tackles for losses, and is the team's big-play defender along with SS Michael Thomas, who has played both safety positions this season and has two of the team's three interceptions.   The team's defensive strength is its pass rush, which has accounted for 28 sacks.
QUOTE: "They're constantly watching, and if you're out of position, they'll find it." – Stanford coach David Shaw, on Oregon's ability to find and exploit flaws in an opponent's defense.
THIS WEEK'S GAME: Oregon at Stanford, Nov. 12 – Stanford is 9-0 overall and 7-0 in the conference, coming off a 38-3 victory over Oregon State,  while Oregon State is 8-1 overall and 6-0 in the Pac-12,  coming off a 34-17 victory over Washington.  Stanford has not lost at home since the 2009 season.  The Cardinal would clinch a berth in the Pac-12 title game with a win and would also clinch home-field advantage in that championship game.
SERIES HISTORY: Stanford leads 44-29-1.   Last meeting 2010 (52-31 Oregon).
KEYS TO THE GAME: Stanford must try slow the pace of the game as much as possible by controlling the ball for long stretches.  That means Stanford's offensive line must dominate the game and Andrew Luck must be nearly flawless.   The Cardinal has yielded just four sacks, tied for the fewest in the nation, but USC had success putting pressure on Luck, and the Ducks have 29 sacks.   Stanford must be able to withstand the fast pace Oregon will try to use, especially in the third quarter.    If the Ducks get their offense going at a fast pace and can move the ball down the field in a hurry, the Cardinal may not be able to keep up.   The Cardinal must limit the number of long runs by Oregon running backs – whether it be LaMichael James (who averages 8.0 yards a carry)  or Kenjon Barner (6.8 yards a carry) or De'Anthony Thomas (8.5 yards per carry).  Any of the three is capable of a 50-yard touchdown run, and Stanford has yielded a number of long runs recently.
PLAYERS TO WATCH:
QB Andrew Luck – Luck's Heisman Trophy status will be determined by the game against Oregon.    He played OK against Oregon last season, but not great, and he threw two interceptions that hurt the Cardinal's chances.  He was outplayed by Oregon QB Darron Thomas in that game, and  Luck needs to outplay his Oregon counterpart for the Cardinal to win.
TE Coby Fleener – Fleener has eight touchdown catches and is Andrew Luck's prime target when the Cardinal gets into the red zone.   He becomes even more important with TE Zach Ertz sidelined with an injury.
OLB Chase Thomas – The most publicized member of the Stanford defense, Thomas has 12.5 tackles for losses and 6.5 sacks.  He needs to at least bother Oregon QB Darron Thomas.
TB Stepfan Taylor – The versatile back is averaging 99 yards per game, and the Cardinal needs him to get consistent gains for Stanford to sustain long drives and slow the game's pace.  He had 113 yards against Oregon last season, but 44 came on one touchdown run in the first half.
ROSTER REPORT:
— WR Chris Owusu sustained his third concussion in 13 months in the Oregon State game, and though he seems to be fine and passed all the tests required for him to play, he will not play against Oregon as a precaution.   Whether he will play again this season is uncertain.
– SS Delano Howell missed the past three games with a hand injury, but he might play in the Oregon game, which would be a significant boost because defensive back have to make a lot of tackles against the Ducks.
— TE Zach Ertz sustained a knee injury against USC, missed the Oregon State game and is expected to miss the Nov. 12 Oregon game as well.
— OT Cameron Fleming missed the Oregon State game with a knee injury and is questionable for the Oregon game.
— TE Levine Toilolo injured his shoulder in the Oregon State game, but he is expected to play in the Oregon game.
— K Jordan Williams missed the USC game and the Oregon State game after sustaining a pulled muscle in pregame warmup of the USC game, and he is questionable for the Oregon game.
Original Story:
http://feedproxy.google.com/~r/jakest...
THE BACKYARD
BEST OF MAXIM
RELATED ARTICLES
The fact that Oliver Luck, the father of Stanford quarterback Andrew Luck. played pro football has created plenty of speculation that Oliver will be intimately involved in Andrew's decision-making processes when it comes to playing football at the next level. Not so, Oliver Luck said on Monday night's Bruce Smith Show with Johnny D in…
Andrew Luck never said his decision to forego the 2011 NFL draft and play another season at Stanford was to make a run at the Heisman. Indeed, just last weekend he said his decision wasn't even necessarily made so he could play in big games like this week's much-anticipated showdown with Oregon.
Oregon's defense shouldn't pose much of a challenge to Andrew Luck but, given the Stanford Cardinal's weak schedule, this is the one game of the regular season where all eyes will be on him. Luck needs a strong performance in the biggest game of his career Luck's performance on Saturday night won't shape the opinions of scouts, but it will impact public perception which...
Head coach David Shaw, Andrew Luck, Michael Thomas and Jarek Lancaster discuss last week's game at Oregon State along with Saturday's showdown against Oregon in this edition of Stanford Football Weekly.
STANFORD, Calif. (AP) -- Most visitors to Jim Plunkett's house want to see his Heisman Trophy. Maybe even pose for a photo with the bronze statue and the only Stanford alum to win the prestigious award. Not Andrew Luck. He's a meat and potatoes kind of guy. During a homemade dinner Plunkett hosted at his house last year, Luck stuck to the basics: a plate of beef tenderloin...
There is no game of the century this week, but there are still plenty of great college football games that could decide who will be playing in their conference championship games (and who will win weekly fantasy college football challenges). This week's marquee matchup is out west in the Pac-12 as #7 Oregon heads south to take on #4 Stanford and its much-desired QB Andrew Luck...
NWSB insider Jason Green breaks down the week 10 matchup between the Stanford Cardinal and the Oregon State Beavers on Saturday, November 5th, 2011. Since OSU gave up so many rushing yards the Cardinal dominated the time of possession 40:20 to 19:40. Andrew Luck did not have a huge passing game in terms of yards but he got the job done.
Q is amped up about this week's Pac 12 matchup for all the marbles on the west coast. It's the Oregon Ducks vs. Stanford Cardinal. Andrew Luck vs. LaMichael James. Saturday night's HUGE Pac 12 battle between undefeated Stanford and Oregon not only has big BCS implications, but it may be the most exciting game we see all season...
The Indianapolis Colts have really asserted themselves as the front-runner in the Suck for Luck derby now. Although Suck for Luck Bowl I takes place this Sunday versus the Jacksonville Jaguars- so that will certainly be a test. We've updated our NFL Draft team needs for every team in this mock update. Team needs come courtesy of National Football Post 1. Indianapolis Colts...
During his weekly press conference, Washington coach Steve Sarkisian said he'd take USC's Matt Barkley over Stanford's Andrew Luck in next year's NFL draft. It's likely that few in football share those sentiments - even after Barkley's prolific efforts last week - but Sarkisian may not have wanted to miss an opportunity for some gamesmanship with a player...
College Football News

Delivered to your inbox

You'll also receive Yardbarker's daily Top 10, featuring the best sports stories from around the web. Customize your newsletter to get articles on your favorite sports and teams. And the best part? It's free!
THE COLLEGE FOOTBALL HOT 10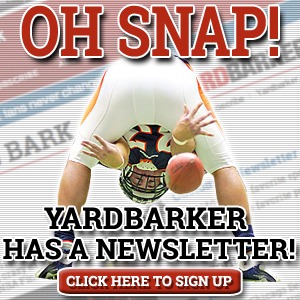 Latest Rumors
The Backyard

Today's Best Stuff

For Bloggers

Join the Yardbarker Network for more promotion, traffic, and money.

Company Info

Help

What is Yardbarker?

Yardbarker is the largest network of sports blogs and pro athlete blogs on the web. This site is the hub of the Yardbarker Network, where our editors and algorithms curate the best sports content from our network and beyond.