Found November 06, 2012 on Crystal Ball Run:
Ahh, social media - sometimes we love you a little to much. In fact it caused a near meltdown for UCLA head coach Jim Mora on Tuesday after someone created a fake twitter account for one of his players, Richard GoForth, on Monday night. He's a freshman on the Bruins team and isn't even a member of the twitterverse himself. But the real story is perhaps the fact that Mora was so peeved by the fake account that he wants the man or woman behind it to go to jail. "I think it's a frickin' joke that somebody would do that," Mora said via the report highlighted above. "I think you're the lowest form of life-form if you were to portray yourself as an 18-year-old young man who is out here trying to do his best. Trying to stir it up, attributing comments to him that aren't his, I think he ought to go to jail. That's how I feel. I think you're a scumbag." What sparked the original controversy was the account tweeting out to USC wide receiver Robert Woods and taunting him. That started an all out twitter war between fans of the Bruins and Trojans as you might expect. Mora even had to go as far as calling USC head coach Lane Kiffin to make sure they knew it wasn't a real account and that GoForth had nothing to do with it.  My reaction? First off, really people? How gullible are you?  Are there stupid athletes and people out there that will try to stir up controversy for followers out there? For sure, but do you really think a UCLA kid is going to be dumb enough to talk ridiculously stupid trash to Robert Woods two weeks before the Battle of LA? I'd like to think that kids going to school at a place like UCLA or USC would be at least a bit more smart in their ability to taunt an opponent in the first place. This incident also brings about the interesting conundrum of social media and identity theft. Unfortunately in America impersonating someone on social media and causing harm isn't something that's currently punishable, but Mora brings up a good point - should it be punishable? Look, I'm all for funny parody accounts and having a good time using social media, but taking the persona of an 18 year old young man who isn't even part of the social media scene to begin with is just plain wrong. Not to mention the fact that you aren't doing it to be funny about the individual you are trying to impersonate, you are doing it to cause his teammates, his university, and himself embarrassment and harm. What if it was less clear if it was real or fake and he ended up punished or kicked out of school because of it? I mean, seriously, don't you have anything better to do with your life than creating a twitter account just to get your jollies off of stirring up trouble? It's also amazing the power that Twitter has over fanbases that are gullible enough to get bent out of shape over an obviously fake twitter account. This incident highlights the ills of social media perhaps as much as any in recent college football history for sure.
Original Story:
http://www.bloguin.com/crystalballrun...
THE BACKYARD
BEST OF MAXIM
RELATED ARTICLES
I'll admit it, I wasn't a huge fan of the Jim Mora Jr. signing at UCLA last winter (read: I thought it was going to be a disaster), so I'm shocked an impressed that he has the Bruins sitting at #17 in the nation, 7-2, and first place in the Pac 12 South after throttling Arizona by 56 last week. I just feel morally obligated to throw one thing in before I give Mora too...
Posts on a phony Twitter account unleashed the inner Jim Mora on Tuesday. The UCLA coach was angry about a person portraying themselves as freshman safety Randall Goforth. There were several posts made directed at USC receiver Robert Woods, which brought replies from Woods and others. The account has been suspended. Not good enough, according to Mora. I think its a joke that someone...
Jim Mora may make headlines every once in a while, but he's never afraid to realize his mistakes and apologize the next day. On Tuesday, Mora said the owner of a fake Twitter account , posing as UCLA safety Randall Goforth, should be sent to jail. On Wednesday, the UCLA head coach lowered his stance on the punishment of social media imposters. "Obviously I overreacted. Obviously...
(Ed Note: This article appears courtesy Bloguin's central college football hub, Crystal Ball Run.) Ahh, social media - sometimes we love you a little too much. In fact it caused a near meltdown for UCLA head coach Jim Mora on Tuesday after someone created a fake Twitter account for one of his players, Richard GoForth, on Monday night. He's a freshman on the Bruins team...
Jim Mora review the tape of UCLA's big win over Arizona Saturday night, talks about the weather up in Pullman, and talks about the value of last week's practices...
Jim Mora talks about the challenges of Washington State's pass happy attack and the development of UCLA's secondary this season...
UCLA HAS emerged from hibernation under Jim Mora. Coming off a 66-10 rout of Arizona, the No. 17 Bruins' confidence is at an all-time high. Having rediscovered their offense and their pass rush, UCLA has claimed the top spot in the Southern Division and is looking ahead to their showdown with USC next Saturday. But…
Quarterback Brett Hundley is well aware UCLA has moved ahead of crosstown rival Southern California in the Top 25 and the Pac-12 South standings. Hundley still isn't thinking about the Trojans - at least not until they meet next week. But the freshman has heard all about it from his fellow students over the past two days since the No. 17 Bruins (7-2, 4-2 Pac-12) routed Arizona...
A fake Twitter account portraying UCLA Bruins freshman Randall Goforth caused quite an uproar Monday night. The Bruins are set to take on the crosstown rival USC Trojans on Nov. 17 and one imposter used the social media site to stir things up using Goforth as an alias.The account has since been shut down, and the identity of the imposter is still not known, but UCLA head coach...
UCLA already has enough to worry about when it comes to their football opponents, so the last thing they need is fake Twitter accounts stirring things up with rival players. Bruins head coach Jim Mora recognizes that, and he went off on a Twitter impostor for posing as freshman safety Randall Goforth and initiating trash talk with opponents. The impostor Twitter account @RandallG300...
Brett Hundley knows what's going on in the Pac-12 South standings. His fellow UCLA students have told him all about it in the past two days since the Bruins climbed over Southern California to get on top. But the freshman quarterback has been around Los Angeles long enough to know the crosstown rivalry shouldn't consume him. Even after No. 17 UCLA vaulted past the Trojans...
College Football News

Delivered to your inbox

You'll also receive Yardbarker's daily Top 10, featuring the best sports stories from around the web. Customize your newsletter to get articles on your favorite sports and teams. And the best part? It's free!
THE COLLEGE FOOTBALL HOT 10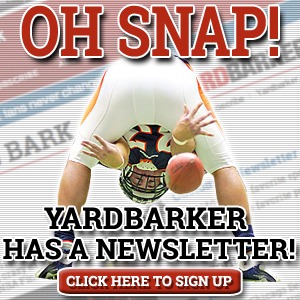 Latest Rumors
Best of Yardbarker

Today's Best Stuff

For Bloggers

Join the Yardbarker Network for more promotion, traffic, and money.

Company Info

Help

What is Yardbarker?

Yardbarker is the largest network of sports blogs and pro athlete blogs on the web. This site is the hub of the Yardbarker Network, where our editors and algorithms curate the best sports content from our network and beyond.