Found August 02, 2012 on Fox Sports West:
Lane Kiffin may not ever be able to step foot in Tennessee again and after Tuesday's developments, with former Penn State running back Silas Redd announcing he will transfer to USC, Happy Valley may not be too kind to Kiffin either. Plenty of upset Nittany Lion faithful or just plain Lane haters took to Twitter and message boards to express their disgust with the Trojans head coach for aggressively recruiting Redd. However, it should be noted, what Kiffin did was well within the NCAA rules. Aside from the detractors, Kiffin had his boss' blessing in the situation. "At USC, we've seen both sides of this issue, having lost a number of players to transfer due to our NCAA sanctions in 2010," said USC Athletic Director Pat Haden. "But Lane Kiffin and his coaches would not be doing their job if they did not try to improve our team every single day. There is a specific need here for a player like Silas Redd, so Lane and our coaches recruited him within the guidelines set up in this instance by the NCAA." It's not the first time Kiffin has rubbed people the wrong way, and certainly won't be the last. Kiffin has made a bunch of questionable decisions throughout his career. Some would argue, simply taking the Raiders job to be at the top of that list.There was also him calling out the top dog of the SEC, the Florida Gators, and their head coach at the time Urban Meyer, accusing the coach of cheating in recruiting. And, there was the head coach reportedly telling former South Carolina wide receiver Alshon Jeffrey during his recruitment that "if he attended South Carolina, he'd end up pumping gas the rest of his life like all the other players from the state who had gone to South Carolina." Kiffin denied making that statement. The Trojans head coach doesn't walk around with a bucket of regrets but if there is one thing he wishes he could have a Mulligan on is how he left Tennessee. The one-time Vols head coach thought he was doing the right thing by saying goodbye. However, it didn't fly so well in Knoxville. Announcing he was leaving after just one season on the job created an uproar with students resulting in rioting. "I felt like the media in Tennessee had been very, very fair to us in our time there and had been very good to us, so what I was trying to do was set up something where I could say bye to them and kind of explain my decision to them," Kiffin explained. "I had a lot of people saying 'Don't do that. Get on a plane and get out!' I was trying to do that and then it just backfired because it didn't go the way that it was supposed to. I guess I regret trying to do what I thought was right at the time and it just didn't work out." His time at USC has been much milder and a lot more tame. He didn't throw haymakers or call out the big dog in the conference. By his own admission, Kiffin said he didn't need to do that. All of a sudden, he was the big dog in the conference. However, because of the things of his past, the hiring of Kiffin didn't sit too well with some Trojan faithful, who viewed him as a loud mouth, heavy on gimmicks and short on substance. A 5-15 record in the NFL attached to a 7-6 record in the SEC coming off of a Chick-Fil-A Bowl appearance didn't exactly make him appealing. In the time since, he's endeared himself to the doubters. He showed that there is substance and he's more than just a top notch recruiter. He can also coach. Short on words, he let his coaching do the talking during a time when everyone had something to say about USC and how the program would succumb to NCAA sanctions. The program had to adjust and changes had to be made. With sanctions looming and the Trojans coming off of a 9-4 season, Kiffin took over and immediately felt the need to instill discipline. The players fought it. "When you come in and follow a legend like Coach (Pete) Carroll and all the success that the team's had, you're going to have upper classmen to say 'Wait a second. We don't need to change anything. Why are we going to do anything different?'" Kiffin said. "What was unusual for us, usually you're not taking over a program that's elite. Usually they struggle and there's a coaching change, so this was a unique situation that way and I think that's why you saw some of that." Added USC quarterback Matt Barkley, "I knew what they were doing, too, at first. "Our guys on the team that we had, knowing what it would take to get us going, I knew it couldn't be the way that he (wanted when he) came in." There was some poaching being done by the players, who didn't immediately buy in to what Kiffin was selling a rigid agenda. They met halfway on some things. "There was a lot (of changes)," Barkley said. "Having fun at meetings not just coming in and tell us the schedule and leaving (but) showing film of guys getting blasted on a play or making a sweet catch. Music through practice. There were quite a few things that T.J. (McDonald), Khaled (Holmes) and I went to coach just to, kind of, meet half way...and get on the same page." Kiffin disagrees. "He blows that up about we have more fun now or something like that," Kiffin said. "That he changed me to have more fun or something. We have more fun now because we win more games. That's why we have more fun." That winning has been done on the field and off. The Trojans are coming off of a 10-2 year, and although it's still six months away from National Signing Day, the Trojans recruiting class of 2013 is ranked the best in the country. It's a byproduct of what he's calls "the perfect storm" USC president Max Nikias, Haden, the opening of the John McKay Center, assistant coaches hitting the recruiting trail hard and Barkley and McDonald electing to forego the NFL Draft to return for their senior season. Arrogant. Misunderstood. Bland. Funny. Traitor. Opportunist. Whatever adjective used to describe Kiffin throughout the years, one thing that's been clear is he's done it his way wherever he's been. After taking over a team on the heels of an Emerald Bowl appearance, Kiffin and the Trojans have come through the other side of a two-year bowl ban as, arguably, the top team in the nation entering the 2012 season. He's spent all offseason, many times unsolicited, mentioning his concern about the Trojans' lack of depth at running back. Ideally, when the opportunity arose to make a run at Redd, he jumped at it regardless of what people may say or how it may be perceived. These days you can argue there's a lot more substance and a lot less fluff than earlier in his head coaching career when his actions and remarks made him an easy target for skepticism. However, he contends he's still the same guy. "Winning solves a lot of problems," Kiffin said. "The change has not been me. The change has been because our players have won more games. "You sign up for that when you're a head coach especially the way that I handled things. Whether you agree or not there was some specific plans for what I felt we needed at Tennessee taking over that program at the time. Obviously, that started people's thought process about me. I just got to keep doing what I feel is the best for our program and not for national perception."
Original Story:
http://www.foxsportswest.com/08/02/12...
THE BACKYARD
BEST OF MAXIM
RELATED ARTICLES
Lane Kiffin didnt want USC to be ranked number one any preseason polls. On Thursday, he got his wish. USC is ranked third in the USA Today Preseason Coaches Poll behind LSU and Alabama. Despite being third, the Trojans received more first place votes, 19, than top ranked LSU, 18. The Crimson Tide received 20 first-place votes. Others in the Pac-12 included in the Preseason Poll...
It's been a couple of seasons but the USC Trojans are back. After a two-year bowl ban, Lane Kiffin and company have once again loaded up Southern Cal with a star-studded team that's among the favorites to win the BCS National Championship. The SEC Conference has produced six straight National Champions from their conference, so it's not likely that they're shaking in their...
USC head coach Lane Kiffin wrapped up questions on the stage at Pac-12 Media Day only to be greeted by a lightning round of more questions at the lunch table. Below is a full transcript of the lunch time talk between the media and Kiffin.
While Penn State is falling into the abyss because of the sanctions placed on them by the NCAA, the USC Trojans are about to embark on their first season free of a bowl ban in the Lane Kiffin era. USC was in the news this week by landing Silas Redd via transfer from Happy Valley. [...]
LONG BEACH, CA USC Athletics and JetBlue Airways announced Wednesday that they have reached a new multi-year agreement that will see JetBlue become the Official Domestic Airline Partner of the University of Southern California Trojans. The multi-year sponsorship will kick off with the 2012-13 academic year and will include all 21 USC Division I teams. The agreement was facilitated...
When Lane Kiffin shamelessly began recruiting former Penn State running back Silas Redd, who eventually transferred to USC, most people said that that is something all college football coaches would do. Not Bill O'Brien, man of morals that he is. The current Penn State football coach, who took the job while the school was being investigated for potentially covering up the actions...
2012-2013 Preseason NFL Draft Prospect Evaluations (Safeties) #7 TJ McDonald S, USC HT      6-3     WT     205 YR      SR      Pos      S Notables: Will be a 3rd Year Starter (23 Career Starts) 2011 Sporting News 1st Team All-American 2011 1st Team All Pac-12 163 Career Tackles Pros Makes plays on the ball in open space in the passing...
Northwestern says the NCAA has ruled receiver Kyle Prater eligible for this season after transferring from Southern California. The school announced this week that Prater received a waiver from the governing body and will not have to sit out. He will still have three years of eligibility remaining. A Chicago-area product, Prater redshirted as a freshman and had just one catch for...
Lane Kiffin does not expect running back Silas Redd to struggle with his transition from Penn State to USC. USCs coach, in radio interviews Wednesday, said the junior running backs familiarity with a college system should help speed the process once the Trojans begin training camp Monday. Kiffin told ESPNs Colin Cowherd that coaches would spend extra time around the clock with...
The very moment that the NCAA announced that Penn State players could transfer and play immediately, Lane Kiffin began scheming on how he could lure running back Silas Redd to USC. He played it coy in the media and even offered Penn State coach Bill O'Brien advice on dealing with sanctions. But all the while, his sights were set on convince Redd to transfer to USC. So how did Kiffin...
College Football Updates By SBRForum.com How will the Penn State scandal and other top stories affect the college football picks for the up-coming season? The NCAA had considered giving the Nittany Lions a four-year death penalty, but once the school found out they held emergency meetings with the committee to come to a different conclusion. In the end, the punishments were still...
Silas Redd deletes Twitter acct. Jump to own conclusions…. — Colin Cowherd If true you can't blame the kid for jumping ship. He has to look at what's best for himself, and family moving forward. Southern California is beckoning.
College Football News

Delivered to your inbox

You'll also receive Yardbarker's daily Top 10, featuring the best sports stories from around the web. Customize your newsletter to get articles on your favorite sports and teams. And the best part? It's free!
THE COLLEGE FOOTBALL HOT 10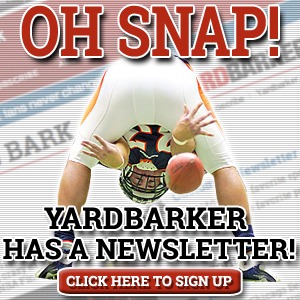 Latest Rumors
The Backyard

Today's Best Stuff

For Bloggers

Join the Yardbarker Network for more promotion, traffic, and money.

Company Info

Help

What is Yardbarker?

Yardbarker is the largest network of sports blogs and pro athlete blogs on the web. This site is the hub of the Yardbarker Network, where our editors and algorithms curate the best sports content from our network and beyond.