Found November 13, 2013 on Fox Sports Wisconsin:
MADISON, Wis. -- If Nate Hammon is being honest with himself, the fact that he finds himself on the field for critical moments of football games at Wisconsin still provides a pinch-me moment. The guy who thought he'd be a college quarterback and then spent a year at wide receiver instead certainly didn't envision any contributions would come at safety. "I never thought this year ever," Hammon said. "After last year, I didnt think I was ever going to see the field. Ever." But Hammon, a redshirt freshman, has emerged as one of the most pleasant surprises to Wisconsin's entire defense, and his role continues to grow. He'll be on the field once again for a considerable number of snaps when No. 17 Wisconsin (7-2, 4-1 Big Ten) plays host to Indiana (4-5, 2-3) at 11 a.m. Saturday at Camp Randall Stadium. Hammon's story begins in high school, when he was convinced he would be a college quarterback. The 6-foot-1, 196-pounder was an honorable mention all-state pick at Milton (Wis.) High as a senior. He passed for 2,077 yards and 19 touchdowns that season and added 819 rushing yards with 16 touchdowns. Hammon visited a Wisconsin camp, but the pervious coaching staff shied away from him when he didnt seem open to a position switch. Instead, he decided he would attend Illinois State. Then, just days before national signing day, Wisconsin offered Hammon a scholarship -- provided he would sit out the first semester as a grayshirt and switch positions. Hammon, who needed to undergo foot surgery anyway, decided the move fit. Still, the transition did not go as smoothly as he hoped. He began his career at safety and switched to wide receiver almost immediately in the summer of 2012. He spent all of last season as a scout-team wide receiver and felt lost. "I was just struggling there," Hammon said. "I wasn't very good. I just wasn't understanding everything. I was trying to set my goals on special teams." Wisconsin brought in a new coaching staff in the offseason and opted to move Hammon back to safety. Badgers safeties coach Bill Busch said he saw something in Hammon during spring practices and believed he could be vital in a role covering tight ends. Of course, he had to beat out his teammates in the fall. "I wasnt anywhere on their radar," Hammon said. "I was like third or fourth string. I kept trying to show them what I could do. Kept trying to take coaching and get better." Hammon's big break came in Week 3 against Arizona State, when coaches decided to put him on the field for 50 plays. In that game, he helped hold Sun Devils tight end Chris Coyle to three catches for 33 yards. And he has continued to improve over the past two months as he has grown more comfortable on the field. "He makes my life easy," Busch said. "He's a one-time guy. Something happens and you correct it. It's like, 'Nate, this is how we're doing this.' OK, I got it. That makes sense. He's very intelligent academically and the same with football. Football comes easy to him as far as what we're trying to do. He's never confused." Hammon's role has expanded over the course of the season. Last week against BYU, for example, coaches asked both he and safety Dez Southward to play some cornerback and handle bigger wide receivers in man coverage. Hammon, who was on the field for 47 plays, did not allow a single catch to a skill position player and gave up just one catch to a tight end across the middle. "He's kind of a utility guy," UW defensive coordinator Dave Aranda said. "He's really allowed us week in and week out to get matchups and set other people up. So he's had to kind of take the brunt of, 'Hey, now you're playing this' or 'Hey, now you're over here.' And he's done a great job of it." This season, Hammon has recorded 15 tackles, including one sack. He credits Busch for having faith in him and allowing him to make mistakes. Hammon noted Busch is not a stickler for every little detail and instead tries to help Hammon with alignment, tips on tendencies of players in various formations and what routes they might run. All of it has clicked for Hammon, whose importance to Wisconsin's defense grows each week. "I just pretty much do whatever coaches ask me to do, I guess," he said. The better Hammon performs, the more coaches are asking. Follow Jesse Temple on Twitter
Original Story:
http://www.foxsportswisconsin.com/col...
THE BACKYARD
BEST OF MAXIM
RELATED ARTICLES
We've reached the home stretch of the college footballseason, and so we're coming down to the wire on Badgers football mailbagquestions. This week, we discuss possible future replacements for JacobPedersen and Jared Abbrederis, Tanner McEvoy as a long-term defensive optionand the prospects of running back Melvin Gordon returning for his juniorseason.If you have a question...
Wisconsin football coach Gary Andersen spoke with the mediaTuesday morning on the Big Ten's weekly coaches teleconference ahead of theBadgers' game against Indiana.Andersen discussed Wisconsin's BCS conundrum, the effortrequired to vote in the coaches Top 25 poll and the impact of running backsMelvin Gordon and James White.Here is the full transcript of Andersen's...
MADISON, Wis. -- The team that finished the regular season7-5, placed third in its own division and never won more than three consecutivegames played in a Rose Bowl. The team with a potential to finish the regularseason 10-2, hold the second-best record in the entire conference and closewith seven straight victories could miss a Bowl Championship Series gameentirely.Sometimes, life...
MADISON, Wis. -- The team that finished the regular season7-5, placed third in its own division and never won more than three consecutivegames played in a Rose Bowl. The team with a potential to finish the regularseason 10-2, hold the second-best record in the entire conference and closewith seven straight victories could miss a Bowl Championship Series gameentirely.Sometimes, life...
Wisconsin running back James White always seems to be in a good mood, grinning often when he's around teammates. Senior year is a whole lot of fun when you spend so much time scoring touchdowns. With eight touchdowns in the last three games, and a team-high 13 on the year for the 17th-ranked Badgers (7-2), White is making the most of his dwindling opportunities in Wisconsin...
Our weekly look at how Wisconsin ran and passed, this time vs. BYU as well as for the season. Of note is the way Wisconsin has run right inside (from the right of the center to the right shoulder of the right tackle) the last five games. The averages: 3.25, 4.09, 3.54, 2.55, 2.82 with 11 carries in each of the previous four games - each of those the highest total of any run direction...
MADISON, Wis. -- The aches and pains that come with playingextended minutes at the highest level of college basketball have not set injust yet. We are, after all, only two games into a 31-game regular season.So right now, we can't know whether Wisconsin can sustainusing a seven- or eight-man playing rotation for the long haul. No one knowswhether it's feasible given potential...
The Badgers entered Tuesday nights game riding a 86-75 win over St. Johns this past Friday at the Pentagon in Sioux Falls, South Dakota. Wisconsin welcomed back Josh Gasser to the starting line-up after missing all of last season with a knee injury. For the first time in 8 years the Badgers opened their season away from home and in a game in which they never trailed, Gasser provided...
A late addition to Wisconsin's 2013 walk-on class, freshman kicker Andrew Endicott has made an impact to the Badgers' special teams this season, handling the kickoffs for the past six games. Badger Nation gets to know the freshman kicker a little better in the return of our popular feature.
Photo by David Stluka It wasn't as fast-paced as Friday, but we'll definitely take a win against a Top 10 team. That makes two resume boosting wins already as we head into Green Bay on Saturday. You've read the recap, now let's dig into the box score a little. Ben Brust and Traevon Jackson led the game in rebounds. This got brought up last night, but is...
Sophomore Sam Dekker had a team-high 16 points but it was junior Traevon Jackson's jumper with 9.8 seconds left that sealed the deal for No.20 Wisconsin, as the Badgers get sweet revenge on No.11 Florida with a 59-53 victory Tuesday night.
A year ago Josh Gasser watched his teammates get thoroughly dominated by No.10 Florida on his television. Tonight, he'll try to change the outcome in No.20 Wisconsin's favor when the Badgers open the home schedule against No.11 Florida.
Badgers News

Delivered to your inbox

You'll also receive Yardbarker's daily Top 10, featuring the best sports stories from around the web. Customize your newsletter to get articles on your favorite sports and teams. And the best part? It's free!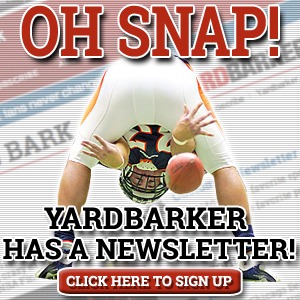 Latest Rumors
The Backyard

Today's Best Stuff

For Bloggers

Join the Yardbarker Network for more promotion, traffic, and money.

Company Info

Help

What is Yardbarker?

Yardbarker is the largest network of sports blogs and pro athlete blogs on the web. This site is the hub of the Yardbarker Network, where our editors and algorithms curate the best sports content from our network and beyond.