LeBron James is headed back to the Buckeye State!  King James shared the news with The Letter to si.com, providing his reasoning for going back to his home state and to the city of Cleveland.   James shared, Before anyone ever cared where I would play basketball, I was a kid from Northeast Ohio. It's where I walked. It's where I ran. It's where I cried. It's where I bled...
Coaches Trophy awarded to the BCS National Champion (pictured). All 124 teams ranked at the end of the article. Jimbo Fisher is right in that we need to change how we pick teams, but humans may not be the best method.  The upcoming four team playoff will haul in loads of money and additional popularity for college football, but it could easily open the door wide...
TAKE THAT
Want one of these "Kirk Herbstreit Can Bite Me" NIU Orange Bowl shirts? Good luck finding one. Your best bet is to order one directly from Smack ($17.99), the t-shirt brand just waiting to slap a funny phrase on a shirt for college students. The NIU bookstore sold out of its Herbstreit shirts within hours, according to Chicago's Northwest Herald. Two of the shirts eventually...
Northern Illinois' BCS Berth in the Orange Bowl to face ACC Champion Florida State was not too surprising to me. I had them projected in early morning hours on Sunday in contradiction to projections of ESPN and CBS. ESPN analysts seemed shocked and angered, especially Kirk Herbstreit. Northern Illinois became the first MAC team to earn a BCS Bowl berth.On the ESPN BCS Selection...
Typically, we are having fans and media squawking about the two teams selected to play in the BCS Championship, or the team not selected to play in the BCS Championship. But since everyone is super-excited about the Notre Dame/Alabama match-up, there is another controversy making headlines today, and that is the inclusion of Northern Illinois [...]
According to Sports Illustrated, former Florida Head Coach Urban Meyer will become the new coach at Ohio State.It's also being reported that ESPN analyst Kirk Herbstreit will join Meyer on the coaching staff, along with current Ohio State Head Coach Luke Fickell, who is expected to remain on the coaching staff once Meyer takes over, and LSU offensive coordinator Greg Studwara...
MORE STORIES >>
College Football News

Delivered to your inbox

You'll also receive Yardbarker's daily Top 10, featuring the best sports stories from around the web. Customize your newsletter to get articles on your favorite sports and teams. And the best part? It's free!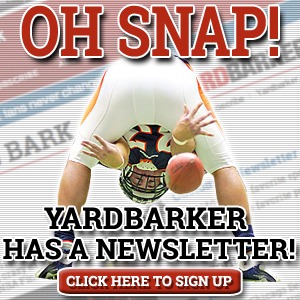 THE COLLEGE FOOTBALL HOT 10