You don't have to beat the fact into the mind of Michigan State football coach Mark Dantonio that the game between his No. 7 Spartans and No. 3 Oregon Ducks this weekend is huge. He knows. "It's an exciting week for us this week," Dantonio said. "A lot of things that you are going to experience this week whether as a coach or as a player, these are things that you anticipate...
Before Friday's season opener between the Michigan State and Jacksonville State the Gamecocks had to know they were going to be hurting a little more than usual on Saturday. Mismatches like this often mean the underdog is going to be feeling the pain (but grateful for the payday). Jacksonville State wide receiver Josh Barge is going to really be feeling the pain after landing...
Inside the War Room: Safety Edition In this week's Inside the War Room I look at the top safeties and kickers in the draft, name this week's prospect of the week, and much more.    Top Senior Safeties Kurtis Drummond Michigan State 6-1 200 Drummond is a big natural athlete who recorded 91 tackles, and […] The post Inside the War Room: Safety Edition appeared first on NFL Draft Diamonds.
Kurtis Drummond has been a starter at safety in the Spartan "No Fly Zone" for the past two seasons. To date, Kurtis has racked up 156 tackles and 8 interceptions. In 2013, the safety was a first team All-Big Ten selection as well as an All-American honorable mention. Drummond will be returning to the Spartans for his senior season in 2014.
I don't always get excited about interceptions, but when I do, it's for plays like the one Michigan State safety Kurtis Drummond made in the first quarter of Friday night's game against Western Michigan—this come's after the safety scores a touchdown off of a Jairus Jones pick. Courtesy of the Big Ten Network: Nice hang time.
EAST LANSING — Two touchdowns, three interceptions, five sacks, 11 pass breakups and nine tackles for a loss. Those numbers are the result of a vicious Michigan State defense having their way with a helpless Western Michigan offense in the Spartans 26-13 season opening victory at Spartan Stadium Friday night. The defense, who didn't score a touchdown last season, put points on...
The 2013 college football season is just two days old, but we may not see a better interception the rest of the season than the one made by Michigan State junior safety Kurtis Drummond on Friday, in the Spartans' 26-13 victory over the Western Michigan Broncos. Check out video of Drummond making this absurd one-handed interception: And here's the play in GIF form (thanks to @
Michigan State cornerback Kurtis Drummond wasted no time in submitting his candidate for this season's defensive play of the year in college football. Drummond, a junior for the Spartans, made this brilliant one-handed pick in the first quarter of MSU's opener against Western Michigan. Oh, and Drummond had already scored a defensive touchdown for Michigan State after receiving...
It hasn't been the greatest start the season for Michigan State's offense, but their defense is proving it early that they are one of the best in the nation. Even when it looks like they are out of position, they can make a play. Kurtis Drummond already had a pick-6 earlier in the game when he made one of the most impressive interceptions we will probably see all year. Check...
WHAT HANDS
If you're looking for a Big Ten linebacker to put on top of your Heisman list – and clearly you are – how about Michigan State linebacker Kurtis Drummond. What's that? You weren't expecting him? Well, you should, especially after what he did to Western Michigan. Drummond got it started for Michigan State by taking the [...]
MORE STORIES >>
College Football News

Delivered to your inbox

You'll also receive Yardbarker's daily Top 10, featuring the best sports stories from around the web. Customize your newsletter to get articles on your favorite sports and teams. And the best part? It's free!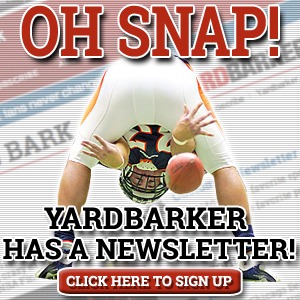 THE COLLEGE FOOTBALL HOT 10