Found October 28, 2011 on Feelin' Kinda Blue:
The Dodgers are entering expensive territory with some of their arbitration eligible players. Before, guys like Matt Kemp, Clayton Kershaw and James Loney were making peanuts. Now, they're going to break the bank -- well, at least Kemp and Kershaw will.The Dodgers have seven arbitration eligible players. Their 2011 base salaries are included.Fourth-timersAndre Ethier, $9.25MMatt Kemp, $7.1M*Third-timersJames Loney, $4.875MHong-Chih Kuo, $2.725MSecond-timersDana Eveland, $500,000 (estimated)Tony Gwynn, $675,000Clayton Kershaw, $500,000First-timersNone*-Included here despite avoiding arbitration last year.Ethier: The Dodgers certainly aren't going to non-tender Ethier, but the salary he earns in 2012 will be a substantial amount. If he had continued to perform at his career clip, he could be looking at a $12 or $13 million payday. Instead, he struggled mightily -- especially in the power department -- and that might actually help the Dodgers in terms of salary (but not ...
Original Story:
http://feedproxy.google.com/~r/Feelin...
THE BACKYARD
BEST OF MAXIM
RELATED ARTICLES
Outfielder Matt Kemp and pitcher Clayton Kershaw were both selected on the 2011 Sporting News All-Star team. The award is voted on by members of major league front offices, AL and 29 NL executives. It is Kemp's second award. Mike Piazza was honored five times while playing in Dodger Blue.
Matt Kemp They call him The Bison for a reason: the man is a BEAST. And Beast Mode was certainly on display throughout 2011. After a disappointing 2010, 2011 was clearly an important step for Matt Kemp, one way or the other. Another disappointing season, no matter how unlucky he may be, would almost certainly signal a trade. A good year, or better, and a new contract would be in...
Hong-Chih Kuo is scheduled to undergo his fifth elbow operation Friday, but his agent said he intends to pitch next season even if it's not for the Dodgers. "There's no thought of retirement," Alan Chang said. "He's fully committed and highly motivated to do what it takes." In the final month of the regular season, Kuo sounded uncertain about his...
Jerry Sands Left Field: Ned Colletti's Folly. This is the Season Review I've been least looking forward to because it's by far the most depressing, and it's therefore the one I have the least interest in writing. Essentially, left field was a hot mess in 2011, as the Dodgers used basically everybody, the kitchen sink, and Eugenio Velez. I'll focus on the main guys and...
According to Dodgers attorneys, Dodgers parking lot beating victim Bryan Stow shouldn't have been tangoing around in the first place, according to the Dodgers. Or something like that: An attorney representing the Dodgers and owner Frank McCourt filed a civil complaint against the two men charged in the Opening Day beating of San Francisco Giants fan Bryan Stow in Los Angeles...
Dodgers center fielder Matt Kemp and ace starting pitcher Clayton Kershaw on Thursday were named to the Sporting News National League All-Star team, which is voted on by 55 members of Major League front offices.
Stay classy, Frank McCourt. Lawyers for the owner of the Los Angeles Dodgers are blaming Bryan Stow for getting beat up at a Dodgers game. All I can say is wow. This is a new low … even for Frank McCourt. It's no mistake that Major League Baseball is trying to take the Dodgers away from Frank McCourt. They don't think he's fit to run an MLB team. I can't help but agree...
Here's a running list of injury updates around the Major Leagues: – Left handed pitcher Hong-Chih Kuo will undergo surgery in his left elbow to remove loose body according to Jon Weisman of Dodgers Thoughts. He'll be able to throw after 6-8 weeks of recovery. – Right handed pitcher Juan Nicasio is making remarkable progress from his broken neck and according to Troy Renck...
An attorney for Bryan Stow's family responded, not so kindly, after the Los Angeles Dodgers' representation insinuated that the Giants fan was partly to blame for the parking lot beating that left him in a coma. "How you are judged in life is how you react after mistakes," Stow attorney Thomas Girardi told the LA Times. "So here it is, let's blame the innocent guy for...
Bryan Stow with his children. An attorney for Dodgers owner Frank McCourt, defending the franchise against a lawsuit by San Francisco Giants fan Bryan Stow, predicted that a jury will place some of the blame on the brained-damaged victim of the vicious opening day beating.
LOS ANGELES (AP) - An attorney for San Francisco Giants fan Bryan Stow has responded to comments made by a lawyer for the Los Angeles Dodgers who suggested Stow might be partly to blame for a brutal attack he received in a Dodger Stadium parking lot on opening day.Thomas Girardi ...
Bautista holds off Ellsbury in American League There were some outstanding performances this year in Major League Baseball. However, one clearly stood out from the pack. Los Angeles Dodger outfielder Matt Kemp was named the National League Stan Musial Award winner for 2011 in voting held by the Baseball Bloggers Alliance. Kemp received all 15 first place votes and completely dominated...
Dodgers News

Delivered to your inbox

You'll also receive Yardbarker's daily Top 10, featuring the best sports stories from around the web. Customize your newsletter to get articles on your favorite sports and teams. And the best part? It's free!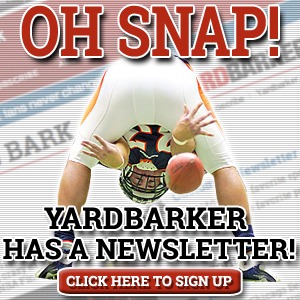 Latest Rumors
Best of Yardbarker

Today's Best Stuff

For Bloggers

Join the Yardbarker Network for more promotion, traffic, and money.

Company Info

Help

What is Yardbarker?

Yardbarker is the largest network of sports blogs and pro athlete blogs on the web. This site is the hub of the Yardbarker Network, where our editors and algorithms curate the best sports content from our network and beyond.