Found January 02, 2013 on Fangraphs:
PLAYERS:
Chase Utley
,
Ryan Howard
,
Carlos Ruiz
,
Erik Kratz
,
Roy Halladay
,
Vance Worley
,
Joe Blanton
,
Kyle Kendrick
,
John Lannan
,
Mike Adams
,
Jonathan Papelbon
,
Antonio Bastardo
,
Freddy Galvis
,
Darin Ruf
,
Jimmy Rollins
,
Ben Revere
,
Michael Young
,
Kevin Frandsen
,
Josh Fields
,
Jermaine Mitchell
,
Sebastian Valle
,
Tyson Gillies
,
Ender Inciarte
,
Laynce Nix
,
John Mayberry
,
Jake Fox
,
Andres Blanco
,
Cesar Hernandez
,
Pete Orr
,
Brian Schneider
,
Humberto Quintero
,
Tug Hulett
,
Michael Martinez
,
Zach Collier
,
Jiwan James
,
Ty Wigginton
,
Kyle Hudson
,
Mike Spidale
,
Juan Pierre
,
Joe Randa
,
Keith McDonald
,
George Foster
,
Joe Vitiello
,
Chris Widger
,
Randy Winn
,
Carl Everett
,
Milt Thompson
,
Cliff Lee
,
Cole Hamels
,
Julio Rodriguez
,
Jonathan Pettibone
,
Raul Valdes
,
Tyler Cloyd
,
Michael Schwimer
,
Jose Contreras
,
Jeremy Horst
,
Michael Stutes
,
Justin Friend
,
Phillippe Aumont
,
Jake Diekman
,
Cesar Jimenez
,
Joe Savery
,
B.J. Rosenberg
,
Brandon Erbe
,
Zach Miner
,
J.C. Ramirez
,
Ethan Martin
,
Jeff Fassero
,
Mike Mussina
,
Jimmy Anderson
,
Courtney Duncan
,
Tony McKnight
,
Jorge Vasquez
,
Doug Brocail
,
Brad Voyles
,
Chris Schroder
,
Sean Green
,
Justin De Fratus
TEAMS:
Philadelphia Phillies
,
Los Angeles Angels
,
St. Louis Cardinals
,
Miami Marlins
,
Texas Rangers
Dan Szymborski's ZiPS projections, which have typically appeared in the pages of Baseball Think Factory, will be released at FanGraphs this year. Below are the projections for the Philadelphia Phillies. Szymborski can be found on Twitter at @DSzymborski. Other 2013 Projections: Athletics / Giants...
Original Story:
http://www.fangraphs.com/blogs/index....
THE BACKYARD
BEST OF MAXIM
RELATED ARTICLES
Would Charlie be fired midseason? Our Phillies Nation contributors got together to give you their boldest prediction for 2013. What will Ryan Howard do? Could the Phillies really trade Halladay or Lee? How well will Cole do? Read our thoughts, then let us know what your bold prediction for the upcoming year is in the comments section. Charlie goes? -Brian Michael: The Phillies struggle...
The 25th spot on the Philadelphia Phillies will probably go to Darin Ruf, if a corner outfielder is not added. Are the odds in his favor?   TAL'S HANDY CAPS WELCOME, NEWCOMERS:  My articles are designed to represent a baseball man's thinking, the view from the dugout and the GM's box. Most fans do not consider the budget, prospects on the radar, the team's weaknesses, the...
With healthy discussion surrounding whether or not Domonic Brown and/or Darin Ruf can be everyday Major Leaguers and, in turn, whether the Phillies should seek more outfield help, many, including myself, have noted that the Phillies outfield picture is incredibly heavy in quantity but low on quality. The Phillies, assuming Brown and Ruf are on the 25-man roster, sit with six outfielders...
Roy Halladay has been the most dominant pitcher the Philadelphia Phillies have had since Steve Carlton. He struggled in 2012 with back and shoulder issues though and as Doc approaches 36 years of age, one has to wonder if he can return to being one of the best pitchers in baseball. Reports from the Phillies have been vague. General Ruben Amaro said, "Doc's done very well. He's...
It is the age old saying: Kyle Kendrick is a schizophrenic and so is he. OK, maybe not a direct quote but the scenario works here. The possibilities with Kendrick are endless. He could be the solid and consistent pitcher who jumped onto the scene in 2007. He could be the wildly inconsistent 2011 version who still managed a 3.22 ERA. He could be the Kendrick from 2008 and 2010 who...
The Philadelphia Phillies have been tied to veteran outfielders Alfonso Soriano and Vernon Wells this winter, but the best available fit may be free agent Scott Hairston, according to Todd Zolecki of MLB.com. That's a good question. If I can get any one of those guys, I probably take Hairston, although I wouldn't necessarily consider him an everyday player...
What can the Phillies expect from Roy Halladay in 2013? Wins, ERA, Complete Games Listen to the Philly Baseball Beat live at 8pm only on MTR Radio tonight. Are you missing baseball? Get your fix on the ONLY show dedicated fully to the Philadelphia Phillies!
The new calendar is up and I am welcoming in the New Year in 2013 by staring at Kyle Kendrick for 31 days. I thought about doing a "Top 10" this or a "Best of 2012" that, but all the other great blogs already had things up. So, since it...
Listen to the Philly Baseball Beat live at 8pm only on MTR Radio tonight. Are you missing baseball? Get your fix on the ONLY show dedicated fully to the Philadelphia Phillies!
From the official Twitter account of the Crosscutters, the Phillies have filled one of their last Minor League coaching vacancies: Nelson Prada @nelyprada57 named manager of the Crosscutters. Spent last 8 seasons managing in Twins organization #GoCutters — Cutters Baseball (@crosscutters) January 3, 2013 Prada played four years, 1995-1998, in the Twins organization, reaching High...
Mike Adams' First Phillies Appearance Could Be on ESPN The Phillies will open the 2013 with a little bit extra exposure. The Phillies and the Atlanta Braves will open on Monday, April 1 at 7:00 p.m. in Atlanta. The game will be carried on ESPN2 as part of a four-game...
Things are slow in Phillsville, so what is a blogger to do? Well, this guy looks for fun pictures of anything Phillies related and in my quest came upon this gem. Scott Rolen is a villain in Philly, but damn that boy could pick it at 3rd.
MLB News

Delivered to your inbox

You'll also receive Yardbarker's daily Top 10, featuring the best sports stories from around the web. Customize your newsletter to get articles on your favorite sports and teams. And the best part? It's free!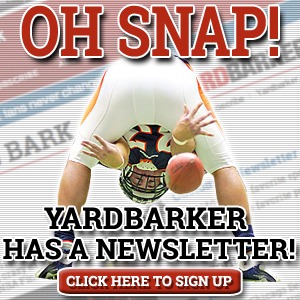 Latest Rumors
Best of Yardbarker

Today's Best Stuff

For Bloggers

Join the Yardbarker Network for more promotion, traffic, and money.

Company Info

Help

What is Yardbarker?

Yardbarker is the largest network of sports blogs and pro athlete blogs on the web. This site is the hub of the Yardbarker Network, where our editors and algorithms curate the best sports content from our network and beyond.