Found March 06, 2013 on Fox Sports Arizona:
PLAYERS:
Clayton Kershaw
,
Nick Hundley
,
Don Mattingly
,
Shawn Tolleson
,
Matt Kemp
,
Cameron Maybin
,
Huston Street
,
Jason Marquis
,
Mark Teixeira
,
Joe Girardi
,
Ryan Braun
,
Gordon Beckham
,
Michael Saunders
,
Justin Morneau
,
Cale Iorg
,
Adam Loewen
,
Wily Peralta
,
Carlos Gomez
,
Chris Narveson
,
Bobby Crosby
,
Jed Lowrie
,
Anthony Rizzo
,
Chris Colabello
,
Coco Crisp
,
Brett Anderson
,
Nick Swisher
,
Daisuke Matsuzaka
,
Brandon Crawford
,
Brandon Belt
,
Madison Bumgarner
,
Roberto Perez
,
Juan Diaz
,
Todd Helton
,
Jeff Francis
,
Scott Feldman
,
Bruce Chen
,
Luke Hochevar
,
Bartolo Colon
,
Brett Hayes
,
Brandon Wood
TEAMS:
Los Angeles Dodgers
,
San Diego Padres
,
Chicago White Sox
,
New York Yankees
,
Milwaukee Brewers
,
Seattle Mariners
,
Minnesota Twins
,
Toronto Blue Jays
,
Oakland Athletics
,
Chicago Cubs
,
Cleveland Indians
,
San Francisco Giants
,
Colorado Rockies
,
Texas Rangers
,
Kansas City Royals
PADRES 7, DODGERS 3 PEORIA, Ariz. -- Los Angeles Dodgers ace Clayton Kershaw made no excuses for his third straight subpar outing. Kershaw gave up four runs on seven hits, a walk and hit a batsman in three-plus innings of the Los Angeles Dodgers' 7-3 loss Tuesday to the San Diego Padres. "It doesn't matter that it's spring. I focus on results," Kershaw said. "The best way to gauge how you're doing is how the hitters react. They're reacting well, and that's not good for me. It sucks to give up runs like that, no matter when or where it is." Kershaw has struggled in all three of his starts. All told, the 2011 Cy Young Award winner has given up nine runs on 17 hits in eight innings over three starts. He's already given up more earned runs in three starts than he has in any spring training since 2009, when he was 20 years old. The Padres were aggressive in the strike zone and jumped on him early. Catcher Nick Hundley hit a two-run homer in a three-run fourth inning that chased Kershaw from the game. While it is incredibly early and he's still refining his slider, Kershaw said he was troubled by this spring's performance. "Concern might not be the best word, but I'm definitely not confident after giving up that many runs," Kershaw said. "You can't say you feel great and that you're doing great if you're not seeing the results you want. I'm definitely looking to have a good start here one of these days. That's always the goal." Dodgers manager Don Mattingly isn't as concerned as his young ace is. He likes Kershaw's fire, but sees no reason for alarm. "Some guys expect everything they're working on to work all the time," Mattingly said. "It's about shooting for perfection, and Clayton strives for that in everything he does. He expects to be really good all the time, which is part of the reason why he's really good. "But we also know it's spring and he got knocked around a bit last spring, too," Mattingly added. "It's OK that he's mad about unsatisfactory results, but we all know he's going to be fine." The status of relief pitcher Shawn Tolleson remains uncertain. He injured his left knee in the eighth inning and was immediately removed from the game. Mattingly said he will be evaluated further on Wednesday, when a formal diagnosis will be announced. Tolleson was 3-1 with a 4.30 ERA in 2012, with 30 holds in 37 2-3 innings. Dodgers center fielder Matt Kemp played his position for the first time since undergoing left shoulder surgery. He didn't have a putout, but said he felt comfortable on defense. He was 0 for 3 at the plate on Tuesday and is 0 for 8 this spring. "The offensive timing isn't down yet," Kemp said, "but I feel good and I'm swinging and playing without pain." Kemp is scheduled to play center field again Wednesday against Team Mexico. Padres center fielder Cameron Maybin was 2 for 3 with a home run, two runs scored and an RBI. He also made a sliding catch in center field. Padres closer Huston Street pitched a scoreless seventh inning, his best outing of the spring. Starter Jason Marquis gave up one earned run in three innings pitched. WHITE SOX 4, USA 4 GLENDALE, Ariz. -- The U.S. team played to a 4-4 tie with the Chicago White Sox on Tuesday in the first of its two exhibition games leading up to the start of the World Baseball Classic. It was still a losing afternoon for the Americans. First baseman Mark Teixeira will miss the tournament after straining his right forearm while swinging in the batting cage before the game. Yankees manager Joe Girardi said in Tampa, Fla., that X-rays on Teixeira's hand and wrist area came back negative. It was unclear who would replace him on the U.S. team. Giancarlo Stanton drove in three runs and Ryan Braun went 3 for 4 for the U.S., which opens pool play Friday night against Mexico. Gordon Beckham went 3 for 3 with an RBI for the White Sox. CANADA 7, BREWERS 4 PHOENIX -- Michael Saunders homered and Justin Morneau drew a bases-loaded walk, helping Canada beat the Milwaukee Brewers 7-4 Tuesday in a prep game ahead of the World Baseball Classic. Tyson Gillies and Cale Iorg had RBI singles for Canada in a four-run eighth off loser Michael Gonzalez. Left fielder Adam Loewen jumped against the wall to take away an extra-base hit from Josh Prince with two on and two outs. Saunders homered off Wily Peralta in the fourth. Richie Weeks and Carlos Gomez had RBI hits for the Brewers, and Khris Davis hit long home run over the grass berm in left-center in the seventh. Chris Narveson, trying to earn a rotation job, allowed one run and three hits in 2 2-3 innings. Bobby Crosby, looking to make the Brewers as an infield utility player, made his spring training debut after missing the first eight games with a strained left quadriceps. Crosby walked and struck out. ATHLETICS 4, ITALY 3 PHOENIX -- Jed Lowrie had two hits that including an RBI double and Yoenis Cespedes drove in a pair of runs to help the Oakland Athletics beat Italy 4-3 Tuesday in an exhibition ahead of the World Baseball Classic. The Chicago Cubs' Anthony Rizzo homered in the fourth for Italy, which opens the WBC's first round Thursday against Mexico. Minnesota Twins minor leaguer Chris Colabello also homered and Washington farmhand Mike Constanzo added an RBI double in the ninth. Costanzo was thrown out at home, ending the game when he tried to score on a wild pitch. Coco Crisp and Jed Lowrie singled in the scored in the first against starter John Mariotti, who pitched last season for Quebec in the independent Can-Am League. A's starter Brett Anderson allowed a hit and a walk in three scoreless innings, striking out three. INDIANS 4, GIANTS 3 SCOTTSDALE, Ariz. -- Nick Swisher hit one of three Cleveland home runs, Daisuke Matsuzaka pitched three scoreless innings and the Cleveland Indians beat the San Francisco Giants 4-3 Tuesday. Brandon Crawford hit a two-run homer for the Giants, who lost their second straight. Brandon Belt also hit a homered. Swisher hit his second home run of the spring and is now hitting .500. Matsuzaka allowed five hits and struck out two. Madison Bumgarner gave up a run on three hits in his two innings for the Giants. He walked one and struck out three Roberto Perez hit a home run in the top of the ninth to give Cleveland a 4-3 lead. Juan Diaz also homered for the Indians. ROCKIES 6, CUBS 2 SCOTTSDALE, Ariz. -- Todd Helton got his first hit of spring training and Jeff Francis pitched four scoreless innings Tuesday to carry the Colorado Rockies to a 6-2 victory over the Cubs, snapping a three-game losing streak. Helton, a .320 hitter who was limited to 69 games and hit a career-low .238 while struggling with hip problems last season, gave Colorado a-1-0 lead in the first with an opposite-field ground-rule double. It was only his second spring game and third at-bat, He ground out sharply to the pitcher in his other at-bat. Francis ran his spring scoreless innings string to nine. The only hit he gave up was bloop single to starter Scott Feldman, who signed as a free agent with the Cubs after six-plus seasons with the Texas Rangers. Feldman was rocked for four runs on six hits in facing 13 batters in a little over two innings. ROYALS 8, ATHLETICS 2 SURPRISE, Ariz. -- Bruce Chen and Luke Hochevar combined to allow one run in six innings, and the Kansas City Royals remained undefeated for spring training with an 8-2 victory over the Oakland Athletics on Tuesday. Oakland's Bartolo Colon, gave up five runs and seven hits in two innings. The 39-year-old right-hander has allowed eight runs -- six earned -- on 12 hits in four innings in losing his first two starts. Chen allowed a run on two hits in three innings and Hochevar gave up three hits and walked one without yielding a run. He struck out the final three batters he faced. They are competing for the final slot in the Royals' rotation. Brett Hayes and Brandon Wood homered for the Royals, who are 10-0-1.
Original Story:
http://www.foxsportsarizona.com/03/06...
THE BACKYARD
BEST OF MAXIM
RELATED ARTICLES
The Dodgers made their first four cuts of Spring Training, with Dallas McPherson, Nick Evans, Ozzie Martinez, and Kelvin De La Cruz getting their assignments to minor-league camp. Later, Gregory Infante was reassigned to minor-league camp, and the club released lefty Wander Beras. —– 44-year-old lefty Tsuyoshi Shimoyanagi worked out at the open tryouts the Dodgers held at Camelback...
Zack Greinke missed a bullpen session on Sunday due to forearm tightness. Greinke had "a little forearm tightness and thought it best to give it a day to let it rest," pitching coach Rick Honeycutt said. "It's nothing to be alarmed about. He's had it before and he's still expected to make his next start [Wednesday]." Fortunately, it's not anything to be concerned...
Clayton Kershaw gave up four runs and seven hits in three-plus innings, his third straight sub-par outing of the spring, and the Los Angeles Dodgers lost 7-3 to the San Diego Padres on Tuesday. Kershaw has given up nine runs on 17 hits in eight innings. Dodgers reliever Shawn Tolleson appeared to injure his right leg in the eighth inning and was immediately removed from the game...
Baseball fans love to talk about clutch plays and clutch players, and Dodgers fans are no exception, but like with a pitcher's best and worst pitches, there tends to be a lack of evidence presented. As such, I decided to find some basis for clutch plays and clutch players, courtesy of the WPA and Clutch statistics. WPA Most sabermetric statistics are context neutral — they do...
If you hadn't seen it yet, then … that happened. Then Mike Petriello tweeted out this: "I don't always give up homers, but when i do, they travel really, really goddamn far." — @mattygrrr — Mike Petriello (@mike_petriello) March 5, 2013 And I think he's on to something.
The Los Angeles Dodgers have remained surprisingly healthy throughout the spring.  In fact, the injury updates today are not really injury updates at all.  Shawn Tolleson appears to be healthy, and we already know Javy Guerra is fully healed from offseason shoulder surgery. According to Ken Gurnick of MLB.com, Tolleson's knee looks fine and he should play with no restrictions...
Back in the day, "Big League Chew" bubble gum was shredded to make a kiddie version of chewing tabacco. Kind of like how there used to be candy cigarettes. Clearly that sort of stuff is frowned upon now. But, the gum lives on and for it's 30th anniversary, a new pacage is in order. Instead of cartoon baseball characters, actual MLB players will be featured. Dodgers star Matt...
Yesterday we heard that the Baltimore Orioles and Milwaukee Brewers had scouts in attendance for Aaron Harang's start at Camelback Ranch. Harang put forth three scoreless innings, throwing an additional 16 pitches on the side. Great timing to put up a good performance, for the Dodgers that is. I don't know what Harang's trade value is at the moment, but I would venture to guess...
Ben and Sam preview the Dodgers` season with Jay Jaffe, and Pete talks to MLB.com Dodgers beat writer Ken Gurnick (at 15:21).
The familiar cartoon of a pitcher or batter on packets of Big League Chew will be replaced by major league baseball players. Philadelphia Phillies pitcher Cole Hamels and Los Angeles Dodgers outfielder Matt Kemp will have their image featured on the gums packaging. For 33 years the shredded gum has been in stores, mainly by checkout lines.The Kemp packaging is set to hit shelves...
GOODYEAR, Ariz. (AP) -- Jason Giambi thought he would be a manager this season. Instead, he's still playing. Giambi drove in two runs and Justin Masterson outpitched Hyun-Jin Ryu on Wednesday, leading the Cleveland Indians to a 4-0 win over the Los Angeles Dodgers. After interviewing for the Colorado Rockies' managerial opening -- which went to Walt Weiss -- the 42-year...
How sweet is it to beat up on the Dodgers? I know it's only spring, but any chance that we get to beat them is, to quote Mark Grant, "some kinda nice!" The other nice part about it is that the Padres were teeing off on Clayton Kershaw, who pitched three innings allowing 7 hits, 4 runs (all earned) and only struck out 2. Two of those runs came off the bat of Nick Hundley who...
MLB News

Delivered to your inbox

You'll also receive Yardbarker's daily Top 10, featuring the best sports stories from around the web. Customize your newsletter to get articles on your favorite sports and teams. And the best part? It's free!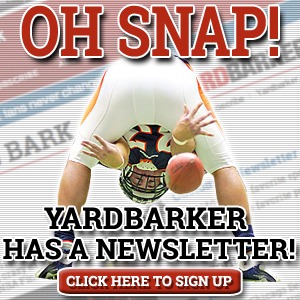 Latest Rumors
The Backyard

Today's Best Stuff

For Bloggers

Join the Yardbarker Network for more promotion, traffic, and money.

Company Info

Help

What is Yardbarker?

Yardbarker is the largest network of sports blogs and pro athlete blogs on the web. This site is the hub of the Yardbarker Network, where our editors and algorithms curate the best sports content from our network and beyond.