Found May 07, 2012 on isportsweb.com:
Say what you want about the White Sox offense, but the pitching is second to none. Well actually, the Sox pitching is second only to three teams since they command the fourth lowest American League team ERA. Regardless, that stat is something to be proud of. The team's early success on the mound is especially profound considering the bullpen situation during Spring Training. Before the season, White Sox relief was equally as questionable as the starting rotation. Full of talented pitchers who have yet to make any serious impact in Chicago, Robin Ventura certainly had decisions to make regarding the bullpen roles. I had speculated that the decision for closer was between White Sox veterans Matt Thornton and Jesse Crain, with some consideration being given to newcomer Addison Reed. I also grouped Chris Sale into the prospective closer category figuring that he may end up back in the bullpen. After some roster moves, though, Hector Santiago emerged as the closer. While starting out initially strong, he has had some weak outings and has now been moved to middle relief. Addison Reed throwing heat One of my preseason predictions did come true as recently as a few days ago in that Chris Sale has now become the White Sox closer in place of Santiago. Even though Sale had been experiencing some soreness, he told WhiteSox.com that he believed it was only a normal ache as a result of the increased number of innings thrown. Be that as it may, the White Sox aren't taking any chances and want to protect the young hurler's arm. The move to closer is not a demotion, but rather a strong play that will keep Sale healthy and in a position to contribute to the team. He has certainly shown that he belongs in an important role and the only question now is whether he can handle the high stress/high profile job of a full-time closer. Personally, the only other person I'd feel safe with in that role is Addison Reed, who has now tied the franchise record at 12 straight scoreless appearances for a rookie. In light of all this young talent, it is a shame that older pitchers Matt Thornton and Will Ohman aren't turning any heads. Thornton has an ERA of 3.75 and has given up five earned runs in 12 innings. The nice thing about his innings pitched is that he has only walked one batter, which really speaks to his improved control. As far as Will Ohman is concerned…I'll be honest, I've never been a member of the Ohman camp. I've always felt the same way about him as I did about former Sox reliever Scott Linebrink. Every time he comes into the game and the Sox don't have at least a two run lead, I get very nervous. In his 8.2 innings pitched this season, he has an ERA of 6.23 and has only struck out four batters. It is my hope that Jesse Crain can speed up his rehabilitation and give Ventura more options in this respect. With all the moves the White Sox organization is making, it is hard to say who will be on the roster in two weeks. Since Axelrod was moved to the minors following Sunday's game to free up space, the Sox have called up Eric Stults from Charlotte to throw against the Indians on Monday night. Stults has a 2.20 ERA in five games this season and his performance on Monday is an important one. If he can outshine Axelrod, he may secure the now available fifth spot in the starting rotation. If Stults does not impress, Ventura may go back to the minors for more talent or he may simply use the four starters he's got for now. Another alternative for down the road is moving Hector Santiago to the starter role since Santiago has said that he has thrown 45-50 pitch bullpen sessions and thinks he has the endurance to go more than five innings. Regardless of these changes, the White Sox pitching has remained consistently effective, holding the powerful Detroit Tigers to ten runs over three games. Ventura has many options, but for right now, they just need to focus on moving forward and taking this series from the Indians.
Original Story:
http://isportsweb.com/2012/05/07/chic...
THE BACKYARD
BEST OF MAXIM
RELATED ARTICLES
Who's the biggest dead weight connected to the Chicago White Sox: Gordon Beckham? Brent Morel? How about Ken "Hawk"Harrelson who gave us 63 seconds of dead air Friday night on the game's most pivotal play. Yes, over a minute of silence as the game's critical home run unfolded. Obviously, it's time HE GONE! Over the weekend, the Detroit Tigers took two of three from the...
BLIZZARD OF OZZ
A follow-up question about the Fidel Castro incident set off the Marlins manager, causing him to do what he does best: curse up a storm.
Well, it didn't take long for Ozzie Guillen to return to the Ozzie Guillen of old. We hadn't heard much from Guillen, other than an apology, since being suspended for his Fidel Castro comments. So it actually could be argued that Guillen has finally gotten it. But just as you begin to think that we may be seeing a new and improved Ozzie Guillen, the same old Ozzie Guillen rears...
36-year-old Paul Konerko is off to a tremendous start this season, hitting .347/.426/.614 with six bombs, 14 runs, and 17 RBI. His value might never be higher.Paulie has hit over .300 for the past two seasons and he's off to a great start in 2012. However, it's highly unlikely that he will sustain a BABIP over .360. The question is, when his AVG drops, how far will it go? Konerko...
After the incredibly insensitive remarks he made about Fidel Castro about a month ago, many of us wondered if we would see a more reserved Ozzie Guillen going forward. The blogosphere hoped we would not. While we certainly do not condone what he said about Castro, we love the way Guillen always speaks his mind and has a tendency to fly off the handle. Is he still going to do that...
Marlins PR Guy – "Okay, Mr. Guillen. Now if they ask you any questions about the Castro comments – just say, "No comment." Can you do that for me, Mr. Guillen?" Ozzie Guillen – "Oh **** You. Grow up, ************." Marlins PR Guy – "Well, as long as you don't say that we should be alright."
Addison Reed (credits below) This week we take a look at another two rookies out in Oakland and the reason why in Boston they are starting to ask the question: Kevin who ?  RP- ADDISON REED (CHI SOX)- Reed has been lights out in Chicago this year in his 9 innings of work. Reed has struck out 12 batters, has a 0.00 ERA and a 0.89 WHIP. Manager Robin Ventura removed one rookie...
Including pitching the 21st perfect game in major league history, Philip Humber has set a number of new career marks over his last three starts. The last two outings, though, have yielded forgettable blemishes. Humber will try to get back on track Monday in the first game of a day-night doubleheader, which kicks off a four-game series between his visiting Chicago White Sox and...
Though last night's loss was pinned on Valverde, the offense has to take some of the blame. The offense went 2-8 with RISP and had only 2 doubles to go along with 7 singles. Other than Cabrera and Jackson, no one else has caught fire, and most of the guys are in minor slumps (Raburn is just Rayburn). I have every confidence that the team will hit. Not sure when, but we'll be...
Feel bad about slamming Peavy yet? Mike G. Chicago, IL ___________________________________ This question makes the very broad assumption that I feel anything. I don't. If I did I would already be cowering in shame because the Cardinals just dropped a series to the LOLstros. But this is baseball. It defies feeling. It defies logic. The Red Sox and Phillies in last place? The Dodgers...
White Sox News

Delivered to your inbox

You'll also receive Yardbarker's daily Top 10, featuring the best sports stories from around the web. Customize your newsletter to get articles on your favorite sports and teams. And the best part? It's free!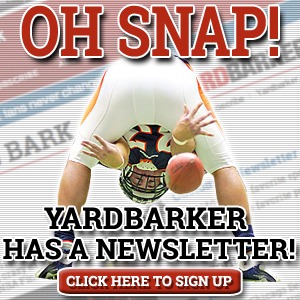 Latest Rumors
Best of Yardbarker

Today's Best Stuff

For Bloggers

Join the Yardbarker Network for more promotion, traffic, and money.

Company Info

Help

What is Yardbarker?

Yardbarker is the largest network of sports blogs and pro athlete blogs on the web. This site is the hub of the Yardbarker Network, where our editors and algorithms curate the best sports content from our network and beyond.