Found September 04, 2012 on Midwest Sports Fans:
PLAYERS:
Hector Santiago
,
Dylan Axelrod
,
John Danks
,
Gavin Floyd
,
Chris Sale
,
Jose Quintana
,
Phil Humber
,
Jamey Carroll
,
Robin Ventura
,
Don Cooper
TEAMS:
Chicago White Sox
,
Minnesota Twins
,
Boston Red Sox
Throughout last week's struggles, which saw Chicago go 1-6 against Baltimore and Detroit, you heard many complaints about the first place White Sox from fans. The most consistent of those complaints was about the starting rotation, which struggled mightily in all cases outside of spot starter Dylan Axelrod, who dazzled in Camden Yards. The "Axe Man" has a 0.96 ERA in his wins so far in 2012. Credit: UC Irvine Sports With just under a month left in the 2012 regular season, it's strange that we're discussing Axelrod and fellow spot starter Hector Santiago in such great detail for a team competing for a division title. But it's looking like they're both going to be important down the stretch. There are numerous question marks about the White Sox rotation as we head into the heart of September:
John Danks is on the disabled list for the rest of the year (and has been since May).
Gavin Floyd is temporarily shelved and still experiencing soreness.
Many wonder if the workload for the likes of Chris Sale and Jose Quintana, who are both already in uncharted waters for personal innings pitched in a season, is becoming too great.
The Sox have prided themselves on giving pitchers ample rest whenever they thought it'd be a benefit to the player and the team. But with the injury problems the team is having, it makes it much harder to spread the youngsters out and give them  that extra rest. Current bullpen long-man Phil Humber, who threw the 21st perfect game in the MLB's history this past April, has given the Sox evidence time and time again in the months since that he can't pick up the extra slack and eat up major innings in a spot start role. He's been consistently inconsistent in the rotation all throughout 2012 and has even struggled in a very limited bullpen role. In a very fair sample size of 100 2/3 IP, Humber's ERA is 5.81 to go along with a 1.47 WHIP … and a 14.37 ERA in his losses. I don't think I need to delve into the numbers much further … you guys get what I'm getting at with Humber. With Humber out of the mix, the two unexpected names that we brought up earlier – Dylan Axelrod and Hector Santiago – may just be the solution and the Sox way to nip the 'IP bug' in the bud. Monday night Hector Santiago made his first big league start. This came after the former closer was stretched out with some impressive long-man work out of the 'pen. He looked very good, going 6.0 innings and only letting up 3 hits and 1 earned run, which came on a Jamey Carroll solo home run, his first since 2009. "Screwgie" looks much more comfortable as a starter than as a closer. Credit: daylife.com Axelrod last pitched Tuesday in Baltimore, tossing 7.1 innings of 1-run ball that led to the Sox' only victory of the road trip. If these guys can serve as consistently reliable options to pick up starts here and there, it could really go a long way to help save the arms of Chris Sale and Jose Quintana, all while not rushing Gavin Floyd back. Going forward, 11 of the Sox final 28 games are against the Twins and Indians, two lefty-heavy lineups. I wouldn't put it past Robin Ventura and Don Cooper to call upon the southpaw Santiago for a couple of those games, if needed. It's thought that Axelrod, who rejoined the Sox Tuesday, will be the starter for the afternoon game on Sunday in Minnesota, which is technically the next time that Hector Santiago, or at least that spot in the rotation, is due up. It's hard to predict exactly where else Axelrod could be penciled into the schedule. But he has done well facing some good offenses that were rather unfamiliar with him. He's done well against the Red Sox, Yankees, and Orioles this year, all tough American League East Division foes. While I know this sounds no more accurate than shooting fish in a barrel, maybe team management will send him out there against the Rays when they come to town September 27-30th for a 4-game set that is in the middle of a stretch that sees the Sox finish the season playing a game in each of the final 16 days. Some rest may be needed there for certain guys, though that is obviously a period of time where you need to run out your best players every day if they can muster up the strength. The other variable to look at is that "Axe" has done very well on the road, so maybe they'd be inclined to trot him out there away from US Cellular Field, like they probably are at Target Field on Sunday. Wherever and whenever Hector Santiago and Dylan Axelrod start, it looks like they may be viable options to help other more prominent players stay rested for a hopeful playoff run. Moral of the story: these guys are proving themselves to be valuable assets to the team. They may be afterthoughts when it's all said and done, but for now lets appreciate them much like we've been "appreciating the game" all year. ***** This post was also featured on Zach's White Sox blog, GrabSomeBench.com! Follow them on Twitter at @Grab_Some_Bench for more updates! The post Chicago White Sox Spot Starters Hector Santiago and Dyland Axelrod Could Be Key Down The Stretch appeared first on Midwest Sports Fans.
Original Story:
http://feedproxy.google.com/~r/Midwes...
THE BACKYARD
BEST OF MAXIM
RELATED ARTICLES
Your browser does not support iframes. Catching a ball at a game has to be one of the greatest thrills a fan can have. I'm speaking out of assumption since I've never had the fortune of catching a ball at a game, but it sure looks awesome. Think about how lucky one has to be to even have the opportunity to catch a ball. Out of thousands of fans in attendance, the ball has to...
One of the bigger pre-season storylines this year was the numerous relievers who were being used in their respective rotations. A number of them struggled, but a few have exceeded expectations. Jeff Samardzija has relied heavily on his split-fingered fastball and has had a solid season; Lance Lynn was an all-star; and then there's Chris Sale — the player who made the most...
And that's just the tip of the iceberg of what has been posted today to Ozzie Guillen's Twitter account. Yes, Ozzie is a crazy maniac who doesn't usually make sense in English, but these tweets are more incoherent than usual. Man juices? And there's so much more. For example: whit. all. this. trafic. lol. but. is. ok. i. going. to. listen. el. tigre. rafael. salsa. program...
Gordon Beckham hit a two-run homer and Hector Santiago won in his first major league start as the Chicago White Sox beat the Minnesota Twins 4-2 on Monday night. After falling out of sole possession of first place in the AL Central on Sunday night following a 1-6 road trip and being swept by the Tigers, the White Sox won the first of a 10-game homestand. They moved a game up on...
The best part about this GIF is that veteran Paul Konerko is too ashamed to even look at young Chris Sale
Alex Rios homered twice and drove in a career-high six runs to lead the Chicago White Sox to their fourth straight victory, 6-2 over the Minnesota Twins on Wednesday. Rios hit a grand slam in the first inning and a two-run shot in the sixth to help extend Chicago's lead in the AL Central to 1 1/2 games over Detroit. The Twins erupted for 18 runs against Chicago pitching Tuesday...
The Minnesota Twins have typically been a thorn in the Chicago White Sox's side, but not this year. Back in sole possession of first place in the AL Central, the White Sox look to win their seventh straight at home over the Twins on Tuesday night. Prior to this season, Chicago hadn't posted a winning season record against Minnesota since 2005, but a 4-2 victory Monday improved...
iam. baaaaaaaaaaaaaaaack — Ozzie Guillen (@OzzieGuillen) September 5, 2012 It has been 110 long, Ozzie Guillen-less days on the interwebs since the Miami Marlins skipper delighted us with his sometimes nonsensical, often in Spanish and always entertaining ramblings courtesy of his Twitter account. And even though the Marlins are suffering through a terrible season, it [...]
2012 BANDAI OWNERS LEAGUE LASTINGS MILLEDGE Mets COTW is back in town after 5 weeks in Japan, jet lagged as hell and raring to go. While in Tokyo, I dropped 5,000 yen on Japanese baseball cards at an Akihabara hobby shop. All in the name of research, I assured my wife, as she cocked her head and arched an eyebrow or two. The primary card set in Japan is called "Owners League"...
MLB News

Delivered to your inbox

You'll also receive Yardbarker's daily Top 10, featuring the best sports stories from around the web. Customize your newsletter to get articles on your favorite sports and teams. And the best part? It's free!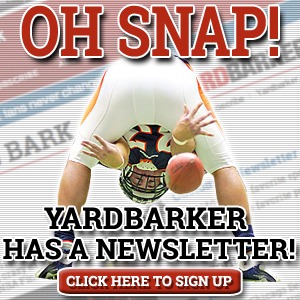 Latest Rumors
Best of Yardbarker

Today's Best Stuff

For Bloggers

Join the Yardbarker Network for more promotion, traffic, and money.

Company Info

Help

What is Yardbarker?

Yardbarker is the largest network of sports blogs and pro athlete blogs on the web. This site is the hub of the Yardbarker Network, where our editors and algorithms curate the best sports content from our network and beyond.