Posted October 26, 2012 on AP on Fox
PLAYERS:
Gregor Blanco
,
Hunter Pence
,
Justin Verlander
,
Marco Scutaro
,
Prince Fielder
,
Pablo Sandoval
,
Miguel Cabrera
,
Omar Infante
,
Jeremy Affeldt
,
Barry Zito
,
Madison Bumgarner
,
Ryan Vogelsong
,
Matt Cain
,
Doug Fister
,
Jose Valverde
TEAMS:
San Francisco Giants
,
Detroit Tigers
,
New York Yankees
,
St. Louis Cardinals
The bunt just wouldn't go foul, despite the best efforts of the Detroit players who gathered around it and tried to will it across the chalk down the third base line. It couldn't go foul, because that might have ruined the whole aura the San Francisco Giants spent two games creating on their way toward taking command of this World Series. Gregor Blanco thought he had pulled it too much but ran anyway, as hard as he could toward first. Hunter Pence had no such doubt as he watched the ball die on the dirt from his prime vantage point heading for third. ''One of the most beautiful bunts you'll ever see,'' said Pence, who moments later would come home with the only run the Giants would need in a 2-0 win in Game 2. Three home runs by the Panda the night before in a most improbable win against Tigers ace Justin Verlander. Small ball on this night, the way the Giants played it all year long in the National League. And now a trip to Detroit with their two best pitchers lined up for the weekend and their second World Series title in three years suddenly squarely in their sights. ''It seems like the game is on our side right now,'' Blanco said. ''If it takes a bunt single to win the World Series, so be it. We'll take it.'' Indeed they will. Who needs a Triple Crown winner and a slugger lured from the National League just for these kinds of games, when a double play ground ball was good enough to put the Giants in the lead in the seventh and a sacrifice fly scored another an inning later without the benefit of one hit? Superstars can turn games around, but how about Marco Scutaro keeping this one on check when he raced from second base to back up a relay throw and fire to home in the second inning just in time to get Prince Fielder sliding in while trying to score from first? And say what you want about Pablo Sandoval's body type, but he managed to get airborne enough at third base to spear a line drive by Miguel Cabrera in the fourth inning that could have easily gone for a double and scored Omar Infante from first. ''I don't know about baseball gods, but I'll tell you one thing: I hope the ball keeps bouncing our way,'' Giants lefty Jeremy Affeldt said. ''It's been huge for us.'' Just as huge is that the Giants have the three things every team needs to win a World Series: Pitching, pitching, pitching. First it was Barry Zito coming back from nowhere to beat Verlander in Game 1. On Thursday night it was Madison Bumgarner finding something with his delivery to throw seven innings of two-hit ball after being dropped from the rotation in the NLCS when his ERA soared to 11.25. To throw Ryan Vogelsong in Game 3 on Saturday and follow him with staff ace Matt Cain almost seems unfair. ''Having Vogelsong and Cain to pitch means so much to us in big games,'' Affeldt said. ''It's not a bad thing to say we're in a good spot right now up 2-0.'' This wasn't how the Tigers envisioned the series playing out, especially after eliminating the New York Yankees early and getting to rest up while the Giants battled back from a 3-1 deficit to beat the St. Louis Cardinals and somehow make their way into the World Series. They came in with a pitching rotation lined up behind Verlander and sluggers who figured to give two pitchers who were big question marks fits. The Vegas oddsmakers favored them, especially in Game 1. But they've been shut down by San Francisco's pitching, and everything the Giants do seems to work. As if anything else could go wrong for the Tigers, starting pitcher Doug Fister was hit in the head with a line drive by Blanco in the second inning that bounced off of him and ended up in center field for a hit. Thankfully, Fister didn't seem injured by the glancing blow and went on to retire 12 straight Giants during one stretch. ''I'm not concerned. I have a minor bump,'' Fister said. ''According to my dad my whole life his saying has always been if I got hit in the head I'd be OK. That's how I take it.'' The Tigers may not be able to absorb their lumps in San Francisco as easily. They've got to find a way to rekindle their offense, and do it against the two best starters the Giants have, and they have to find a closer they can trust after the awful postseason Jose Valverde is having. But they'll be at home in front of friendly fans, and it does still take wins in four games to win a World Series. ''They definitely got the breaks on their side, but they also play good baseball,'' Fielder said. ''Hopefully we go home and we get some breaks our way.'' If anything, the Tigers can take some consolation in what the Giants have done themselves. Just when all seemed lost in their playoff opener against Cincinnati, they won the last three games on the road to win the series, and followed that by beating the Cardinals three straight to get in the series. Compared to that, coming back from a 2-0 deficit with the next three games at home seems quite doable for the Tigers. ''This is baseball,'' Cabrera said. ''It's no time to put your head down. We're going try go out there more aggressive at home, trying to win the first one. If we win the first one I think it's going to be a different story.'' After a long two days in San Francisco, the Tigers can only hope that story has a better ending. ---- Tim Dahlberg is a national sports columnist for The Associated Press. Write to him at tdahlberg(at)ap.org or follow at http://twitter.com/timdahlberg
Original Story:
http://msn.foxsports.com/mlb/story/Co...
THE BACKYARD
BEST OF MAXIM
RELATED ARTICLES
RELIEF IN SIGHT
Despite struggling in the regular season, the two-time Cy Young winner has done well coming out of the bullpen in the playoffs, and the Giants might be best suited keeping him there.
MONKEY > KUNG FU PANDA?
The Giants have not lost since a monkey sporting the team's colors was born at the San Francisco Zoo and now the François's langur is viewed as a good luck charm.
Last night, Madison Bumgarner finally found a groove, tossing seven scoreless innings en route to a 2-0 Giants victory. You'll hear a lot — or, scratch that, have probably already heard a lot — about how Bumgarner didn't have his best stuff last night, and I think that's pretty fair to say. Despite the mechanical adjustments he made prior to the outing, his fastball didn't...
Anyone who attends sporting events are already well aware that the cost of parking one's vehicle nearby the stadium is borderline ludicrous and oftentimes highway robbery. Still, as the photo above abundantly illustrates, combining a big-time event like the World Series with limited parking space in an urban area along with an early local start [...]
Nothing says "Fall Classic" like a Xavier Nady sighting prior to World Series Game 2. Pic above via @JohnJDevine. Seems like only yesterday Nady was a member of the Goon Squad and inspiration for ridiculous photoshops. Not that he didn't have his moments of personal glory with the Nationals, like that shaving cream pie to the face from Mike Morse after his 100th career...
(source feed provided no summary content for this entry)
San Francisco's Pablo Sandoval became the fourth player to hit three home runs in a World Series game. Sandoval connected twice off Detroit ace Justin Verlander and then in the fifth inning against reliever Al Alburquerque in Game 1 of the Series to join Babe Ruth, Reggie Jackson and Albert Pujols as the only players with three homers in a World Series game. Ruth did it in 1926...
Good luck charms and the World Series seems to be connected. Last season the Cardinals had a squirrel that randomly ran across the field, the San Francisco Giants seem to have a acquired a baby monkey. The Giants were behind to the Cardinals 3-1  in the NLCS, when the monkey, a François's langur was born at [...]
Pablo Sandoval became just the fourth player to hit three home runs in a World Series game, connecting twice against Justin Verlander and once off Al Alburquerque to boost the San Francisco Giants into a 6-1 lead over the Detroit Tigers after six innings of Wednesday night's opener. Sandoval hit a solo home run to right-center in the first, a two-run, opposite-field drive to...
San Francisco Giants' Madison Bumgarner was looking for a turn- around performance after getting lit up for six runs against the St. Louis Cardinals 12 days ago. He got that, and he came up big. Bumgarner went seven strong innings of 2- hit ball, while striking out eight Tigers batters and holding them scoreless. Detroit Tigers' starting pitcher Doug Fister continued his postseason...
Detroit, MI - FOX' New Girl, Zooey Deschanel, will sing the Star-Spangled Banner before game 3 of the World Series tonight at Detroit's Comerica Park. Zooey is a San Francisco Giants fan...When... Full story at Bob's Blitz ~ http://www.bobsblitz.com
As the 2012 World Series kicks off tonight, if course there has been a lot of discussion about the two participants. Coming into this season, the Tigers would be considered the favorite. But, the Giants had more regular season wins (91-88) and they also have homefield advantage because of the National League's victory in this year's All Star Game. Of course, the NL got their...
MLB News

Delivered to your inbox

You'll also receive Yardbarker's daily Top 10, featuring the best sports stories from around the web. Customize your newsletter to get articles on your favorite sports and teams. And the best part? It's free!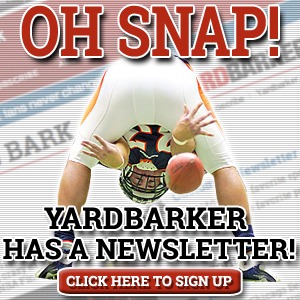 Latest Rumors
The Backyard

Today's Best Stuff

For Bloggers

Join the Yardbarker Network for more promotion, traffic, and money.

Company Info

Help

What is Yardbarker?

Yardbarker is the largest network of sports blogs and pro athlete blogs on the web. This site is the hub of the Yardbarker Network, where our editors and algorithms curate the best sports content from our network and beyond.