Found October 26, 2012 on Fox Sports West:
PLAYERS:
Carl Crawford
,
Adrian Gonzalez
,
Josh Beckett
,
Nick Punto
,
James Loney
,
Jerry Sands
,
Ivan De Jesus
,
Allen Webster
,
Bobby Valentine
,
Matt Kemp
,
Andre Ethier
,
Ned Colletti
,
Hanley Ramirez
TEAMS:
Los Angeles Dodgers
,
Boston Red Sox
LOS ANGELES Carl Crawford held up the sparkling white Dodgers home jersey so that photographers could get their shots, but after taking a look at his name and number on back, he asked if he could try it on. Feels good, he said, smiling. After what Crawford has been through, it probably feels better than good. Hes getting a new start in LA, is putting the turmoil of 1 seasons in Boston behind him and hoping hes ready for spring training after undergoing Tommy John surgery on his left elbow two months ago. At the moment, Crawford sounds optimistic hell be ready to swing a bat when camp opens in February, although it may take a while before he begins throwing. Right now, Im ahead of schedule, he said. Im shooting for spring training. Thats definitely a goal of mine. I think Ill be ready. Although he officially became a Dodger in the mega-trade with the Red Sox last August, Crawford didnt make his first appearance at Dodger Stadium until Friday morning. He had wanted to join his new teammates soon after the deal happened, he said, but he was still recovering from surgery two days before the Aug. 25 trade. Crawford, 31, was considered a throw-in in the swap that brought Adrian Gonzalez, Josh Beckett and Nick Punto to LA for James Loney, Rubby De La Rosa, Jerry Sands, Ivan DeJesus Jr. and Allen Webster. But given the upheaval that was taking place in Boston, he said he knew it was time to go. Its no secret, it was a tough year in Boston, he said. Its one of those things that I wouldnt want any player to go through, so for me to get out of that situation definitely was a relief so I wouldnt have to go through the stress and stuff every day that it was putting us through. The season was particularly difficult for Crawford, who underwent surgery on his left wrist in January, hurt his elbow in April while rehabbing and played in just 31 games, hitting .255. That was a poor return on a seven-year, 142-million investment the Red Sox made in him as a free agent in 2011. You could say a bunch of things didnt go well, but really, I dont want to get into that, he said. I just didnt play well for some reason. Things didnt work out for me. I didnt do my part. Asked his reaction when he learned that Bobby Valentine had been fired by the Red Sox after the teams disastrous 93-loss season, Crawford said, I pretty much try to leave that stuff alone. It was a rough year for us over there. It was unfortunate that the season had to end like that. Even so, he said he was shocked when he heard he had been traded and even believed it was just another rumor. I was really shocked, he said. I definitely didnt see it coming. I heard they were working on it for a while, but I didnt believe it for a while afterward, like two or three weeks. But Im happy Im here now. Once hes ready, Crawford will join Matt Kemp and Andre Ethier in the Dodgers outfield, although Kemp is still recuperating from shoulder surgery this month. General Manager Ned Colletti said team physician Neal ElAttrache expects Kemp to be ready for spring training and opening day. He might be a touch behind, Colletti said, but spring training has such length to it that youll be able to get him up to game speed by the time we get finished with camp. Crawford said he isnt allowed to swing a bat or throw until January, and Colletti said the team has been monitoring him closely at his home in Houston. Head Trainer Sue Falsone has already been there for a visit, and Crawford was scheduled to meet with ElAttrache and Stan Conte, the teams senior director of medical services, later on Friday. With a healthy Crawford added to a lineup that includes Kemp, Ethier, Gonzalez and Hanley Ramirez, Colletti said, I think its the best lineup weve put out here since Ive been here and has a chance to be one of the better lineups in the league. That said, theyre going to have to do it. Youve got to play the games. Crawford said hes thankful hes getting another chance after things went so poorly in Boston. He got the contract he wanted, but he never delivered as promised. Even so, he insisted he has no regrets. I cant regret nothing I do, he said. You have to take on new challenges and see what works for you, and thats pretty much what I was doing. I think Id do it over again if I had to. It was just one of those challenges I didnt meet up to. Im a competitive guy, so I hate to say I failed at something, but you cant win all the time. I definitely have a lot of baseball left in me, so its good to get a second chance.
Original Story:
http://www.foxsportswest.com/10/26/12...
THE BACKYARD
BEST OF MAXIM
RELATED ARTICLES
Earlier this month, I said the Dodgers should look to re-sign Brandon League. It had been reported the Dodgers were looking to do that and, as Dylan Hernandez of the L.A. Times reports, the Dodgers are discussing a 3-year deal with League. Who didn't see that coming? Here's what I wrote on Oct. 9: "Knowing Colletti, he'll give League a 3-year deal (if Matt...
Carl Crawford slipped his new No. 25 jersey over his head, finally having joined the Los Angeles Dodgers two months after the blockbuster trade from Boston that left him as the forgotten $100 million man. ''Feels good,'' he said, smiling at his introduction Friday. Crawford had Tommy John surgery on his left elbow two days before the Aug. 25 trade that shook up...
Carl Crawford had it made after signing a seven-year, $142 million deal with the Red Sox in 2011. The former All-Star would be Boston's left fielder until close to the end of the decade, providing power and speed in a lineup that also boasted Jacoby Ellsbury, Adrian Gonzalez, David Ortiz and Dustin Pedroia. But after a poor 2011, and a 2012 that never saw Ellsbury, Gonzalez,...
LOS ANGELES -- Carl Crawford slipped his new No. 25 jersey over his head, finally having joined the Los Angeles Dodgers two months after the blockbuster trade from Boston that left him as the forgotten $100 million man. "Feels good," he said, smiling at his introduction Friday. Crawford had Tommy John surgery on his left elbow two days before the Aug...
From the moment he was pouring sweat uncontrollably when the Boston Red Sox announced him as their newest signing in 2010, you had to wonder if Carl Crawford could handle the pressures of playing in Boston. Looking back on his year-and-a-half with the team, one would come to the conclusion that he could not. Part of the reason Crawford struggled was that he could not stay healthy...
Some people will say Carl Crawford never understood the expectations of playing in Boston. Others will say he understood the expectations far too well. Crawford, who was finally introduced as a member of the Los Angeles Dodgers on Friday after spending much of the time after his August trade from the Red Sox recovering from Tommy John surgery, said his injury-marred...
Trulia: Crawford too is now ready to officially start over in California as it is confirmed he has listed his Wellesley, Massachusetts mansion for an asking price of $2.99 million. This 7,426 square-foot estate has New England-style charm on the exterior and a contemporary, luxury design on the interior. Custom built just a year ago in 2011, the home sits on a privately gated...
No scare tactics here: The Dodgers announced Thursday that all those hungering for some good off-season team discussion will have a new opportunity beginning on Halloween. Jorge Jarrin will begin a weekly one-hour show on flagship radio station 570-AM beginning Wednesday titled, Dodger Talk Off-Season Edition. The program is scheduled to be broadcast Wednesdays from 7 to 8 p.m...
Major League Baseball dismissed a report that the Los Angeles Dodgers could open the 2014 season in Australia. "We are not currently exploring the possibility with the Dodgers or any team to play in Australia," Pat Courtney, MLB's senior vice president of public relations, said Wednesday. Australian promoters told the Sydney Morning Herald that they...
Just a quick update here on the status of Shohei Otani, who I have been following because the Dodgers are one of the rumored teams in the lead for his services. As they promised, the Nippon Ham Fighters have taken him in the first-round of today's NPB Draft, which is risky to say the least. Has he changed his mind about Japan/America? According to him, not really. Caught Otani's...
Here are a few notes from around the League as we await Game 3 in Detroit. -The Dodgers are interested in retaining their free agent bullpen arms, Randy Choate, Jamey Wright and Brandon League. Dylan Hernandez of the Los Angeles Times notes that GM Ned Colletti is "encouraged" thus far with the negotiations with League. -The Padres announced (via San Diego Union-Tribune) that...
MLB News

Delivered to your inbox

You'll also receive Yardbarker's daily Top 10, featuring the best sports stories from around the web. Customize your newsletter to get articles on your favorite sports and teams. And the best part? It's free!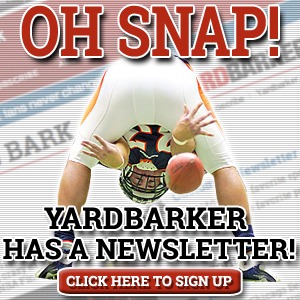 Latest Rumors
The Backyard

Today's Best Stuff

For Bloggers

Join the Yardbarker Network for more promotion, traffic, and money.

Company Info

Help

What is Yardbarker?

Yardbarker is the largest network of sports blogs and pro athlete blogs on the web. This site is the hub of the Yardbarker Network, where our editors and algorithms curate the best sports content from our network and beyond.