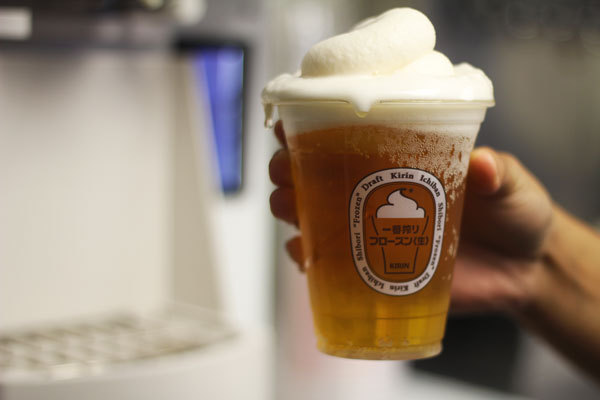 In easily the most influential and monumental inventions of the 21st (or 20th, or even 19th) century beers at Dodger Stadium will now stay cold up to 30 minutes thanks to an extra added layer of foam. As a frequent visitor to Chavez Ravine, this is a game changer. Try and go see a day game from June-Sept and your beverage will be warm by the time you get back to your seats. The great folks at Food Beast did us a favor and took to a Dodger game to try out the game changer and below is what they learned. 'Kirin Ichiban Frozen Draft' as they are calling it looks like a margarita of sorts which can be slightly scary at first. 'The foam, served at -5 degrees Celsius or 23 degrees Fahrenheit, was created to top a pint glass and form an insulated layer that 'protects your beer' in the daytime heat.' The process essentially breaks down into 2 easy steps for a bartender, or in this case a newbie Dodger Stadium employee. Step 1, pour the beer out of the tap. Normally, I would add 'Tilt The Glass!,' but because you're essentially topping the bear with frozen head anyway, it doesn't really matter in this case. Step 2, conjure your skills as a frozen yogurt employee because adding the frozen foam is aesthetically similar. Seriously genius. Article found on: Next Impulse Sports
MORE FROM YARDBARKER:
Is Madison Bumgarner a bully?
MORE FROM YARDBARKER
MLB News

Delivered to your inbox

You'll also receive Yardbarker's daily Top 10, featuring the best sports stories from around the web. Customize your newsletter to get articles on your favorite sports and teams. And the best part? It's free!