Found November 25, 2012 on ChadMoriyama.com:
The Dodgers television contract will total between $6 billion and $7 billion over a 25-year span, thus potentially tripling the sale price of the team, according to Deadline's Nikki Finke. Insiders tell me that Fox Sports is close to clinching the exclusive TV rights for the Los Angeles Dodgers by paying between $6 billion and $7 billion over 25 years to put the team on its regional sports network in Southern California and of course its national Fox Broadcasting Company. Fox already shows the games on its Prime Ticket local cable channel but also has Fox Sports West here. So for those counting, just by taking the middle ground of that estimate, it puts the Dodgers television revenue at $260 million per year or $220 million more per year than they had been receiving ($40 million). If true, that sort of makes a mockery of all the people who were borderline outraged at the $2.15 billion price tag of the team when it was awarded to Guggenheim Partners. —– The deal is apparently still at risk of not getting done though, as FOX has apparently set a deadline. I'm told a deal came "very close" to being done about a week ago "and then it went a little bit south". To rattle Guggenheim's cages, Fox Sports delivered an ultimatum that a deal had to be done by the end of this month or else it would stop negotiating. (Terms like "It's dead" and "We're out" were used.) The Fox Sports gambit worked. Because it would have left Guggenheim in a terrible situation without multiple bidders and with little leverage for next-in-line Time Warner Cable since CBS, Comcast/NBC, ABC/ESPN and even the MSG Network (controlled by the owners of Cablevision) never materialized. Of course, Guggenheim could have opted for the Dodgers to start its own network, as the Mets and Yankees have done. But big rewards come with big risks. While I'm not sure the situation is as bleak as she tries to paint it, it certainly seems a tad insane to be paying the rumored price, and I doubt they could get that kind of a money from anybody else, so they probably do have the leverage to make the demand. —– With that said, while I realize Finke is Deadline's editor-in-chief, I have no idea how credible she is, but stuff like this makes me more skeptical than I want to be: But the sheer greed of Guggenheim's ask on this new deal is staggering, especially when you consider it will all get passed down to the cable systems, advertisers, and ultimately consumers. The alternative for Guggenheim included higher ticket prices which would serve to only further alienate fans. Plus the new owners claim to need the money to bribe talented players to come to the mediocre Dodgers. And then there's the sad fact that Major League Baseball teams are shifting from broadcast TV to cable networks – so fewer games will be available on free TV. Fox Sports expects to broadcast only one or two Major League Baseball games a week for the national audience next season. The amount of editorializing in that news story is … weird. She has a point, sure, but it's not as if this is a trend only started by the Dodgers with FOX or something, as Mike Petriello pointed out in his own writings on the subject. Heck, she points out as much in her own story: Freer really knows this business – he ran the Fox regional sports networks for nearly half a decade – and knows not to overpay. He's not when you consider that the Dodgers will play 162 games when the season starts in April. And yet TV rights to the Lakers who play 82 games just sold to Time Warner Cable for $3B over 20 years. And Fox just paid $3B for 49% of the YES Network which owns TV rights to the New York Yankees for 20 years. Considering that Fox also has the right to own 80% of YES (and will surely exercise that option), then $6B-$7B for this Dodgers deal sounds about about right given the hyper-inflated finances of sports TV rights. In the era of DVR, Hulu, Netflix and other ways to watch TV, sports viewers (overwhelmingly male) watch live and therefore don't always skip through ads. So I'm not seeing the reason for outrage at this specific deal. —– As far as the team goes, this would go a long way to assuaging any doubts or apprehension about the team's payroll both now and into the future. The Dodgers would be setup to spend and spend big for a long while, and when the ink hits the paper, it'll truly mark the beginning of a new era. Up until now, people have been doing a lot of optimistic assuming, but if this story holds up, it looks like all that optimism will finally be official.
Original Story:
http://feedproxy.google.com/~r/ChadMo...
THE BACKYARD
BEST OF MAXIM
RELATED ARTICLES
You can never have too much pitching, but I think the Dodgers might take this notion a bit too far. The Dodgers are considered the front-runners this winter by multiple sources for the services of Zack Greinke. With the Dodgers' rotation already full, someone is going to have to go if the team does indeed sign the right-hander. But who? The Dodgers have Clayton Kershaw...
I'm a HUGE Chad Billingsley fan, and though he's perhaps the most polarizing Dodger of the last decade this side of Jonathan Broxton - I leave out Juan Pierre because the love for him was insane to begin with - I don't judge him on body language or any garbage like that. His stats speak for themselves, and he's been a very good pitcher over his LA career, and one...
The re-tooled, re-build, money-rich Los Angeles Dodgers failed to reach the play-offs in their first season under new ownership.  This despite spending money left and right on new players and contract extensions.  One extension they have yet to get too, though, is Clayton Kershaw's. According to Jon Heyman of CBS Sports, the Dodgers have yet to initiate contract extension...
Stop me if you've heard this one before, "The Dodgers are considered the front runners to sign Zack Greinke."  Or was it Hiroki Kuroda?  Or Anibal Sanchez?  Or Kyuji Fujikawa?  Or Kevin Youkilis?  Or how about just every free agent ever? It seems that no matter what position a player plays or how much money he wants, the Dodgers want him.  Their greed and...
Other than catcher, there might not be a more dismal offensive position than shortstop. While they aren't as exciting to own as those five-tool outfielders or power-hitting corner infielders we still have to treat them equally! Speaking of all those other positions, you should check out those 2012 reviews: C | 1B | 2B | 3B Hanley Ramirez stays at shortstop, huzzah! From 2006-2009...
Hey look, it's Shane Victorino dressed as a clown! Create the caption...
MLB News

Delivered to your inbox

You'll also receive Yardbarker's daily Top 10, featuring the best sports stories from around the web. Customize your newsletter to get articles on your favorite sports and teams. And the best part? It's free!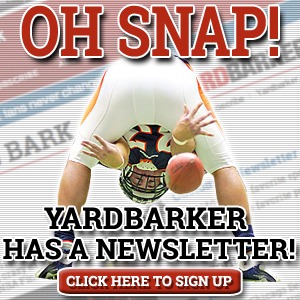 Latest Rumors
Best of Yardbarker

Today's Best Stuff

For Bloggers

Join the Yardbarker Network for more promotion, traffic, and money.

Company Info

Help

What is Yardbarker?

Yardbarker is the largest network of sports blogs and pro athlete blogs on the web. This site is the hub of the Yardbarker Network, where our editors and algorithms curate the best sports content from our network and beyond.