Found September 04, 2013 on Mets Merized Online:
Dillon Gee turned in yet another great start for the Mets today against the Atlanta Braves en route to a 5-2 Mets victory. Gee, who has been one of the National League's top pitchers recently, kept that streak going today by stifling the Braves through seven innings. He allowed just four hits, resulting in one earned run, and struck out five. After a month of August where he went 3-1 with a 2.14 ERA, he started off September with a bang. Gee has gone at least six innings in each of his last 10 starts, including this one, and has no allowed no more than four runs. He picked up his 11th win today and dropped his ERA to 3.53. The only other run surrendered by Mets pitching today was a home run via newcomer Vic Black — but he was pitching his THIRD straight game…nice job, Terry Collins. Black induced three other pop-ups otherwise and looked okay otherwise. Now don't get me wrong — I know he only came in for one out each in the first two games, but I'm thinking about the stress of warmin...
Original Story:
http://metsmerizedonline.com/2013/09/...
THE BACKYARD
BEST OF MAXIM
RELATED ARTICLES
"Ike Davis made his way around the clubhouse offering farewells on Monday," writes Adam Rubin of ESPN New York. Davis will miss the rest of the season with a strained right oblique, and as you can read below, probably has played his last game as a Met…   Ya'll take care now, Ike… It's been a real right pleasure knowin' ya… Original Post 9/1 After leaving tonight's...
There was something Sandy Alderson said during his interview on WFAN on Tuesday that made me laugh. When Mike Francesa brought up how well Dillon Gee had been pitching, the Mets GM responded: "I told Dillon after his last game, remember what I told you two months ago: The other guys are getting the headlines, and you're getting the wins." In his team-leading and career-high...
The Mets look to salvage the third game of their series against the Braves behind Dillon Gee this afternoon at Turner Field.  First pitch is scheduled for 12:10 p.m. To get started just enter your email address and desired username: Name E-mail Related Posts:Game Chatter: Dillon Gee vs. Chris Capuano (8/14/13)Game Chatter: Dillon Gee vs. Julio Tehran (7/22/13)Game Chatter: Dillon...
Zack Wheeler's season should consist of about 28 more innings, an insider told ESPN New York, and whether that gets Wheeler through the remainder of the season remains to be seen. Adam Rubin adds that if the Mets operated with a five-man rotation, Wheeler's turn would come up five times in September — meaning he would need to average less than six innings per outing to complete...
Daisuke Matsuzaka knows his stat line with the Mets, and he knows what Freddie Freeman's three-run bomb on Monday looked like. That's why he appeared to be ready to bid adieu to his third — and quite possibly final — major league team after lasting just three innings on Labor Day. But Mets manager Terry Collins sounded strangely optimistic after Matsuzaka gave up six runs...
Trenton 6, Binghamton 5 Oh, this sucks…Last night, the Kingsport Mets lost when they had a lead with one out to go…and the Binghamton Mets unfortunately suffered the same fate. Noah Syndergaard had a chance to redeem himself after a bad start by starting Game One of the playoffs for the Binghamton Mets. Thor delivered, firing six innings and allowing three runs, while striking...
There's an old adage: There is always a right man for the job. Three years ago when the Mets were poised to begin a long rebuild, Terry Collins was that man. By nature he appears patient and supportive. Exactly the type of guy you might want at the helm if you were going to fill the roster with inexperience youngsters trying to find their place in Major League Baseball. So, how...
Vic Black, we hardly knew you in the minors… in fact, you threw your first pitch in the Mets organization with the MLB team themselves. Now don't get me wrong, I am pretty happy about that — and happy that your first pitch was a 97 MPH fastball with some late movement. But man, it feels like it would've been fun to cover you in the minors for a bit. Take this piece from Mike...
With pitchers Matt Harvey, Zack Wheeler, and Noah Syndergaard rising through the minor leagues and dominating along the way, the hype surrounding those at the top has blocked out some of the performances of lesser-known prospects, even with a fanbase as critical and attentive as the Mets'. Last week, Vinny took a look at some of the most underrated hitters in the Met system. Let's...
For baseball professionals and amateurs across the globe, the dream is to reach the major leagues, and every single year, there are dreams fulfilled that belong to players I've never heard of before. Like most baseball writers, I know something about most players, but there are a lot of players, and I have only so […]
For the eighth time this season, the Indians were able to come from behind in a three game series to win it, as they disposed of their last true challenge of the year against Baltimore. The Indians will face a much weaker foe next, in the New York Mets, but that doesn't mean they can take things easy. The Mets are without their ace and NL All-Star starting pitcher, Matt Harvey...
Scott Kazmir once was in Zack Wheeler's position - considered one of the top pitching prospects for the New York Mets and a big piece of the franchise's future. Traded in a lopsided deal that prevented him from ever donning a Mets uniform, Kazmir gets his first chance to face the team that drafted him when the playoff-hopeful Cleveland Indians host Wheeler and New York on...
MLB News

Delivered to your inbox

You'll also receive Yardbarker's daily Top 10, featuring the best sports stories from around the web. Customize your newsletter to get articles on your favorite sports and teams. And the best part? It's free!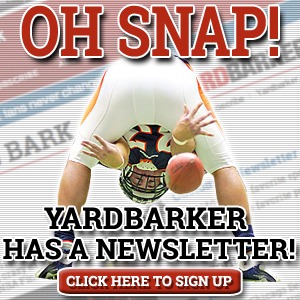 Latest Rumors
Best of Yardbarker

Today's Best Stuff

For Bloggers

Join the Yardbarker Network for more promotion, traffic, and money.

Company Info

Help

What is Yardbarker?

Yardbarker is the largest network of sports blogs and pro athlete blogs on the web. This site is the hub of the Yardbarker Network, where our editors and algorithms curate the best sports content from our network and beyond.