Found January 17, 2013 on Obstructed View OLD:
PLAYERS:
Starlin Castro
,
Anthony Rizzo
,
Nate Schierholtz
,
Theo Epstein
,
Jed Hoyer
,
Robert Whitenack
,
Darwin Barney
,
David DeJesus
,
Brooks Raley
,
Chris Rusin
,
Matt Garza
,
James Russell
,
Travis Wood
,
Ryan Dempster
,
Jeff Samardzija
,
Tony Campana
TEAMS:
Chicago Cubs
,
San Diego Padres
,
Boston Red Sox
​It's that time again! Every winter, the Cubs gather their current players, management, and any ex-players for whom they have blackmail material and trot them out like showdogs for their fans in a massive effort to "build their brand" or "polish the turd."  Yes, the Cubs Convention is tomorrow and the Cubs have been very busy planning how best to shovel massive portions of Starlin Castro and Anthony Rizzo on us, while conveniently glossing over the fact that Nate Schierholtz is probably going to get a lot of playing time.  This year, the Cubs leave the familiar surroundings at the Hilton Towers and give the Sheraton Chicago Hotel & Towers a whirl. From the descriptions of the convention spaces the Sheraton provides, it seems like there is more space available, which would be good since even in these last down years, the crowds are considerable. No matter how much the Cubs hold our collective heads in the toilet, we keep coming back in droves for more. (It also seems the Ricketts have been cozying up to the Sheraton folks for reasons that are not Cubs Convention related.) But other than the location, the offerings at this year's Cubs Convention are very familiar to the previous iterations. Some of the highlights include: Ricketts Family Forum: Tom, Laura, Pete and Todd Ricketts will talk about their experience as the Cubs owners over the last three years and take questions from fans. The Ricketts' welcome from the fans has degraded quite a bit from the hero's welcome they received at their first Convention. That first year, people were practically ready to sacrifice their first-borns on the altar of the Ricketts. But the bloom is off the rose now and many Cubs fans are disillusioned after 101 losses under noted snake-oil salesman, Theo Epstein. I expect every year for the crowd to boo the Ricketts, but they haven't yet and I don't think they will this year either. It won't be raucous applause anymore, but it won't be hostile. Not until they start talking about more video scoreboards in the stadium, anyway.  The highlight is when Pete Ricketts comes out of his burrow for the one time per year and predicts the weather based on the shadow of his bald head.  Meet Cubs Baseball Management: Theo Epstein, president of baseball operations, will be joined by general manager Jed Hoyer, assistant general managers Randy Bush and Shiraz Rehman and manager Dale Sveum to talk about the team's recent moves and what lies ahead. ​Every year they throw Randy Bush into this session and every year nobody asks Randy Bush a question because nobody gives a ****. I'm seriously considering grabbing the microphone and asking him his favorite color just so he gets to say something. From Draft Day to the Big Leagues: Minor League prospects Dallas Beeler, Matt Szczur, Robert Whitenack and Tony Zych will discuss what it's like to get drafted by the Cubs and advance through the system. Dallas Beeler? Who or what is a Dallas Beeler? Why did they lead off with Dallas Beeler in this description? Sure Szczur, Whitenack and Zych might never crack the majors either, but we've at least heard of them. Hey Randy, who the **** is Dallas Beeler? Dale Sveum and the coaching staff: Sveum and his staff will talk about the team and answer questions. They'll "talk about the team and answer questions." That sounds scintillating. jesus, not even a Dallas Beeler mention to spice things up. Way to bring the sizzle, Cubs marketing department! In reality, it actually does sound better than the 60 minutes of people ******** about the bunting tournament that this will inevitably turn into. For Kids Only Press Conference, presented by Advocate Health Care: Kids will get to play reporter and ask players questions. The panel will feature Darwin Barney, David DeJesus, Brooks Raley, Anthony Rizzo and Chris Rusin. This is probably where the most intelligent questions will get asked all weekend. I might pop my head in just to see if Kim DeJesus is lingering around anywhere. I may have to borrow someone's kid. Renew Wrigley Field: Cubs executives will discuss ideas to preserve and renew Wrigley Field based on input from Cubs fans, season ticket holders and the community. We're still just TALKING about it? Holy hell, shouldn't you know what to do with the stadium by now? It is 2013 and the Ricketts have owned the team since 2009 and haven't shut up about preserving and renewing the stadium since then. Crane has been there for at least eight years and this should probably be the #1 thing he would be working on and we're still just TALKING about it?  I get that they don't have the money and some tweaks to the overall plan will happen as long as they aren't pouring concrete, but for the love of God, let's at least cut the fans out of this process by now. Haven't there been enough surveys? At least when the Cubs wouldn't shut up about the troughs, the troughs actually, you know, GOT RENOVATED! OR SO THEY SAY! I CAN'T TELL THE DIFFERENCE! Not for Women Only: Baker, Feldman, Matt Garza, James Russell and Travis Wood will discuss their personal lives off the field. They're resurrecting Kathy & Judy's old bit where the players make really obvious baseball lingo double-entendres and everyone thinks it is just hilarious. This was usually Ryan Dempster's favorite session because he got to tell his tale of dressing up like Captain America every year like it was the first time we ever heard that story. Normally, this would be the annual Mike Bielecki sighting, but he must not have been able to squeeze this into his busy schedule of sitting on the couch in his underwear. I bet we hear way more about Matt Garza's shaving cream pies than any human could ever imagine possible. WGN Radio's Sports Central: WGN Radio's Jim Memolo and Glen Kozlowski's live broadcast will feature segments with DeJesus and Garza; Barney and Jeff Samardzija; Tony Campana and Starlin Castro; and Jackson, Jackson and Rizzo in a live broadcast. It's ON THE RADIO! The players will talk about how they're REALLY anxious to get to Mesa and the team is really ready to prove last year is behind them and start playing winning Cubs Way baseball. And it will be ON THE RADIO! And you can sit there quietly and just listen! It really is quite something. Yes, the wonders of the Cubs Convention are many and I hope to mock it as much as possible on Twitter, so follow along if you'd like. Also, for those lucky enough to also be attending, the annual, semi-planned Cubs blogger/tweeter/loser meet-up will be happening at the hotel bar named, (I swear I am not making this up) Chi-Bar. In the past you have not needed a Convention pass to get access to the bar, but it's a different location and I really don't know what to expect. After a drink or two at Chi-Bar, the plan is to head to Lizzie McNeil's which is right next to the hotel and has a better beer and whiskey list (and you definitely don't need a pass to get in there). I expect I'll be arriving at the Chi-Bar somewhere around 7:00ish. I expect to be hammered by 7:02ish. So come on out if you dare.  
Original Story:
http://www.obstructedview.net/comment...
THE BACKYARD
BEST OF MAXIM
RELATED ARTICLES
This is something interesting to document that doesn't deserve a real post. I was curious to see what Cubs are "young" for their level. So, what I've done is gone through each minor league system the Cubs contribute to and looked to see if any Cubs are in the Top 10. Here are the results. Note: only prospects who had appreciable time at each level were counted,...
The Cubs have avoided arbitration with another of their players. Last week they re-signed Luis Valbuena and they have now reached an agreement with Matt Garza for $10.25 million. Cubs right-hander Matt Garza avoided arbitration and agreed to a new $10.25 million contract on Thursday. Garza's representatives at CAA announced the new deal on Twitter: "#Cubs Matt Garza (@Gdeuceswild...
Although the Chicago Cubs are coming off a 61-101 season, team president Theo Epstein sounded an optimistic tone in recent days as the team's push toward spring training heated up. "It's postseason or bust every year," Epstein said. "That's what our goal is." If teams and their executives, even realistic ones like Epstein, can't be optimistic...
There isn't much to be excited about in this Chicago Cubs pitching staff. There is depth sure, but there are only two or three true quality arms in the rotation. One of those arms is the breakout pitcher of 2012, Jeff Samardzija. After the laughter subsided following Samardzija's declaration that he wanted to be in the rotation, he went out and dazzled all of us in spring...
 Jesse Rogers of ESPN-Chicago reports that Theo Epstein, Chicago Cubs GM, spoke optimistically about two of his projected starting pitchers for 2013, Matt Garza and Scott Baker. "Both guys should be ready to start the year," Epstein said Wednesday. Baker, 31, was acquired via free agency on November 13.  The righty starter has spent his entire career with...
Matt Garza and the Chicago Cubs have agreed to a $10.25 million, one-year contract that avoids salary arbitration. Creative Artists Agency, which represents the right-hander, announced the deal Thursday night on Twitter. Garza also posted on his account, ''Business side over! Hooray! Time to focus on what really matters 2013.'' Garza avoided arbitration a year ago...
Not long after the Cubs hired Theo Epstein and Jed Hoyer, the two traded Andrew Cashner and Kyung-Min Na to the Padres for Anthony Rizzo and Zach Cates. Rizzo had just completed his age 21 season with the Padres and to say it didn't go well would be putting it nicely. Still, he had hit well in the minor leagues and obviously Theo and Hoyer loved what this kid had to offer. Rizzo...
Jeff Samardzija can see the big picture coming into focus for the Chicago Cubs. They're about to begin their second season with Theo Epstein leading the front office, and the right-hander believes the pieces are starting to fall into place. Samardzija said he ''absolutely'' likes what he's seeing from management, and he wasn't referring to the one-year...
After years of being the golden boy and fan favorite who couldn't quite get there, Jeff Samardzija arrived as a starter in 2012. His record and ERA perhaps belittle the type of season he really had. His record of 9-13 with an ERA of 3.89 in 28 starts might not excite anyone. If you dig a little deeper, there was a lot of impressive stuff about his season considering it was his...
The Chicago Cubs announced a five-year, $300 million plan to renovate Wrigley Field at the annual Cubs convention on Saturday. There are still several hurdles to clear, including funding for the project, but owner Tom Ricketts is confident renovations can begin as early as October, starting with the home clubhouse. Cubs president of business operations Crane Kenney said the Ricketts...
The 2013 Cubs Convention is this weekend, and you can check out the schedule and the list of invitees that unfortunately (to me, at least) does not include a certain former Cub.  For those of you who can't go, please follow the WSD Twitter (check the sidebar to follow) and our forum thread where most of the news will end up once stories and updates are ready.  There is also a...
Ok, so it's "Cubs Convention Eve", and the bags are packed, batteries for the camera are charged, sharpies placed in a strategic place in my purse for easy grabbing for those unexpected run-in's with any of the 75+ current, former, and future players, not to mention the management, ownership, broadcasters, etc that will be easily accessible this weekend!  I kind of feel...
MLB News

Delivered to your inbox

You'll also receive Yardbarker's daily Top 10, featuring the best sports stories from around the web. Customize your newsletter to get articles on your favorite sports and teams. And the best part? It's free!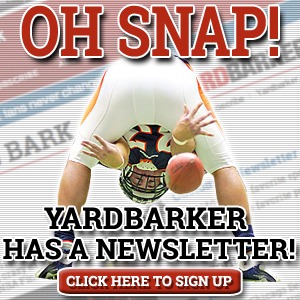 Latest Rumors
The Backyard

Today's Best Stuff

For Bloggers

Join the Yardbarker Network for more promotion, traffic, and money.

Company Info

Help

What is Yardbarker?

Yardbarker is the largest network of sports blogs and pro athlete blogs on the web. This site is the hub of the Yardbarker Network, where our editors and algorithms curate the best sports content from our network and beyond.