Found April 15, 2012 on Croix De Candlestick:
PLAYERS:
Brian Wilson
,
Brandon Belt
,
Barry Zito
,
Emmanuel Burriss
,
Bruce Bochy
,
Ryan Theriot
,
Angel Pagan
,
Melky Cabrera
,
Clint Barmes
,
Brandon Crawford
,
Aubrey Huff
,
Sergio Romo
,
Santiago Casilla
,
Jeremy Affeldt
,
Ryan Vogelsong
TEAMS:
San Francisco Giants
,
Pittsburgh Pirates
This game had a little bit of everything.  First we had the news of Brian Wilson and his elbow troubles.  This was followed by the usual raging about Brandon Belt being out of the lineup once again.  Then we had Barry Zito continuing to pitch well, albeit against an anemic Pirates offense.  Finally there was great defense followed by horrible defense followed by great defense followed by horrible defense, followed by the Pirates playing horrible defense leading to yet another bizarre Giants win. Zito strikes again! (Photo by Ezra Shaw/Getty Images) Let's set the scene for the final half inning:  Emmanuel Burriss leads the inning off with a single while Belt waits on deck.  Bruce Bochy, in his pathological need to never allow Belt to play pulls him back, and sends Ryan Theriot up to bunt.  Theriot bunts two pitches foul and everyone got angry.  Then he singled through the hole into right field and everybody felt confused but still happy.  Angel Pagan was walked intentionally to load the bases, and up came Melky Cabrera.  Cabrera tried his darndest to ground into a double play, but the Pirates were all "forget it, we're the Pirates and we don't like winning" as Clint Barmes threw the double-play-that-would-be into the dirt, ending the game with a Giants win.. Quick Observations:
I don't know what to think of Brandon Crawford's defense right now.  For every spectacular play it seems like he'll boot a routine grounder.  As of this game, the Giants are last in the league in defense, and it shows.
By my count Aubrey Huff has stranded 16 baserunners in 27 plate appearances so far this season.  That hot bat is clearly showing no signs of cooling off.
Zito didn't just get lucky tonight, as he actually seemed to be locating his pitches well, as the Pirates were kept off balance all night long.  That said, home plate umpire Marvin Hudson's strike zone was as small as Bruce Bochy's head is freakishly enormous.
Looks like Sergio Romo was the de facto closer tonight, as Santiago Casilla pitched the eighth inning.  Casilla went on to throw one and two-thirds innings so odds are tomorrow's closer will be either Romo or Jeremy Affeldt.
Tomorrow is a perfect storm for Belt starting.  Huff is coming off a rough oh-fer where he stranded five baserunners, Belt hasn't started in forever, and I refuse to stop talking about this until something changes because I'm stubborn like that.
Tomorrow, Ryan Vogelsong makes his season debut as the Giants go for the sweep.  And since the Dodgers still get to play the Padres, it'd be a good idea to follow through on this to keep pace.
Original Story:
http://www.croixdestick.com/?p=1000
THE BACKYARD
BEST OF MAXIM
RELATED ARTICLES
Yes, it's true closer Brian Wilson will not pitch again in the 2012 season. Thursday in Colorado Wilson felt a pop in his elbow but refused to come off the mound. Wilson didn't want to walk off the mound feeling like a failure. Which is why he still wanted to complete the inning and get the save for Madison Bumgarner. Henry Schulman of the San Francisco Chronicle has an article...
Brian Wilson says his season is likely over. The San Francisco Giants' bearded and boisterous closer said before Sunday's series finale against the Pittsburgh Pirates that he will probably have elbow-reconstruction surgery, ending his season with only a save. An MRI showed the structural damage. Wilson says he will seek at least one other opinion and probably two, including...
Brian Wilson says his season is likely over. The San Francisco Giants' bearded and boisterous closer said before Sunday's series finale against the Pittsburgh Pirates that he will probably have elbow-reconstruction surgery, ending his season with only a save. An MRI showed the structural damage. Wilson says he will seek at least one other opinion and probably two, including...
I'm not sure what evidence there was to support this previously, but I'm pretty sure Brian Wilson is officially turning his body into a college dorm room.Yup...the San Francisco Giants closer now has a tattoo of Johnny Cash flipping the bid on his calf.Sure, it's said to be "in remarkable detail", but c'mon B-Weez, mix in a t-shirt or a poster...there'...
San Francisco Giants closer Brian Wilson admitted that the chances of him pitching again this year is "minimal."Wilson is expected to undergo Tommy John surgery on his right elbow after an MRI revealed structural damage and an issue with the ligament Friday.The 30-year-old Wilson said he will fly to Florida to visit with noted orthopedist Dr. James Andrews, who operated...
I think it's pretty obvious what the main story is coming out of today's game. If Ryan Theriot can continue slapping singles in key spots Barry Zito pitched a good game, which is not something that you would expect if you've seen Barry Zito pitch in the last six years. He got a little roughed up in the first, but settled down and controlled the game, pitching through errors...
National League teams will likely not have to "fear the beard" for 12 to 18 months. San Francisco Giants closer Brian Wilson is likely headed for Tommy John Surgery, which would mark the second time he has undergone the procedure. Wilson reportedly has structural damage in his throwing elbow and is almost certain to miss at least the 2012 season and possibly more. The closer...
New this evening on Twitter is that Brian Wilson's MRI on his elbow showed structural damage.  He is in the process of getting a second opinion, but the outlook is bleak.  If he undergoes Tommy John sugery, the likely outcome, he'll miss the remainder of the 2012 season.  Who will take over closing duties in San Francisco? The natural first thought is that they'...
Red Sox center fielder Jacoby Ellsbury, the best position player in the American League last year, likely will miss at least six weeks after suffering a subluxation of his right shoulder. Giants closer Brian Wilson, the top closer in baseball two years ago, appears headed for season-ending elbow surgery. This may surprise you, but neither star's injury is as catastrophic to...
I'm not worried about the San Francisco Giants' ability to survive without Brian Wilson.  At least, not too much. It's not like losing Wilson isn't a blow.  This guy is one of the top closers in baseball.  For all the crap he takes, for all the torture he induces, he does go out there and get saves time after time.  He has more saves than any other closer in baseball...
Opening day has arrived. On the bright side things are starting to look a little better for the Giants after taking 2 out of 3 from the Rockies. Madison Bumgarner pitched an excellent game, Barry Zito threw a shutout and the Giants offense continued to score runs in bunches. There were some not so good things but now isn't the time to rehash those because opening day...
I believe by definition, that the first 7 games of this season have been a mixed bag. We've been swept, we've been embarrassed, we've been disappointing.But simultaneously, we've been exciting, we've been heroic, and we've been promising.Only with the Giants could such contrasts hold so much value at the same time.I mean, we've got Tim Lincecum on one...
MLB News

Delivered to your inbox

You'll also receive Yardbarker's daily Top 10, featuring the best sports stories from around the web. Customize your newsletter to get articles on your favorite sports and teams. And the best part? It's free!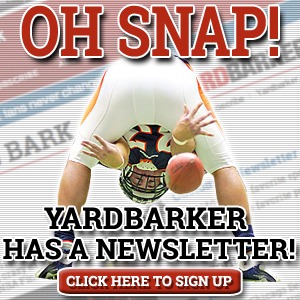 Latest Rumors
Best of Yardbarker

Today's Best Stuff

For Bloggers

Join the Yardbarker Network for more promotion, traffic, and money.

Company Info

Help

What is Yardbarker?

Yardbarker is the largest network of sports blogs and pro athlete blogs on the web. This site is the hub of the Yardbarker Network, where our editors and algorithms curate the best sports content from our network and beyond.