Found October 30, 2012 on The Other Paper:
There are a lot of things swirling around Yankee Stadium these days that aren't being caused by Frankenstorm —  better known as Sandy to the more genteel — and these issues will be hanging around long after the storm leaves town. Joe Girardi, who said he would contact Alex Rodriguez in the wake of his controversial postseason benching, has called the New York Yankees third baseman to talk, reports The New York Post — possibly putting this Category 3 squall to rest for now. "Joe knows Alex is sensitive and needed to have a conversation," a source told The Post.  "He couldn't go into the winter not knowing what was going on and wanted to clear his head.  Now both of them are ready to go." In a press conference last week, the Yankees manager said he would need to speak to Rodriguez before spring training after the $114 million slugger struggled through a horrendous postseason. Girardi had no comment about the call to A-Rod yesterday but has said he is concerned about any of his players' mental state after a managerial move. "I'm always worried about whatever move I make, how it affects the club or affects the player," Girardi admitted last week at Yankee Stadium.  "Sure, [there's a possibility] I might have to deal with it more that I expected, but I may not have to deal with it at all.  As we move forward, I'll get a temperature on it and keep track of it and see how it's going." Al Roker couldn't have said it better. Rodriguez joined a long list of key players who had dismal postseasons but have been reached out and touched by the Yankees organization. Yesterday, Robinson Cano and Curtis Granderson got more than phone calls from the Yankees.  Both postseason flops had their $15 million options picked up by the team. The plight of a downgraded Nick Swisher is not so clear.  But it is likely the "sensitive" outfielder has worn out his welcome and will be playing for another team next season. Expect a lot of Yankees updates this winter.
Original Story:
http://ihatelupica.blogspot.com/2012/...
THE BACKYARD
BEST OF MAXIM
RELATED ARTICLES
According to ESPN, New York Yankees manager Joe Girardi reached out to third baseman Alex Rodriguez on Friday to work on their relationship and talk about the future.  Friday was the same day CBSSports.com reported that Girardi made a call to Yankee Stadium public-address announcer during the postseason asking that Rodriguez's name not be announced when a pinch hitter was sent...
From Erik Boland:Free agency officially kicked off in the hours after the Giants completed their four-game sweep of the Tigers in the World Series on Sunday night and, as expected, the Yankees on Monday exercised the club options they held on second baseman Robinson Cano, centerfielder Curtis Granderson and reliever David Aardsma. Twelve of their players became free agents, headlined...
The New York PostOctober 21, 2012 SundayDear EditorThe Yankees are lucky George Steinbrenner isn't alive and running the team: he would strip these pretend Bronx Bombers of their pinstripes faster than you can say "Choke." They lost the only ounce of heart and courage they had when Derek Jeter went down, while making every Baltimore and Detroit pitcher look like...
I am not making this up. The Yankees are the ultimate metaphor. Carnegie Council Transcripts and ArticlesOctober 23, 2012 Tuesday 2:46 PM EST The speaker is David Lesch, an expert on Syria:LESCH: One of the questions I m often asked these days is: Can the opposition and the government ever get together on any particular issue right now? My answer here today is that my wife Judy...
Buffalo News (New York)October 21, 2012 Sunday Dear Editor:The Yankees have been eliminated and gone into hibernation. Unfortunately Cano, Rodriguez, Granderson and Swisher were already there long before they were swept by Detroit. Let's face it, without Ibanez's heroics, the Yankees wouldn't have gotten by Baltimore. Along with occasional contributions, Teixeira...
The New York Yankees have exercised their $15 million contract options for second baseman Robinson Cano and outfielder Curtis Granderson for next season. Cano hit .313 with 33 home runs and 94 RBIs this season and Granderson hit 43 homers and drove in 106 runs, but with a .232 average. The Yankees were swept in the ALCS by the Detroit Tigers, who went on to lose the World Series...
Buffalo News (New York)October 28, 2012 Sunday Mike Harrington is, as usual, right on the mark. This time, regarding the pathetic collapse of the Yankees.We Yankee fans know that injuries were a factor in this year's demise, but injuries are a fact of life in professional sports. Yet the problem is more systemic. Harrington shows that arrogance and lack of concern for fundamentals...
The New York Yankees should target St. Louis Cardinals outfielder Carlos Beltran this offseason, says Joel Sherman of The New York Post. The Yankees should at least inquire if the Cardinals would be willing to move Beltran's $13 million 2013 salary. The Yankees will have a need for outfielders this winter, as Nick Swisher and Ichiro Suzuki are headed for...
The New York PostOctober 21, 2012 SundayDear EditorAfter the Yankees lost to the Tigers, Alex Rodriguez was quoted as saying, "I'll be back." I hope he meant for Old-Timer's Day. JOHN BUONAGURA Stewart Manor, N.Y.
Blame it on A-Rod. That's the default position for all postseason losers, isn't it? If Alex Rodriguez and the Yankees had extended the Tigers beyond four games in the American League Championship Series, then maybe the Tigers would have been sharper in the World Series. That's one theory, anyway. The Tigers had a wide range of opinions on the impact of their five-day...
Jordan Betts is a Junior from Duke University. He spent this past summer playing for the Sanford Mainers of the NECBL. He turned in a very productive summer and was one of the best power hitters in the league. He hit .289 in 152 at-bats for the Mainers. He scored 21 runs, drove in 38 and hit 11 home runs this summer. He also walked 16 times this year. Jordan was selected to participate...
Yankees News

Delivered to your inbox

You'll also receive Yardbarker's daily Top 10, featuring the best sports stories from around the web. Customize your newsletter to get articles on your favorite sports and teams. And the best part? It's free!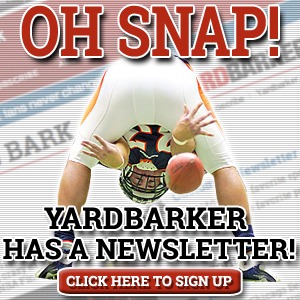 Latest Rumors
Best of Yardbarker

Today's Best Stuff

For Bloggers

Join the Yardbarker Network for more promotion, traffic, and money.

Company Info

Help

What is Yardbarker?

Yardbarker is the largest network of sports blogs and pro athlete blogs on the web. This site is the hub of the Yardbarker Network, where our editors and algorithms curate the best sports content from our network and beyond.