Found September 12, 2012 on Sports by Colin:
After averaging a measly 94.4 mph on 23 pitches against the Pittsburgh Pirates on Monday, dominant Cincinnati Reds closer Aroldis Chapman will be shelved for roughly a week to combat shoulder fatigue. The 6-foot-4, 200 pound Chapman (5-5, 1.60 ERA), … Continue reading →
Original Story:
http://sportsbycolin.com/in-stark-con...
THE BACKYARD
BEST OF MAXIM
RELATED ARTICLES
Last Game The Reds won the series opener against the Pirates last night, 3-4, in 14 innings. This was a more exciting one to watch, with the team tying it up in the seventh, but it was also frustrating that they couldn't get one more guy across the plate until the 14th. The Reds' inability to string together hits for runs is annoying, but it's been a problem that's haunted...
Aroldis Chapman is referred to as the Cuban Missile, because Chapman is from Cuba, and we used to associate Cuba with missiles, and missiles are fast, and Chapman throws really fast, and we are horrible. It would at least make a little more sense if we just referred to Chapman's fastballs as Cuban missiles, but even there, fastballs don't travel nearly as fast as missiles do...
Last Game The Reds completed the sweep of the Pirates last night by a score of 1-2. Homer Bailey put in a very nice start for his 11th win, which is a career-high number of wins for him. J.J. Hoover pitched in the ninth inning for the first save of his career. The 2 RBI belong to…Wilson Valdez? And Scott Rolen? Lots of unusual things happening tonight. Next Game Today the Reds...
The Cincinnati Reds are concerned about closer Aroldis Chapman's recent erratic control and loss of velocity, though they are saying the troublesome symptoms are due to fatigue and not injury, according to MarkSheldon of MLB.com: "Yeah, because his velocity was down," Reds manager Dusty Baker said. "He didn't have any pain. He might be a little tired...
CINCINNATI It hasnt come to the point where Cincinnati Reds catcher Ryan Hanigan considers changing his first name to Rodney, but its close.When it comes to respect outside of Cincinnati, Hanigan makes Rodney Dangerfield seem like The Man of the Year.Not long ago, a sports network polled fans with the question: What catcher can a contending team least afford to lose? There were...
No, that wasn't a pack of wild dogs you heard during Monday's Cincinnati Reds game against the Pittsburgh Pirates.It was a group of fans near the outfield that decided to start howling as the game went into extra innings.The howling became so loud that you could hear during the broadcast and might have been unbearable if you were watching the game on television: Your browser...
Cincinnati Reds second baseman Brandon Phillips was angered by an alleged racial remark from an unnamed opponent during Monday night's game against the Pittsburgh Pirates. Phillips didn't clarify who made the alleged comment or reveal the contents during the eight inning of the 14-inning game in Cincinnati. After the game, Phillips tweeted, "#RealTalk ... Not really surprised...
It was a good old-fashioned pitcher's duel in Cincinnati on Wednesday night as Homer Bailey (11-9) put together one of his better Great American Ballpark performances and put away Pittsburgh, 2-1. The win inches the Reds closer to October as their magic number continues to shrink. It now stands at just eight after St. Louis fell to San Diego, 3-2. For more details on the...
With the Blaze's playoff loss on Wednesday, all of the Reds minor league organizations are through with baseball for this season so it's time we finished recapping each team's season. Statistical leaders were chosen among those who played significant time. It's not limited to a certain number of ABs or IPs, really. I just picked who I thought played enough...
One of baseball's traditional home openers will have an innovative twist next season. The Cincinnati Reds will host the Los Angeles Angels on April 1, becoming the first teams to start their seasons with an interleague matchup. The Reds, the first professional team, celebrate opening day with a parade and have opened all but four seasons at home. Major League Baseball announced...
I really don't even want to talk about how much of an idiot Clint Hurdle was during and after the game last night.  You've heard it.  Pinch running for Garrett Jones with a guy in front of him was the height of idiocy, Wandy pulled early, threw team under bus while defending his moronic decision, [...]
Looky looky another loss.  Clint Hurdle still in the driver's seat though.  That really inspires confidence.  I wonder if Neal Huntington will ever comment about the absurd lineups, and awful losing streak?  Anything would be better than his awful cliches, and fruitless interviews to date. Throw us a bone Neal.  Please…… The Pirates look to [...]
MLB News

Delivered to your inbox

You'll also receive Yardbarker's daily Top 10, featuring the best sports stories from around the web. Customize your newsletter to get articles on your favorite sports and teams. And the best part? It's free!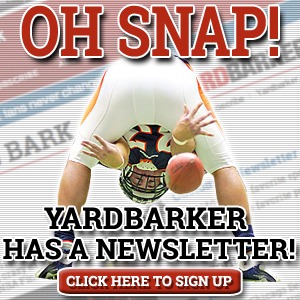 Latest Rumors
Best of Yardbarker

Today's Best Stuff

For Bloggers

Join the Yardbarker Network for more promotion, traffic, and money.

Company Info

Help

What is Yardbarker?

Yardbarker is the largest network of sports blogs and pro athlete blogs on the web. This site is the hub of the Yardbarker Network, where our editors and algorithms curate the best sports content from our network and beyond.