Found July 03, 2012 on Midwest Sports Fans:
In his past six at-bats, Dayan Viciedo is 0-6 with six strikeouts.
After hitting .206 in April, he hit .351 in May, but then .179 in June.
One may see the back-and-forth production from the young right-handed hitter and question his reliability. But given all of the circumstances, Viciedo is giving the White Sox exactly what they expected of him.
(Image credit: Jonathan Daniel/Getty Images)
Many times, teams let their young prospects like Viciedo go out there and "just play" to get their feet wet, but this was not one of those situations.
Kenny Williams showed a lot of faith in the kid by making room for him with the Carlos Quentin trade. He then told Dayan he'd be playing left field, making that his third new position in three seasons. Plus, a lot of fans have viewed "Tank" as the organization's top hitting prospect, and he's constantly had to work on and listen to criticisms about his plate discipline.
Simply put, a lot was put on the plate of Viciedo heading into the 2012 season.
People might say, "He's hitting seventh, so how does that constitute as pressure?" Well, Dayan's situation is not your typical seven-hole scenario.
The plate discipline idea is something most prospects are babied with in the minors, with the organization calling those guys up once they feel the player has grasped it well enough. With Viciedo, the Sox are telling him to grasp it on the fly. That's showing a lot of faith in a young player.
Learning to work the count and take more pitches is like trying to break any other bad habit in baseball. When you do something one way for so long, it becomes muscle memory. Take a look around baseball at your Cuban players. How many of them really work the count? As Hawk Harrelson has said at times when assessing Dayan and Alexei Ramirez, "you don't walk your way out of Cuba."
In fact, Dayan has even improved in that department of late, walking almost twice as much in June (seven times) as he did in April and May combined (four times). He's never going to be Adam Dunn at the plate in terms of patience. Dayan is what he is: an aggressive, high-strikeout, low OBP guy with a TON of power.
But the fact that he's making these types of strides all while learning a new position is encouraging to me.
Speaking of the new position, Viciedo hasn't been too shabby out there in left field either. Actually, outside of misplaying one bounce off the side wall against Milwaukee a few series ago, he's been extremely solid. His arm is an asset, as teams are afraid to run on him. And he's done many things well that you'd expect a first year left fielder to struggle with (hitting cut-off men, communication with the center fielder, going back on balls etc.).
Even with all the things added to Dayan's "to-do list" for this year, it seems as if he's carried himself better than most MLB veterans. He's never backed down from anything Kenny or Robin have given him, always saying he'll do what's best for the team.
Plus, despite the recent struggles, he's never appeared to be down on himself and has never let his slumps at the plate effect his defense.
So, while his offensive production has bounced around a lot even compared to most feast-or-famine Latin players, the White Sox probably weren't expecting more than a .252/14/37/.735 line on July 2.
With the team in first place, and expectations now raised for the season's second half, Dayan does have a lot of responsibility despite his placement in the order. And he's proven thus far in 2012 that he's ready to handle it.
Original Story:
http://www.midwestsportsfans.com/2012...
THE BACKYARD
BEST OF MAXIM
RELATED ARTICLES
As this season approaches the All-Star break, fans of the Chicago White Sox are wondering if Kenny Williams has any more tricks up his sleeve. The GM has already made an impressive move when he acquired Kevin Youkilis from the Red Sox for Brent Lillibridge and Zach Stewart. The move put Youkilis at third base, a position the Sox have had trouble with so far this year. It also opened...
The Chicago White Sox placed right-hander reliever Jesse Crain on the 15-day disabled list Wednesday with a right shoulder strain, retroactive to June 24. The White Sox recalled right-hander Deunte Heath from Triple-A Charlotte to replace Crain, who is 2-1 with a 2.38 ERA in 24 games this season. Crain was also on the disabled list April 27 to May 14 with a strained oblique. Heath...
It was Kevin Youkilis' first home game in Chicago and he did not disappoint. Youkilis launched a two-run bomb in his first at-bat and that started a Chicago White Sox slugfest against the Texas Rangers. Youkilis would end up 3-6 with four RBIs. Adam Dunn followed Youkilis' home run with one of his own, giving the All-Star 25 on the season. The powerful Sox offense got nine earned...
Tuesday's start against the Texas Rangers was the last start for Chicago White Sox left-hander Chris Sale before the All-Star break, and the lefty made sure it was memorable. Sale went 7 1/3 innings, allowing just one run on five hits while fanning four in the White Sox's 19-2 win. He lowered his season ERA to 2.19, making the case for Texas manager Ron Washington, who...
The career of Bobby Jenks got off on the wrong foot when the right-hander was not allowed to play a lot of high school baseball due to his poor academic performance. Book ending that and his release today from the Boston Red Sox has been good times, bad times and more than a couple of rowdy moments. To read this feature, please click the link below.
This division has been turned on its head this year, and while the base players are the same, the standings are much different. Chicago White Sox 42-37, first place Chicago has been a pleasant surprise this year at the top of the AL Central, and their team this year has been a balanced attack. They already made a nice move, picking up Kevin Youkilis from the Red Sox to...
MLB News

Delivered to your inbox

You'll also receive Yardbarker's daily Top 10, featuring the best sports stories from around the web. Customize your newsletter to get articles on your favorite sports and teams. And the best part? It's free!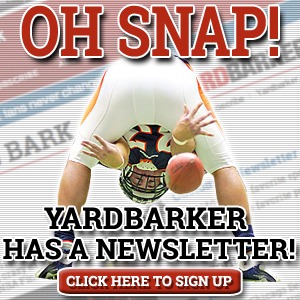 Latest Rumors
Best of Yardbarker

Today's Best Stuff

For Bloggers

Join the Yardbarker Network for more promotion, traffic, and money.

Company Info

Help

What is Yardbarker?

Yardbarker is the largest network of sports blogs and pro athlete blogs on the web. This site is the hub of the Yardbarker Network, where our editors and algorithms curate the best sports content from our network and beyond.