Found March 20, 2013 on ChadMoriyama.com:
PLAYERS:
Hanley Ramirez
,
Moises Alou
,
Don Mattingly
,
Juan Uribe
,
Zack Greinke
,
AJ Ellis
,
Chad Billingsley
,
Carl Crawford
,
Juan Pierre
,
Josh Beckett
,
Ted Lilly
,
Chris Withrow
,
Paul Goldschmidt
,
Miguel Montero
TEAMS:
Los Angeles Dodgers
,
Miami Marlins
,
Arizona Diamondbacks
Dodgers designated hitter third baseman first baseman? shortstop Hanley Ramirez jammed his right thumb while diving for a groundball in the World Baseball Classic and he'll get an MRI today at the Camelback Ranch. Your browser does not support iframes. His manager and general manager give differing takes on the severity of it. "I don't think it's bad," Dominican coach Alfredo Griffin said. Ramirez, playing third base for the Dominican, jammed the thumb while diving for a ground ball in the third inning. He remained in the game, even delivering a single in the fourth inning, but left after five innings. Ramirez declined comment through a team spokesman. Dominican Manager Tony Pena said he removed Ramirez for precautionary reasons, even though Ramirez told Pena he could have gone on. So Tony Pena doesn't think it's bad, and it's odd to me that he declined comment on it if he wasn't worried, and maybe it's because he is a bit, as Moises Alou sounded. "Hanley, he jammed his thumb when he dove for that ball," Alou said after the Dominican Republic ran off eight consecutive wins to go undefeated and win the Classic for the first time. "It was pretty swollen. He's going to have an MRI on it [Wednesday] in Arizona." I guess there are differing versions of serious at play here. I don't think anybody expects him to have some type of injury requiring surgery, but him missing Spring Training time is still bad considering he hasn't played shortstop in a long while. Today, Stan Conte spoke and although he hasn't had an MRI yet, they've already ruled him out for a couple weeks. Director of medical services Stan Conte spoke with the doctor at AT&T Park, and team trainer Sue Falsone was in contact with Ramirez on Tuesday night. Both relayed their information to manager Don Mattingly. "They painted both pictures. The optimistic side is that he had another at-bat and it's just a sprain and it could be a couple of weeks," Mattingly said. "The pessimistic side is that it could be something major and he's out 8-10 weeks." So he's going to miss time, regardless, but they're obviously worried. If he misses two months of the regular season … welcome Juan Uribe. —– Zack Greinke threw a bullpen session on Sunday and reported no pain in his right elbow, which had been bothering him recently and been diagnosed as inflamed. "I guess I could have something, but I'm assuming it's going to fine to be on track to do whatever, but I don't know for sure," Greinke said. "I probably threw a little more (than expected). I felt good. I was working on stuff, and trying to make sure I'm ready for a game," Greinke said. "I'm just trying to get ready. I don't think about it as a rehab." "I'm just doing what's laid out, to give us the best chance. On our team we have other starting pitchers, and we have to be ready. They're going to weigh all that in," Greinke said. "I just want to do what's best for the team. It's not important what day [I make my first start of the season]." It's encouraging to see Greinke make it through a session without pain, and he'll start a minor-league affair today with a strict pitch count in place. A.J. Ellis will catch Greinke instead of suiting up with the rest of the squad. Manager Don Mattingly said that Greinke will pitch in a Minor League game in the afternoon, with A.J. Ellis staying back to catch instead of playing in the Dodgers' Cactus League game against Kansas City. The team should not feel rushed to get him back by Opening Day if he needs an extra week or two during a long, long, long season. —– Chad Billingsley's elbow has held up all Spring Training but unfortunately he hasn't escaped the injury bug as a sore groin is now accompanied by a bruised index finger on his pitching hand. The finger forced Bills out of his scheduled outing. "I'm just taking it day by day, seeing how I feel," Billingsley said. "I'm still playing catch, but the command is just not there because it's bruised and swollen." "(We're not) trying to force him into this one. We're concerned about the finger from the standpoint of changing a grip, then not having a grip pressure then changing an arm angle. With everything that has gone on, we really don't want that," Mattingly said. "The one thing with Bills, we want to make sure he's able to throw." Glad to see Donnie and his staff aren't putting pressure on Chad to tough it out and are cognizant of the fact that doing so could lead to a change in mechanics. How did Billingsley injure himself, you might ask? Bunting. Yes Matt, bunting. Billinglsey was scratched from Wednesday's scheduled outing due to the finger. He's scheduled for a bullpen session instead and game action on Saturday. —– Carl Crawford, who has been dealing with elbow issues during Spring Training, saw improvement Monday in his ability to swing the bat and throw the ball. "It's good to see him get a couple of hits, which makes him feel better and more part of it. But even better today for me was him throwing, and Stan (Conte, team director of medical services) working with him on the cuts," Mattingly said. "He had a lot on the ball. That was really positive today." "I'm throwing a little bit harder at (75-80) feet," Crawford said. "At some point the goal is to be able to hit the cut off man, I'm not sure how many feet that is but that's the goal." Once Crawford can hit the cut-off man he'll be cleared by the staff to play left field. Until such an event actually occurs Carl will continue to DH. It's great that there's no serious issue at play here, but the quotes on his throwing aren't exactly glowing. Though Crawford has also made progress throwing, it seems that won't return until the regular season. But as long as Crawford is ready with the bat, that will determine when he's ready. "I don't think he's going to be 100% (throwing). When I asked Stan (Conte, director of medical services) when is he ready to really throw and he said, 'May.' So it's going to be a work in progress," Mattingly said. "But we're building to a point where we're comfortable with him being out there. We're feeling good about everything about Carl right now." I couldn't imagine a worse throwing outfielder than Juan Pierre, but it looks like we might see it. —– Josh Beckett has the flu, which I can only imagine he caught from Ted Lilly. Regardless, Beckett did start a simulated game against three minor leaguers and Jerry Hairston, Jr.. "Everything went good," manager Don Mattingly reported. "He got better as the game went on. He was happy about being able to get it in. He was worried that if he did it in a [Cactus League] game and he had a long inning, he wouldn't get his pitch count up and the up-and-downs. He seemed to be happy with it." Beckett threw 76 pitches and went through the up-and-down of six innings, pitching and resting in between. Beckett's had an excellent Spring so hopefully he won't miss too much time – he's been under the weather two days thus far – and fall behind as he looks to carry his exhibition success into the meaningful regular season. —– Chris Withrow, who had been out with back spasms all Spring Training, returned only to be injured by a liner off of the shin. Withrow escaped with a bruise from the Paul Goldschmidt shot, and he said he expects to be back in action in a couple of days. "It's been a pretty adventurous spring," said Withrow. "I came in ready to go. For my back to go out the second day was kind of frustrating. Then the second batter, after seven months off, that's not ideal either. Things happen for a reason." The guy just can't seem to stay healthy, even when it comes to living live off of the field, as a recent close call indicates. Things were adventurous for Withrow even before Spring Training started. He and his wife survived an offseason rollover auto accident with only minor injuries. Hopefully he can find some good health in his future, as you can never have enough live arms with strikeout stuff. —– Dee Gordon is day-to-day after slightly spraining his ankle in a collision at home, according to Don Mattingly. The shortstop walked off the field and back to the clubhouse on his own, and the injury isn't believed to be serious. Chad provides us with visual proof of Gordon attempting to run over (?) Miguel Montero on an overall laughable play. ===== Greg Zakwin is the founder of the site Plaschke Thy Sweater Is Argyle. Follow him on Twitter @ArgyledPlaschke.
Original Story:
http://feedproxy.google.com/~r/ChadMo...
THE BACKYARD
BEST OF MAXIM
RELATED ARTICLES
PHOENIX -- Encouraged by how his elbow felt Wednesday in his first game in nearly three weeks, Zack Greinke said he thought he could be ready to pitch at the start of the regular season. I hope so, Greinke said. My arm felt really good today. It felt strong. Greinke faced Chicago White Sox minor league players for four innings, throwing 43 pitches and facing one batter more than...
As news broke this morning of Hanley Ramirez's injury (out at least eight weeks), the reality of Juan Uribe remaining with the club became a virtual lock. Manager Don Mattingly already said Luis Cruz would take over at shortstop for Ramirez, which makes a little sense, I suppose. But I'd rather see Dee Gordon take it and have Cruz remain at third base. Gordon, who...
Dodgers shortstop Hanley Ramirez is scheduled to undergo surgery Friday on his injured right thumb and is expected to be sidelined for eight weeks. The Dodgers said Thursday that an MRI indicated that a ligament in Ramirez's thumb was torn. Ramirez suffered the injury Tuesday night while playing for the Dominican Republic in its victory over Puerto Rico in the World Baseball...
The Los Angeles Dodgers wanted Hanley Ramirez to be their Opening Day shortstop. That is not going to happen, because of an injury he suffered during the World Baseball Classic. Ramirez will have surgery on his right thumb Friday and will miss about two months, the Dodgers announced Thursday. "The MRI on Hanley Ramirez's right thumb indicates that the ligament that stabilizes...
WORLD BASEBALL BUMMER
Dodgers shortstop Hanley Ramirez reportedly will miss eight weeks after tearing a ligament in his right thumb during the World Baseball Classic.
Depending on the extent of the injury, there may. Be more fuel thrown on the "players shouldn't participate in the World Baseball Classic" argument. The Dodgers' starting third baseman, Hanley Ramirez has left tonight's WBC Championship after jamming his thumb. The extent of the injury is not yet known, but Ramirez will be evaluated by doctors from both the...
The Los Angeles Dodgers have a new injury concern. Hanley Ramirez, slated to be their Opening Day shortstop, left Tuesday's World Baseball Classic after five innings, apparently because of a jammed right thumb. Ramirez, as the Dominican Republic's third baseman, sustained the injury while diving for a ball. Veteran Miguel Tejada replaced him to begin the top of the sixth...
Los Angeles Dodgers shortstop Hanley Ramirez could be sidelined for more than two months or maybe just two weeks because of an injured left thumb. ''They've painted both pictures, and it's a pretty big window,'' Dodgers manager Don Mattingly said Wednesday. ''We're guessing.'' Ramirez was hurt diving for a ball while playing third base...
Shortstop Hanley Ramirez of the Los Angeles Dodgers suffered a torn ligament in his thumb and will miss the next two months of action. His blow not only impacts the Dodgers, but fantasy owners as well at a position that is often times hard to find top tier talent at. For his fantasy baseball ranking, I knocked him down from the second ranked shortstop to number 11 and he now has...
SURPRISE, Ariz. — Los Angeles Dodgers shortstop Hanley Ramirez could be sidelined for more than two months or maybe just two weeks because of an injured right thumb. "They've painted both pictures, and it's a pretty big window," manager Don Mattingly said Wednesday. "We're guessing." Ramirez was hurt diving for a ball while playing third base Tuesday night in the...
In the This Is My Nightmare series, we'll take a look at what the absolute worst case scenario for each team would be in 2013. Think of it as the negative complement to our You May Say I'm A Dreamer series that we'll be running during our preview series. The nightmare has already begun for the Dodgers with the news that Hanley Ramirez will miss eight weeks after...
The title of this post was nearly, "F*ck Luis Cruz." If that guy gets in the way of my last round draft pick of Dee Gordon, I'm gonna be none too happy! Or is that "I'm gonna be some unhappy?" While Hanley Ramirez is out with a thumb injury, I want Dee Gordon to play for a month and for the Dodgers to say they won't play Luis Cruz. I homophoned...
MLB News

Delivered to your inbox

You'll also receive Yardbarker's daily Top 10, featuring the best sports stories from around the web. Customize your newsletter to get articles on your favorite sports and teams. And the best part? It's free!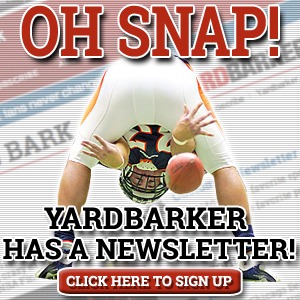 Latest Rumors
Best of Yardbarker

Today's Best Stuff

For Bloggers

Join the Yardbarker Network for more promotion, traffic, and money.

Company Info

Help

What is Yardbarker?

Yardbarker is the largest network of sports blogs and pro athlete blogs on the web. This site is the hub of the Yardbarker Network, where our editors and algorithms curate the best sports content from our network and beyond.