Found April 15, 2013 on We Talk Fantasy Sports:
PLAYERS:
Jose Reyes
,
Adrian Gonzalez
,
Josh Beckett
,
Carl Crawford
,
Zack Greinke
,
Emilio Bonifacio
,
Munenori Kawasaki
,
Brett Lawrie
,
RA Dickey
,
James Shields
,
Brandon Morrow
,
Edwin Encarnacion
,
Jose Bautista
,
John Buck
,
Matt Harvey
,
Justin Morneau
,
Daniel Murphy
,
David Wright
,
Justin Turner
,
Bobby Parnell
,
Jake Peavy
,
Addison Reed
,
Justin Masterson
,
Nick Swisher
,
Chris Sale
,
Mark Reynolds
,
Michael Bourn
,
Bud Norris
,
Josh Hamilton
,
Mike Trout
,
CJ Wilson
,
Ernesto Frieri
,
Brett Anderson
,
Jarrod Parker
,
Bartolo Colon
,
Austin Jackson
,
Prince Fielder
,
Jhonny Peralta
,
Felix Hernandez
,
Hisashi Iwakuma
,
Yu Darvish
,
Tom Wilhelmsen
,
Joe Nathan
,
Franklin Gutierrez
,
Ian Kinsler
,
Raul Ibanez
,
AJ Pierzynski
,
Hiroki Kuroda
,
Phil Hughes
,
CC Sabathia
,
Mariano Rivera
TEAMS:
Toronto Blue Jays
,
Miami Marlins
,
Los Angeles Dodgers
,
Chicago White Sox
,
Boston Red Sox
,
Kansas City Royals
,
New York Mets
,
Minnesota Twins
,
Cleveland Indians
,
Houston Astros
,
Los Angeles Angels
,
Detroit Tigers
,
Oakland Athletics
,
Seattle Mariners
,
Texas Rangers
,
Baltimore Orioles
,
New York Yankees
When the Toronto Blue Jays lost Jose Reyes until at least the All-Star break this weekend, a lot of other things were lost as well.  The Jays were attempting to recreate what the Miami Marlins started last offseason when they signed every available free agent.  Most, if not everyone believed it would work and we all know how it ended.  In the middle of last season, the Dodgers began their attempt at buying a Championship when they traded for Adrian Gonzalez, Josh Beckett and Carl Crawford, and added Zack Greinke this offseason.  Well, Greinke is out for sometime as well and the Dodgers are not any better than they were prior to the trade.  Without Jose Reyes, the Blue Jays lineup is not the same.  Not that they were smacking the ball around this season, but on paper, they were scary.  Now Emilio Bonifacio is leading off and Munenori Kawasaki is playing short.  Brett Lawrie better return with a vengeance and soon!Toronto did take 2 of 3 from the Kansas City Royals at Kaufman Stadium, but their next 17 games are against the White Sox, Yankees, Orioles and Red Sox.  They might be 5-7 now, but they could easily be 12-17 or worse when April is over. R.A. Dickey allowed just 1 run over 6.1 innings in his first quality start as a member of the Blue Jays.  He beat James Shields who pitched a complete game while picking up the L.  J.A. Happ pitched another nice game improving to 2-0 in two starts lasting 10.1 innings.  He did give up 4 earned to the Royals but he threw 41 pitches in the 1st inning allowing 3 runs and fixed some issues along the way.  Brandon Morrow recovered from an awful start at Detroit to go 6 innings against the Royals allowing just 2 earned.  The Jay Birds will need above average pitching for the foreseeable future in order to stay competitive in a SOLID American League East.Edwin Encarnacion and Jose Bautista each homered this weekend, and that is a great sign.  They will need to get hot as well to give their starters some run support.John Buck and the New York Mets handled the Minnesota Twins this weekend, setting records.  Buck became the first player in MLB history to drive in 19 runs in his first 10 games with a new team.  he did so after blasting a grand slam in the series opener.  Matt Harvey then no-hit the Twins through 7 innings before Justin Morneau homered with 2 outs and 2 strikes.  According to the Elias Sports Bureau, Harvey is the first pitcher in modern major league history (since 1900) to win each of his first three starts of a season, with at least 25 strikeouts and six or fewer hits allowed over those three games. - MetsBlogBuck hit a home run in 4 straight games before going 0-4 on Saturday.  Yesterdays game was cancelled.Daniel Murphy picked up 6 hits and 5 RBI in the two game set while scoring 3 times.  David Wright added 5 RBI with a double, triple and 2 singles.  With 3 hits on Saturday, Justin Turner is now 7 for 12 in his 3 spot starts with 2 doubles.Bobby Parnell picked up a save in his first save attempt of the season.Jake Peavy looked like 2007 Jake Peavy, striking out 11 Indians over 7 innings.  The Chicago White Sox lost 2 of 3 in Cleveland.  Addison Reed earned his 4th save.In the series opener, Justin Masterson improved to 3-0 with a complete game shutout striking out 7.  The Indians won 1-0 on a walk off single by Nick Swisher.  Swisher added a double, home run 2 more RBI and scored 3 times this weekend.  The Indians tacked on 8 runs as Chris Sale lasted just 4.1 innings.  Mark Reynolds hit a grand slam and drove in 5 runs.Michael Bourn went 3 for 4 with a home run on Sunday, but need stitches in hand and will miss the series opener with the Red Sox on Tuesday and possibly more.After taking 2 of 3 from the Houston Astros, the Los Angeles Angels improved their record to 4-8, the same record as the Astros.  After being shut out in the series opener by Bud Norris, the Angels managed 9 runs over the final two games.  Josh Hamilton (homers in back to back games) and Mike Trout each hit their first home runs of the season.  C.J. Wilson picked up his 1st win of the season and Ernesto Frieri earned his second save.The Detroit Tigers took 2 of 3 from the Athletics in Oakland and beat up on young studs Brett Anderson & Jarrod Parker.  It was veteran Bartolo Colon who held the Tigers offense to just 3 runs over 7 innings.  They scored 15 runs over 9 innings from Anderson and Parker.Tigers leadoff hitter, Austin Jackson, scored 4 times while driving in 4 runs himself adding a double and a homer.  Right behind him, Torri Hunter added 4 XBH (2 2b,3b, HR) scoring 3 times while Prince Fielder added 7 hits, 4 XBH (2 2b, 2 HR) 3 walks, driving in 5 runners and scoring 4 times.  Jhonny Peralta also homered and drove in 4 runs.The Seattle Mariners split a four game series with the Texas Rangers as Felix Hernandez got beat up for 10 hits over 6.2 innings in the series opener.  Hisashi Iwakuma beat Yu Darvish improving to 2-0 and owns a 2.18 ERA with a 0.48 WHIP over 20 innings!  Tom Wilhelmsen picked up saves number 4 and 5 while Joe Nathan earned his 4th save.No team scored more than 4 runs in a game as they each scored 11 runs.  Franklin Gutierrez and Ian Kinsler each hit their 4th home runs of the season.  Raul Ibanez and A.J. Pierzynski each hit their 2nd home run of the season.The New York Yankees took 2 of 3 from the Baltimore Orioles in the Bronx as Hiroki Kuroda pitched a complete game shutout on Sunday Night Baseball.  The Orioles scored just 7 runs all weekend but they scored 5 of them off Phil Hughes in just 3 innings.  Francisco Cerelli played a little second base this weekend.  C.C. Sabathia had another great start going 8 strong before Mariano Rivera picked up his 2nd save.
Original Story:
http://www.wetalkfantasysports.com/20...
THE BACKYARD
BEST OF MAXIM
RELATED ARTICLES
KANSAS CITY, Mo. — Jose Reyes heard a pop in his left ankle as he awkwardly slid into second base. After that, everything else was a blur to the Toronto Blue Jays on Friday night. The trainers lifted their star shortstop onto a cart, and the cart drove through the bullpen gate in right field. The sight was of Reyes, his ankle heavily bandaged, being pushed out of their clubhouse...
Jose Reyes and the Toronto Blue Jays want to be as sure as they can about the All-Star shortstop's timeline for return.  So Reyes went to North Carolina to see a foot/ankle specialist for a second opinion on his diagnosis and prognosis.  Unfortunately, the timeline remains the same. According to Evan Peaslee of MLB.com, the ankle specialist visited by Reyes confirmed the...
The Toronto Blue Jays have placed star shortstop Jose Reyes on the 15-day disabled list with a sprained ankle and selected the contract of shortstop Munenori Kawasaki from Triple-A Buffalo. The moves were announced on Saturday, a day after Reyes twisted his left ankle with an awkward slide into second base in the Blue Jays' 8-4 win over Kansas City Friday night. The results...
Stars Jose Reyes and Yoenis Cespedes went on the disabled list Saturday after getting hurt while sliding, and the Miami Marlins said slugger Giancarlo Stanton hopes to a avoid a trip to the DL. Toronto said Reyes, its All-Star shortstop, likely will be sidelined until the All-Star break because of a severely sprained left ankle. Reyes was injured during an awkward slide into second...
Toronto Blue Jays shortstop Jose Reyes won't need surgery on his sprained left ankle but is still expected to miss three months, general manager Alex Anthopoulos says. Reyes visited a specialist in Charlotte on Monday who confirmed the diagnosis of a severely sprained ankle. Reyes was injured sliding into second base in Friday's game at Kansas City. He was placed on the...
How do you overcome an injury to your superstar shortstop?  Shift another potential superstar to second base, let the dominoes fall around him, and hope it works.  Brett Lawrie is not quite on the same level as Jose Reyes.  He still has to prove himself further, and this may be his shot.  The Toronto Blue Jays are shifting Lawrie to second base temporarily to help ease the...
Unless you live under a rock, you've probably heard by now that Jose Reyes was carted off the field Friday after he badly sprained his ankle sliding late into second base. It was hard to watch, no question, as Reyes is certainly a guy Mets' fans can still root for, especially since he plays in Toronto, which is a divisional foe of the Yankees. The Blue Jays are having enough...
Help I've fallen and I can't get up! Earlier this week I was set to write this epic post where I was going to breakdown the age-old question of who is better, David Wright or Jose Reyes?….And then last night happened. If you haven't heard Jose Reyes suffered a nasty leg injury while sliding (sort of) into second base during a game between the Blue Jays and the Kansas City...
(AP) -- The Toronto Blue Jays are hoping Jose Reyes' injury can be a source of inspiration. After getting their first win from their ace, the Blue Jays attempt to run their road winning streak over the Kansas City Royals to seven games Sunday. Toronto (5-6) is expected to be without Reyes for three months after he suffered a severe left ankle sprain while trying to steal a...
The Toronto Blue Jays are 5-7 after two weeks of baseball. Shortstop Jose Reyes has a severely sprained ankle, and will miss three months of action. Of course, considering all of the hype surrounding the Jays this winter, their lack of success this year has plenty of people wondering what's wrong with them and whether or not they're just this year's version of the 2012...
After finding out Jose Reyes likely will be sidelined until the All-Star break, R.A. Dickey won his first game for the Toronto Blue Jays. The NL Cy Young Award winner allowed one run and five hits in 6 2-3 innings Saturday night, and Jose Bautista backed him with a two-run homer in the Blue Jays' 3-2 win over the Kansas City Royals. James Shields (1-2) was a hard-luck loser...
MLB News

Delivered to your inbox

You'll also receive Yardbarker's daily Top 10, featuring the best sports stories from around the web. Customize your newsletter to get articles on your favorite sports and teams. And the best part? It's free!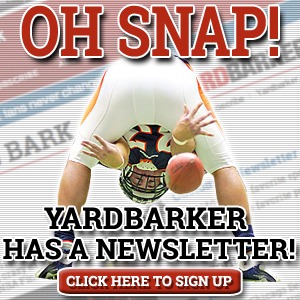 Latest Rumors
The Backyard

Today's Best Stuff

For Bloggers

Join the Yardbarker Network for more promotion, traffic, and money.

Company Info

Help

What is Yardbarker?

Yardbarker is the largest network of sports blogs and pro athlete blogs on the web. This site is the hub of the Yardbarker Network, where our editors and algorithms curate the best sports content from our network and beyond.