Found November 14, 2011 on Dodgers Rumors:
PLAYERS:
Mike Piazza
,
Adrian Beltre
,
Ned Colletti
,
Troy Tulowitzki
,
Alex Rodriguez
,
Mark Teixeira
,
CC Sabathia
,
Derek Jeter
,
Joe Mauer
TEAMS:
Texas Rangers
,
Boston Red Sox
,
Los Angeles Dodgers
,
Colorado Rockies
,
New York Yankees
,
Minnesota Twins
Ken Gurnick
is reporting that the Dodgers are closing in on a franchise record eight-year, $160MM deal. The deal is expected to be made official after Kemp passes a physical. The deal is said to include a full no-trade clause, which could theoretically keep Kemp in Dodger blue until he is 34. That means the Dodgers are essentially buying out all of his prime years.
More importantly the Dodgers are about to turn a new leaf, signing a home grown talent for the first time in over a decade. 
Mike Piazza
, this guy could've been the franchise player, but the Dodgers failed to make it happen by trading him to the Marlins. History repeated itself with
Adrian Beltre
who was lost to free agency.  Correct me if I am wrong but the last home grown guy the Dodgers kept around was
Eric Karros
. The former Dodger first baseman stayed around until 2002, but he was never what you can call a franchise player.
Alright so time to talk some numbers, after all $160MM is pretty hard to ignore. The Bison's new deal would tie for the seventh largest in MLB history, matching
the deal
Manny Ramirez
signed with the Boston Red Sox in 2001. There is no denying that this deal is huge for the Dodgers in a number of ways, after all it's the first deal over five years Ned Colletti has given out to any player during his tenure as GM for the Dodgers. It's also the largest deal for the franchise since the deal given to
Kevin Brown
way back in 1998. 
Troy Tulowitzki
recently agreed to a six-year, $119 million extension with the Rockies that brought Colorado's total commitment to the shortstop to $157.5 million over 10 seasons, but it's hard to compare the two since Kemp was on the verge of being handed a bank breaking deal as a free agent.
Alex Rodriguez, Mark Teixeira, CC Sabathia, Derek Jeter of the Yankees, and Joe Mauer of the Twins, are the only players in the MLB that hold a contract worth more than $160MM.
Congrats to Ned Colletti for getting the job done. I don't know how he did it yet, and I'm feeling a little uneasy about seeing the details of this deal. With the way the Dodgers have been doing business lately I'm concerned about how back-loaded heavy the deal may be.
I said it before and I will say it again, Colletti handled the top priority for the Dodgers this winter, period! I know most of you are shocked by the report, but honestly I'm not. This was perhaps the most important deal for the Dodgers in the last twenty years, and while I know there has been lot of skepticism with the Dodgers GM during his tenure, but Colletti most certainly got the job done here, and it's time to give credit where credit is due.
Original Story:
http://feedproxy.google.com/~r/dodger...
THE BACKYARD
BEST OF MAXIM
RELATED ARTICLES
The Los Angeles Dodgers and Matt Kemp are in serious discussions that could land the 27-year-old outfielder $160 million over eight years, sources told FOXSports.com. It would rank as the seventh-largest contract in baseball history. Kemp's sixth season in the majors was his best. He hit .324 with 39 home runs, 126 RBIs and 40 stolen bases in 2011. His .586 slugging percentage...
Dodgers owner Frank McCourt (left) and Matt Kemp attend the opening of a new little league field in Compton, CA. Kemp remained silent about reports he was ready to sign an 8 year, $160 million deal with the team. Frank McCourt may have been a terrible owner but he is turning into quite the apologist. Ever since he lost his battle with Bud Selig to retain control of the Dodgers, McCourt...
Hooray! The Dodgers are going to sign superstar Matt Kemp to an eight-year, $160 million contract extension!!! Booo!  The Dodgers just gave middle-aged infielder Mark Ellis a two-year deal worth around $9 million!!! Oh, you silly Dodgers, your decision making is so befuddling paradoxical.  How can one team be so smart and yet so stupid at the same time.  I mean that literally...
LOS ANGELES The Los Angeles Dodgers Tuesday announced that they have signed second baseman Mark Ellis to a two-year contract with a club option for a third year in 2014. Dodger General Manager Ned Colletti made the announcement. Mark brings a veteran presence to our lineup and he knows how to handle the bat, said Colletti. On defense, hes been one of the most dependable second...
Kemp, Dodgers On Verge Of Eight-Year Extension (MLBTR) Twitter scuttlebutt is that Matt Kemp and Frank McCourt are supposed to attend a 1 p.m. youth field dedication today. Announcement forthcoming?
COMPTON, Calif. (AP) -- Matt Kemp says he wants to remain with the Los Angeles Dodgers but no deal has been reached amid reports that he's close to signing an eight-year, $160 million contract.
Dodgers Owner Frank McCourt speaks publicly for the 1st time since announcing he has agreed to sell the team. McCourt spoke at Mona Park in Compton where the team was dedicating a new Dodgers Dream Field.
It was always top three on my Most Wanted List, and slid up to one after a couple of other White Whales were acquired. It's not a Dodgers card, but it is the True Rookie Card of my favorite pitcher, second favorite Dodger (they're really 1A and 1B), and the man who makes up my second most important PC. So it was a must-have, clearly.I picked it up from a guy who was selling...
Matt Kemp says he wants to remain with the Los Angeles Dodgers but no deal has been reached amid reports that he's close to signing an eight-year, $160 million contract. Kemp said Monday he has not reached an agreement with the Dodgers but would like to spend the rest of his career with the team.
I wrote this about last weekend's Jamey Carroll Sweepstakes over at the Outside Corner. I'm planning on making my winter posts over there part of a recurring theme: the winter is a rough time to be the fan of any team except for a few of baseball's biggest spenders. 
MLB News

Delivered to your inbox

You'll also receive Yardbarker's daily Top 10, featuring the best sports stories from around the web. Customize your newsletter to get articles on your favorite sports and teams. And the best part? It's free!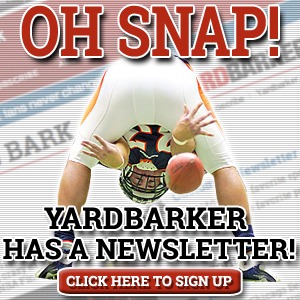 Latest Rumors
Best of Yardbarker

Today's Best Stuff

For Bloggers

Join the Yardbarker Network for more promotion, traffic, and money.

Company Info

Help

What is Yardbarker?

Yardbarker is the largest network of sports blogs and pro athlete blogs on the web. This site is the hub of the Yardbarker Network, where our editors and algorithms curate the best sports content from our network and beyond.