Found November 26, 2012 on isportsweb.com:
"Anybody want to watch the World Series?"                                    -From the movie "One Flew Over the Cuckoo's Nest." One of these days, it may cost almost as much to watch the Dodgers from home as it does to go out to a live game. In an odd twist, Bud Selig(left) forced owner Frank McCourt out of baseball by nixing McCourt's $3 billion television deal with FOX.  Now, FOX will be forced to pay more than twice that to maintain TV rights. The Los Angeles Dodgers, who fetched more than $2 billion dollars when former owner Frank McCourt was forced to sell, are reportedly going to be offered at least $6 billion by the local FOX Sports cable network in exchange for television rights. So where will FOX get the money to pay the Dodgers? Get out your wallets, Dodgers fans. FOX cable has been the cable network of the Dodgers for the last sixteen years. Not including nationwide telecasts on ESPN or the FOX broadcast network, FOX cable currently broadcasts about 66% of the Dodgers games during the regular season.  The remaining games are broadcast by local independent station KCAL.  All you have to do is buy basic cable and you'll get just about all 162 games a year. FOX has been paying the Dodgers about $40 million dollars a year on a contract that expires at the end of the 2013 season. This new 25-year deal places the annual outlay at somewhere north of the $250 million mark. It would seem natural that the old Ponzi scheme will apply for us working stiffs that want to watch the games. It was back in 1920 that a man named Charles Ponzi hit upon an idea that has grown so big; his name is part of our modern lexicon. Ponzi decided to promise people if they invested their money with him, he could give them returns one could only dream about. The way it worked was John Doe #1 turned over his money to Ponzi. Ponzi would then find John Doe #2 and get some money from him to invest. Once #2 wrote the check, Ponzi would cash it and turn that $$ over to #1. The same will probably hold true here. FOX will decide to up their price to the local cable stations that, in turn, will simply pass the buck onto subscribers. Consumers may be upset but FOX could not afford to let the Dodgers walk away and begin their own network. FOX lost a ton of winter advertising revenue this year when both the Los Angeles Lakers and UCLA and USC football finished up their contracts with FOX and began their own networks.  With the NHL strike, FOX has taken to televising year old Los Angeles Kings playoff games and tons of horse racing since October. Sure, FOX still has the Angels but the Dodgers garner twice the television ratings than their neighbors to the south. This deal brings to mind a strange twist in the Rupert Murdoch-led FOX kingdom story. When former owner Frank McCourt was attempting to hold onto to the Dodgers, he claimed he had worked out a $3 billion deal with FOX for broadcast rights which in turn would give McCourt the funds needed to get the team out of bankruptcy.   But Bud Selig quashed the deal as a way to get rid of  McCourt.  The team was sold and now poor(?) FOX is now in the position of doubling the ante.   One other funny subplot is that FOX owned the Dodgers from 1998 to 2004 but sold them to McCourt because Murdoch decided player salaries were out of control. I tell you, last year, you could pay as little as $5 for a decent seat at Dodger Stadium.  Meanwhile, Time Warner cable recently added a "no-reason" $3.95 per-month fee for those customers who have both the TV package and internet through them.  It seems pretty clear that fee was added in response to Time Warner needing to pay the Lakers about $3 billion for the new Lakers network over the next couple of decades.  If this FOX-Dodgers deal goes through,  it wouldn't surprise me to see twice that amount finding a way onto my bill come next year.  Maybe it is time to head on out to Dodger Stadium and save a few bucks.
Original Story:
http://feedproxy.google.com/~r/isport...
THE BACKYARD
BEST OF MAXIM
RELATED ARTICLES
Kenley Jansen Kenley Jansen entered 2012 as the set-up man with elite stuff, freed up to face the opponents' best hitters should they be due up before the ninth inning. It was the perfect scenario, considering the closer role is a vastly overrated entity. Though Jansen was slotted correctly, he quickly found himself as the closer following some early struggles in that role by Javy...
Clayton Kershaw After Clayton Kershaw's 2011 performance, for which he won the Cy Young Award, I wasn't sure I could be more impressed with him going forward. That's not to say I was certain he had peaked, but it would no longer come as a surprise to me or anyone else. What impressed me so much about his 2012 season though, was the fact that he had another fantastic season...
You can never have too much pitching, but I think the Dodgers might take this notion a bit too far. The Dodgers are considered the front-runners this winter by multiple sources for the services of Zack Greinke. With the Dodgers' rotation already full, someone is going to have to go if the team does indeed sign the right-hander. But who? The Dodgers have Clayton Kershaw...
Sometimes a set comes out and you just know that no matter how hard you try money will soon be leaving your person. I knew that would be the case when I discovered that both Matt Kemp and Clayton Kershaw were included in the 2012 Bowman Red Ice parallel set, in which each card is numbered out of a scant 25. They've gone for a pretty penny, as you might imagine.But thankfully...
I'm a HUGE Chad Billingsley fan, and though he's perhaps the most polarizing Dodger of the last decade this side of Jonathan Broxton - I leave out Juan Pierre because the love for him was insane to begin with - I don't judge him on body language or any garbage like that. His stats speak for themselves, and he's been a very good pitcher over his LA career, and one...
Organizational Talent Rankings via Baseball America 2012 (23) | 2011 (12) | 2010 (21) | 2009 (23) | 2008 (6) 2012 Affiliate Records MLB: [86-76] NL West AAA: [80-64] Pacific Coast League – Albuquerque AA: [73-65] Southern League – Chattanooga A+: [68-72] California League – Rancho Cucamonga A: [67-73] Midwest League – Great Lakes Arizona Fall League Players — Mesa Solar...
Stop me if you've heard this one before, "The Dodgers are considered the front runners to sign Zack Greinke."  Or was it Hiroki Kuroda?  Or Anibal Sanchez?  Or Kyuji Fujikawa?  Or Kevin Youkilis?  Or how about just every free agent ever? It seems that no matter what position a player plays or how much money he wants, the Dodgers want him.  Their greed and...
When rumors about the Dodgers gargantuan new TV deal started floating around the internet yesterday, most people classified the reaction to the rumors as a "shockwave." It's true that the numbers are staggering: the deal's not finalized, but it will pay the Dodgers somewhere in the ballpark of $6-$7 billion over 25 years. That puts the annual figure in the $240...
Los Angeles Times: Steven Cohen has been implicated in an insider trading scheme. Tuesday the Wall Street Journal reported that Cohen had been implicated in a massive $276-million insider trading scheme. Remember him? The guy who was once the front-runner for the Dodgers? Annnnnnnnnnnnnnnd that's why some of us didn't want him as owner. —– The Book: Tom Tango argues that...
Other than catcher, there might not be a more dismal offensive position than shortstop. While they aren't as exciting to own as those five-tool outfielders or power-hitting corner infielders we still have to treat them equally! Speaking of all those other positions, you should check out those 2012 reviews: C | 1B | 2B | 3B Hanley Ramirez stays at shortstop, huzzah! From 2006-2009...
With a deadline of Friday to get a deal done, Fox and the Los Angeles Dodgers could agree to a TV deal according to the LA Times worth over $6 billion, more than 20 times what the team is making on their current TV deal. This would put the Dodgers at the top of the class in terms of MLB TV rights. The proposed deal the Dodgers and Fox are discussing would be worth $240 million...
While the market has been quiet on him to this point, with the winter meetings approaching, teams are beginning to turn their interest towards outfielder Shane Victorino. Jon Heyman of CBS Sports reports that seven teams, including th...
Dodgers News

Delivered to your inbox

You'll also receive Yardbarker's daily Top 10, featuring the best sports stories from around the web. Customize your newsletter to get articles on your favorite sports and teams. And the best part? It's free!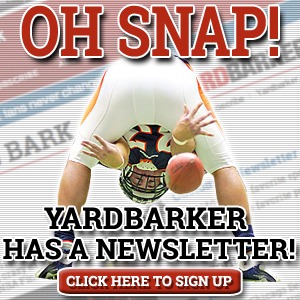 Latest Rumors
Best of Yardbarker

Today's Best Stuff

For Bloggers

Join the Yardbarker Network for more promotion, traffic, and money.

Company Info

Help

What is Yardbarker?

Yardbarker is the largest network of sports blogs and pro athlete blogs on the web. This site is the hub of the Yardbarker Network, where our editors and algorithms curate the best sports content from our network and beyond.