Found January 08, 2013 on isportsweb.com:
The free spending Los Angeles Dodgers may not be giving all their money to free agents after all.  Dodger Stadium itself will be given a hand out also. Tuesday, the Dodgers announced the details behind their earlier general statement that the 50-something year old stadium needed a few major upgrades. Fans will see improvements and additions in three main areas-stadium comfort, technological upgrades, and a chance to partake in Dodger history . First are the improvements to the structure of the stadium that will make just watching the game a more comfortable and "roomy" experience. When team president Stan Kasten welcomed fans to the stadium early last season, one of the biggest complaints was how dilapidated the bathrooms had become, let alone how few there were.  Per the official press release, "restrooms will be expanded, renovated and ADA compliant on the Loge, Reserve and Upper Reserve levels and in the Pavilions.   There will be an average increase in fixtures of 62 per cent for women and 32 per cent for men.  Family or Unisex restrooms will be created for each level at the stadium." From this angle, you can see renderings of the upgraded video screens. There is also a blue indicator for the walkway to be added over the left field bullpen. The structural changes will also allow fans new ways to view a game itself. There will be walkways added over the left field bullpen. Fans can watch pitchers warm up from above or, like many other stadiums, give fans a chance to watch the game while standing.  Walkways will be expanded and fans in wheelchair will be awarded more room. The second area comes in the form of technology. Again, Kasten responded to complaints from the media about the inability to connect to the internet while in the stadium.  New antenna and other Wi-Fi improvements will be put in place that should help laptop/tablet response times.  Additionally, the video screens in the outfield will offer state of the art enhancements. The screens will become the first 10mm 1080p light emitting diode (LED) displays in MLB. Their size will be increasedoverall by more than 20% and the display area itself will be 66% bigger than it is today. Finally, another gripe by fans was how Dodger Stadium did not have a display that allowed fans to learn Dodger history. For the first time, the Dodgers will display many of the team's historical items including MVP awards, Cy Young awards and Gold Gloves awarded to Dodger players. The entire press release is below: DODGER STADIUM IMPROVEMENTS OUTLINED FOR 2013 SEASON  LOS ANGELES – The Los Angeles Dodgers today announced their plan for improvements to 51-year-old Dodger Stadium for the 2013 season. Upgrades include:  New High Definition video boards in left field and right field.  Existing message boards, including ribbon boards at the Loge level and outfield wall, will be replaced with the new technology as well.  The unique hexagon shape of both scoreboards will be restored. A new sound system directed to minimize echoes and sound migration outside the stadium A state-of-the-art Wi-Fi network and cellular antenna system to support cell-phone and internet connectivity from mobile devices Wider concourses and additional locations for wheelchair bound fans and their companions on all levels Expanded and renovated restrooms with substantially more fixtures Food service enhancements to loge, reserve and upper reserve levels including new stands, cooking facilities and menus.  Details will be announced prior to the start of the season. New Field Level entry plazas and bullpen overlooks to create standing room areas with a view of the game A new home team clubhouse, expanded and enhanced training/conditioning areas, and new batting cages for both teams "The mission of Dodger ownership is to create ways to enhance the experience for all of our fans," Dodger President and CEO Stan Kasten said. "Dodger Stadium is a treasured piece of the Los Angeles community and we will respect that heritage while restoring and enhancing the venue for our fans in the 21st century. When the improvements are completed, the stadium will retain its classic look, but it will have a more comfortable feel. "This is a most ambitious program for a single off-season. We are grateful to Dodger fans for their input into the improvements that will be most meaningful to their game experience." "Dodger Stadium is a jewel in the heart of Los Angeles. It's a place where Angelenos from all walks of life have come together for decades," said Mayor Antonio Villaraigosa. "I'm very pleased to see that the team's owners are investing in exciting and needed upgrades that will help attract new fans and refresh this civic icon."  "From the outset the new ownership of our Los Angeles Dodgers committed to putting fans first and to being good neighbors," said Councilmember Ed P. Reyes. "As a fan I appreciate everything they are doing to enhance the Dodger Stadium experience, and as councilmember I appreciate that they have taken the surrounding neighborhood into account particularly with regards to their echo-reducing sound system."  The planned improvements are being overseen by Janet Marie Smith, Senior VP of Planning and Development, who is known throughout the sports world for her work with the Baltimore Orioles (Oriole Park at Camden Yards), Boston Red Sox (Fenway Park) and Atlanta Braves (Turner Field).   Smith's accomplishments are recognized in Baseball's Hall of Fame in Cooperstown, NY.  Following is more detail regarding the improvements to be in place for the 2013 season at Dodger Stadium. The ability of fans and media covering games at Dodger Stadium to communicate will improve as a result of the new Wi-Fi and cellular antenna system that is being installed as part of a partnership with Major League Baseball Advanced Media.  The new sound system will provide for a much more enjoyable audio experience for fans as they listen to live and recorded music and announcements before, during and after games at the stadium. Sound will be directed to each seating section, minimizing echoes and migrating sounds outside the park. The new video screens will be the first 10mm 1080p light emitting diode (LED) displays in MLB.  While the new scoreboard structures will be 22% larger, the active viewing area of both video boards will be 66% larger than before, thus providing the capability for a greater amount of video content and statistical information than ever before.  Driven by a new high-definition broadcast quality control room, the scoreboards will feature the latest outdoor display technologies which will offer some of the most impressive visuals in all of sports.  The original distinctive hexagonal shape which presently only exists in right field will be restored to both boards. Two to four rows of seats will be removed from the back of the Field, Loge, Reserve and Upper Reserve levels to provide greater walking space on each concourse, as well as more wheelchair locations and "drink rails" for fans who may wish to leave their seats during games and explore the stadium.  Restrooms will be expanded, renovated and ADA compliant on the Loge, Reserve and Upper Reserve levels and in the Pavilions.   There will be an average increase in fixtures of 62 per cent for women and 32 per cent for men.  Family or Unisex restrooms will be created for each level at the stadium.  Restrooms in the outfield will be relocated under the Pavilions which will be more convenient for fans. The Dodgers will also be going green instituting many measures toward being energy efficient.  Included in the plans are new water valves, low flush fixtures, waterless urinals, hand driers to eliminate paper waste, automatic faucets to control water flow and new power and lighting energy efficient systems. The Dodgers also will increase the number of positions for wheelchair patrons.  Each position will have a companion seat and will also be positioned so these patrons can see the game, even if someone stands up in front of them. One of the "most fun things" among the enhancements, according to Smith, is the bullpen overlooks that will enable fans to socialize while watching the game from a location above the bullpens where there will be dramatic field views. Each entrance, including the center-field entrances, is being given careful attention to create better circulation and enhanced concession and retail spaces.  Playground and interactive areas for children also will be created at both the Pavilion and Reserve levels that will include life-size bobbleheads, oversized World Series rings and retired number displays. The players will appreciate the renovation doubling the size of the footprint of the existing clubhouses, enhance their training room and home batting cage and add a batting cage for visiting teams so they won't have to share the Dodgers' batting cage. The Dodgers will display many of the team's historical items for the first time.  Fans will be able to enjoy Dodger memorabilia and artifacts such as MVP awards, Cy Young awards and Gold Gloves awarded to Dodgers.  
Original Story:
http://feedproxy.google.com/~r/isport...
THE BACKYARD
BEST OF MAXIM
RELATED ARTICLES
Although the Los Angeles Dodgers have been pretty quiet since the back-to-back blockbuster signings of Zack Greinke and Hyun-jin Ryu last month, the Dodgers continue to bolster their minor league system with international free agent signings. A week after signing Mexican prospect Alfredo Amezaga, the Dodgers dipped into international waters once again, signing 17-year-old prospect...
Matt Kemp has begun upper-body workouts for the first time since offseason shoulder surgery. Kemp's agent, Dave Stewart, relays that The Bison is pain-free three months after his surgery. —– Chad Billingsley continues to progress from his elbow injury and has reported no setbacks thus far, according to Ken Gurnick. "Physically, Chad's doing great, and he's excited about...
Ben Badler of Baseball America, one of the best when it comes to international signings, reported today the Dodgers signed Ariel Sandoval for $150,00. Sandoval, 17, is an outfielder from the Dominican Republic. Badler said the Dodgers' brass was impressed with Sandoval's potential to hit for average and power. He also has above-average speed that is currently good enough...
The Dodgers finalized a one-year contract with left-handed reliever J.P. Howell, according to a person familiar with the situation who spoke under the condition of anonymity because the deal hasnt been officially announced by the team. Howell, 29, figures to be one of two left-handers in the Dodgers bullpen. His pitching style is markedly different from that of the teams only other...
Murray Chass claims he knows Mike Piazza used steroids. Wait, before you start mumbling expletives at Chass under your breath, keep reading. The former New York Times reporter is not alone. Joel Sherman, a columnist for the New York Post, also raised suspicion about the Mets former catcher. Both Chass and Sherman covered the Mets in the Piazza era. These guys spent a lot of time...
Left-hander J.P. Howell and the Los Angeles Dodgers have finalized a $2.85 million, one-year contract. The 29-year-old reliever was 1-0 with a 3.04 ERA in 55 games for the Tampa Bay Rays last season and held left-handed batters to a .200 average (17 for 85). He has a 21-23 record with a 4.42 ERA in 33 starts and 234 relief appearances for Kansas City (2005) and Tampa Bay (2006...
Having spent more than $200 million to bulk up their starting pitching this winter, the Los Angeles Dodgers are turning their attention to improving the aging stadium they've played in since 1962. President and CEO Stan Kasten says the goal is to improve the experience for fans while preserving the history of the third-oldest ballpark in the major leagues. Kasten unveiled the...
On this episode of "Dugout Blues," Jared Massey (L.A. Dugout) and I talk about the Dodger Stadium renovations. We also look at a few siignings the Dodgers made sign our last episode, including J.P. Howell, Alfredo Amezaga and -- the one we're most excited about -- Ariel Sandoval.. And in perhaps the greatest moment of the episode, we spending a good chunk of...
– Right handed pitcher Matt Palmer signed a Minor League deal with the Los Angeles Dodgers according to Bill Plunkett of the Orange County Register. The deal includes an invitation for Spring Traning. – The Colorado Rockies signed right handed pitcher Manny Corpas to a Minor League deal and invited him for Spring Training writes Thomas Harding of MLB.com. Corpas spent the 2012...
For the first time since 1996, no one has been elected to the Baseball Hall of Fame. Craig Biggio was 39 votes short of selection. He "killer Bs" longtime teammate Jeff Bagwell obviously fell well short too. So did Tim Raines, Mike Piazza and Don Mattingly. Ok, it was a weak class for the first ballot. Roger Clemens, Barry Bonds, Sammy Sosa, Rafael Palmeiro and Mark McGwire...
Dodgers News

Delivered to your inbox

You'll also receive Yardbarker's daily Top 10, featuring the best sports stories from around the web. Customize your newsletter to get articles on your favorite sports and teams. And the best part? It's free!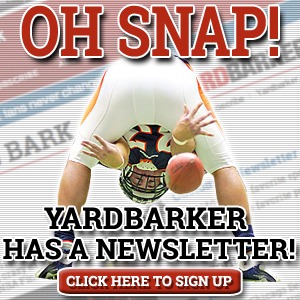 Latest Rumors
Best of Yardbarker

Today's Best Stuff

For Bloggers

Join the Yardbarker Network for more promotion, traffic, and money.

Company Info

Help

What is Yardbarker?

Yardbarker is the largest network of sports blogs and pro athlete blogs on the web. This site is the hub of the Yardbarker Network, where our editors and algorithms curate the best sports content from our network and beyond.