Found March 04, 2013 on Fox Sports San Diego:
PLAYERS:
Jedd Gyorko
,
Casey Kelly
,
Austin Hedges
,
Rymer Liriano
,
Max Fried
,
Adrian Gonzalez
,
Mat Latos
,
Ernesto Frieri
,
Chase Headley
,
Wade LeBlanc
,
Adys Portillo
,
Donn Roach
,
Cory Spangenberg
,
Jace Peterson
,
James Darnell
,
Carlos Quentin
,
Kevin Quackenbush
TEAMS:
San Diego Padres
,
Los Angeles Dodgers
,
Cincinnati Reds
,
Los Angeles Angels
,
Texas Rangers
,
Miami Marlins
The Padres enter 2013 with a relatively strong farm system, though much of the promise, particularly with pitching, is still a few years down the road. Most publications and websites have been fairly unanimous in grouping six players atop San Diego's farm system. Jedd Gyorko, Casey Kelly and Robbie Erlin are near the top for those that want a greater level of certainty, while those who are more interested in a player's overall potential put Austin Hedges, Rymer Liriano and Max Fried near the top of their lists. The improvement in the Padres' system is mainly due to increased spending on their scouting infrastructure and a willingness to go over slot in the later round in the past three drafts. Additionally the yield of young talent brought back in the trades of established stars Adrian Gonzalez, Mike Adams and Mat Latos and Ernesto Frieri. My take would be: The Padres have built one of the deepest systems in the game with success in all areas of player development. They have been aggressive in the draft over the last several years, often spending six figures in later rounds even as they stockpiled picks at the top of the draft class. The club is also seeing returns on significant international investments made four to six years ago, and has cashed in on several trades. The strength of the system is clearly pitching. Hurlers represent nearly three-quarters of the list below. Keep a particular eye on the rotations in Low-A Fort Wayne, which could have four top-flight starters this season, and in Double-A San Antonio. 1. Jedd Gyorko Position: Third BaseSecond Base HeightWeight: 5-10, 200 lbs. Age: 24 BatsThrows: RR How Acquired: Second Round2010 TeamAVGOBPSLGPA BBKHitsXBH HR Missions.262.356.43114917273410 6T-Padres.328.380 .58840834681214824 2012 Highlights: Gyorko cemented his reputation as the system's best Position player hitting .311.376.547 with 30 home runs while splitting time between third and second in both Double-A San Antonio and Triple-A Tucson. A balanced hitter who is adept at putting the barrel on the ball to all fields, he has hit for more power than most pundits envisioned. Defensively the former West Virginia shortstop has good hands and a strong accurate arm although his range is limited. Negatives: His best position is third base, but with Chase Headley ensconced there, if he's going to make the big club it will be at second. Projection: No one doubts his bat, but if he's going to be an everyday player on the Padres in 2013 he's going to have to convince people he has the range to play second. MadFriars' Assessment: Gyorko has made a career of nonchalantly going about his business while proving everyone - including us - wrong about his ability to play in the middle infield. He's hit for more power than expected, even at San Antonio, which is far from a hitter's paradise, and he's shown that his baseball instincts could allow him to become a serviceable second baseman for a while. In short, this is not someone to bet against. 2. Casey Kelly Position: Starting PitcherRHP HeightWeight: 6-3200 Age: 23 BatsThrows: RR How Acquired: Traded for Adrian Gonzalez in 2010 from Boston TeamW-LIPERAGSKBBHitsEarned RunsPadres2-3296.21626103920 T-Padres0-012 2.252140123 2012 Highlights: Kelly had a great spring and started off well in his first two starts with Tucson before going on the shelf for nearly three months with a tender elbow. He pitched better than his numbers indicate in the big leagues, where most of the runs he gave up came in two bad outings in Colorado and Arizona. If his health holds up, all the tools are there; a quality two-seamsinker and a four seam fastball that he can dial up to the mid-90s. The big key for him will be just learning how to mix-and-match at the major league level. Negatives: Kelly throws a ton of strikes and sometimes catches too much of the plate. Projection: He should be a solid addition to the Padres rotation that will get better as the season goes on. MadFriars' Assessment: This is what San Diego counted on getting back when they made the Adrian Gonzalez trade in 20111, a quality starter whom they will control for six years. The strength of his game will be his ability to eat innings and induce a lot of ground balls. 3. Robbie Erlin Position: Starting PitcherLHP HeightWeight: 5-11175 Age: 22 BatsThrows: LL How Acquired: Acquired from the Texas Rangers in 2011 for Mike Adams TeamW-LIPERAGSKBBHitsEarned RunsMissions3-152.12.921172155317 2012 Highlights: As with Kelly, Erlin spent most of the season on the disabled list. But when he came back, he was the same pitcher that we have seen before, pounding the zone and walking no one. While Erlin's elbow will be an object of concern, if it holds up in 2013, he will be one of the first up to San Diego. Negatives: Some scouts are unsure of how well Erlin's approach which relies on the four-seam fastball will work at the major league level. Additionally there are not many starters his size in the majors. Projection: Erlin is not the second coming of Wade LeBlanc. He is a fastball dominant pitcher who sits in the low 90s. How well his secondary pitches come along, particularly his curve and slider, will dictate how far he will go this year. MadFriars' Assessment: He should start the year in Triple-A Tucson, but could arrive in San Diego sometime during the season. 4. Rymer Liriano Position: Right Field HeightWeight: 6-0215 Age: 22 BatsThrows: RR How Acquired: Signed from Dominican Republic, 2007 TeamAVGOBPSLGPA BBKHitsXBH HR Storm.298.360.443303216984295Missions.251.335 .377203205046153 2012 Highlights: Liriano started off hitting just .198 in April before doing what he usually does: hit. In July and August he posted batting averages of .330 and .348. A mid-season promotion to Double-A just after his twenty-first birthday was a little aggressive and he struggled in San Antonio before finishing up with a .834 OPS in August. He has all the tools, with a plus arm in right field and, though he will likely slow down as he adds weight, he can run too. In 2012, he stole 32 bases in 40 attempts. Negatives: He still struggles with being too aggressive. If he can become a little more patient, he'll get pitches to hit more consistently. While he has plenty of raw power, it still hasn't translated in games. Projection: His ceiling is a true five-tool player. Even without the injury, he was still a full year away from being ready for the Majors. MadFriars' Assessment: Liriano injured his elbow playing long toss during the offseason and will miss the entire season after undergoing Tommy John surgery." 5. Austin Hedges Position: Catcher HeightWeight: 6-1195 Age: 20 BatsThrows: RR How Acquired: Second Round2011 TeamAVGOBPSLGPA BBKHitsXBH HR TinCaps.279.334.4513962362943810 2012 Highlights: Hedges had a very strong age-19 season in the Midwest League in his first full professional season. He has all the tools scouts like to see behind the plate, a strong arm and quick lateral athleticism. Hedges hit better than most initially thought he would and was durable enough to catch a league-leading 94 games. Negatives: He is going to need to be a little more selective at the plate. As with many young talented players, the routine plays can sometimes give him problems, as witnessed by 16 passed balls. But he also threw out 32 of the op Position's base runners. Projection: Easily the most upside of any Position player in the system. He has the skills to be an elite defender with more than enough offense too. MadFriars' Assessment: Hedges had his second consecutive outstanding performance in the Instructional League, but is going to have to improve his patience at the plate as he moves up the ladder. It's impossible to not be impressed by his debut season but he is also a long way from Petco Park. 6. Max Fried Position: Starting PitcherLHP HeightWeight: 6-4170 Age: 19 BatsThrows: LL How Acquired: First Round2012 TeamW-LIPERAGSKBBHitsEarned RunsAZL Padres0-117.23.579176147 2012 Highlights: The Padres' number one pick in the 2012 draft, Fried was widely regarded as the best left-hander in the draft. Not only does Fried have good size at 6'4", but his advanced mechanics and feel for pitching mean he's not just about future potential. His fastball already sits in the low to mid 90s but his best pitch is a downer curve that Baseball America rates as plus-plus. Negatives: It's much too early for that. Projection: A big lefty who can deliver his fastball with velocity, the sky is the limit. MadFriars' Assessment: San Diego has had pretty good luck with young pitchers in Fort Wayne the past few years with Keyvius Sampson and Matt Wisler but Fried, a rare power lefty, could be the best of the lot on what should be a very good TinCaps staff. 7. Adys Portillo Position: Starting PitcherRHP HeightWeight: 6-4235 Age: 21 BatsThrows: RR How Acquired: Signed from Venezuela in 2009 TeamW-LIPERAGSKBBHitsEarned RunsTinCaps6-6 91.21.871881455419 Missions2-535.07.20825263428 2012 Highlights: Although only giving up 19 earned runs in 18 starts in Fort Wayne is impressive, the control - as reflected in his KBB ratios with both the TinCaps and Missions - is still not all the way there. He continues to showcase a fastball that can hit triple digits, but he also started to use his changeup and curve more effectively this year. Negatives: He throws hard but some evaluators have also noted his fastball is very straight. The key for him moving up is secondary pitches, particularly his changeup. Projection: Portillo is a great example of how many young players bodies can change. When he signed at 16 years old, he was 6'2', 180 lbs. Last season, at 20, he was conservatively listed at 6'4", 235 lbs. If his secondary pitches can make the same jump as the rest of his game did last year, this is someone who could pitch near the top of the rotation. MadFriars' Assessment: Adys made tremendous strides last season but the promotion to Double-A from Fort Wayne may have been a little too much of jump. He is still very young and is likely two years away if the Padres want to use him as a starter in the Majors. 8. Matt Wisler Position: Starting PitcherRHP HeightWeight: 6-3 185 Age: 20 BatsThrows: RR How Acquired: Seventh Round2011 TeamW-LIPERAGSKBBHitsEarned RunsTinCaps5-4 1142.5323113289532 2012 Highlights: At 19 Wisler, was one of the best pitchers in the Midwest League as he averaged a little over one strikeout per inning. Still maturing as a pitcher, he already has great stuff with four pitches that he can use at any level. He's still going to get bigger and he's shown good coachability in his first year as a professional. Negatives: Wisler relies upon his ability to mix pitches and keep the ball down. He doesn't have a true plus plus pitch that you might expect from someone ranked as high. Projection: With his size and ability to eat innings he projects as solid middle of the rotation pitcher. MadFriars' Assessment: Wisler simply doesn't walk anyone and forces batters to make contact on pitches that they don't want. The Cal League does not have many pitcher friendly parks, but if Wisler continues to throw his two-seamer down in the zone for strikes, he will be tough. 9. Keyvius Sampson Position: Starting PitcherRHP HeightWeight: 6-1210 Age: 23 BatsThrows: RR How Acquired: Fourth Round2009 TeamW-LIPERAGSKBBHitsEarned RunsMissions8-11 122.15.00251225710868 2012 Highlights: Sampson was much better in the second half, posting a 3.73 ERA after a 5.90 mark before the All Star break. But the year was still a major disappointment. Some minor tweaks in his mechanics caused his walk rate to drop considerably. The biggest adjustment for Sampson was the uptick in competition. In Low-A, he could be effective simply by throwing to both sides of the plate. At Double-A, the pitches also need to move. Double-A hitters have learned how to wait for pitches in a certain zone instead of attempting to cover the whole plate. Negatives: Consistency with his curve ball will go a long way to determining if his future will be as a starter or in the bullpen. Projection: It's still not clear if he will begin in San Antonio or Tucson and how far he progresses will depend upon developing a third pitch. MadFriars' Assessment: Sampson has a very good fastball and change-up. The problem is his fastball, although deceptive, is a straight four-seamer that comes in the low 90s. If Keyvius can develop his two-seamer and curve, he is going to come along. 10. Burch Smith Position: Starting PitcherRHP HeightWeight: 6-4225 Age: 22 BatsThrows: RR How Acquired: Fourteenth Round2011 TeamW-LIPERAGSKBBHitsEarned RunsStorm9-6128.23.85261372812755 2012 Highlights: The big Oklahoma Sooner had an impressive professional debut in hitter friendly Lake Elsinore. The 6'4" right-hander from Tyler, Texas has a tall frame and clean mechanics and an easy delivery that should keep him away from arm injuries, with a big fastball than can touch 98 mph and a good breaking ball. Negatives: How well he pitches against more advanced hitters is still an open question, but to put together the type of season he did in his first year is impressive. Projection: Smith is the classic big-bodied Texas pitcher who brings the heat. If his secondary stuff develops - and this is always a big if" - he could pitch at the top of the rotation. MadFriars' Assessment: Smith will begin the year in San Antonio and should thrive being back closer to home and in a much friendlier pitching environment. As the season went on Smith got better and didn't allow a home run in the notoriously hitter-friendly Cal League after mid-June. 11. Joe Ross Position: Starting PitcherRHP HeightWeight: 6-3185 Age: 19 BatsThrows: RR How Acquired: First Round2011 TeamW-LIPERAGSKBBHitsEarned Runs TinCaps0-227.16.26627113319Emeralds0-226.12.028289166AZL0-00.213.5011221 2012 Highlights: Ross really had three seasons in 2012. The first was in spring, where he was considered the best pitcher at the A ball level. The second saw him struggle in Fort Wayne before landing on the disabled list. In his third act, he went to Eugene and was very good in eight starts, posting 28 strikeouts. Negatives: Certainly, the injury was a big part of the issue in Ross's first professional season, but he also had some rocky stretches where his mechanics wobbled. Projection: He needs to keep his ball down more consistently, but the 2011 first rounder is not far behind Fried as the best of an impressive crop of teenage pitchers in the system. MadFriars' Assessment: It is unclear how aggressive the Padres will be with Ross, but he is a pitcher of obvious talent. It's just a question of becoming more consistent. Ross has one of the highest upsides in the system. 12. Joe Wieland Position: Starting PitcherRHP HeightWeight: 6-3185 Age: 23 BatsThrows: RR How Acquired: Acquired from the Texas Rangers in 2011 for Mike Adams TeamW-LIPERAGSKBBHitsEarned Runs T-Padres0-17.23.522112103Padres0-427.24.55524112614 2012 Highlights: Kelly, Erlin and Wieland were three pitchers who the Padres thought might see significant time in the big leagues last year. Unfortunately most of them spent far more time on the DL than they did on the mound. Wieland underwent Tommy John surgery in late July and is not expected back until sometime after the All-Star break at the earliest. Negatives: He has three good pitches but his success relies upon all three of them working at the same time because he doesn't possess a single true plus pitch. Projection: After a rough debut in May, Wieland settled down in his next four starts. If he can come all the way back from Tommy John, Wieland projects as a back-of-the-rotation innings eater. MadFriars' Assessment: The Padres have always liked Wieland, but the challenge coming back from Tommy John is not regaining velocity, but getting the command back to where it was. Because Wieland's success rises and falls on his ability to command his pitches, he'll need a complete comeback to reach his potential. 13. Donn Roach Position: Starting PitcherRHP HeightWeight: 6-1200 Age: 23 BatsThrows: RR How Acquired: Acquired from the Los Angeles Angels in 2012 for Ernesto Frieri TeamW-LIPERAGSKBBHitsEarned Runs Missions1-1171.5935893Inland Empire10-188.11.941373147719 2012 Highlights: This is the sleeper in the organization. Roach came over in the Ernesto Frieri trade and may have been the best pitcher at Lake Elsinore. He held opponents to a .231 batting average before advancing to San Antonio. He was shut down after seventeen innings because he reached the organization's pitch limit. Negatives: He throws a sub-90s fastball and as he goes forward he's going to need significant tilt on his sinker to be effective at higher levels. Projection: While his stuff and physical attributes may lag behind others on the list, Roach gets guys out. A lot. And he's likely to see better results as he continues up the ranks with better defenses behind him. MadFriars' Assessment: Roach relies on a plus sinker that produces exceptional ground ball rates. He should return to San Antonio to begin the year and is another pitcher who could be in San Diego before the year is over. 14. Cory Spangenberg Position: Second Base HeightWeight: 6-0185 Age: 21 BatsThrows: LR How Acquired: First Round2011 TeamAVGOBPSLGPA BBKHitsXBH HR Storm.271.324.3524262672104211 2012 Highlights: A combination of being overanxious at the plate and a concussion that sidelined for over a month led to a disappointing year for Spangenberg. He managed just 21 extra-base hits in 410 plate appearances in the Cal League, which is not going to set many hearts aflutter. Despite the down year he still stole 27 bases in 36 attempts to go along with eight triples. Negatives: He's not the smoothest fielder and at the plate he needs better balance. He needs to become more selective so he can drive the ball into the gaps and take advantage of his speed. Projection: Spangenberg performed well in the Arizona Fall League and his numbers were on the upswing before he got injured. The physical tools, plus speed and quality bat control are still there and he seems poised for a strong bounce back season. MadFriars' Assessment: Everyone thought that playing in Lake Elsinore he could put up some special numbers, but that didn't happen. However hitting .345 with a .500 OBP in the Arizona Fall League have many believing he is poised for a big year. 15. Jace Peterson Position: Shortstop HeightWeight: 6-0200 Age: 22 BatsThrows: LR How Acquired: First Round2011 TeamAVGOBPSLGPA BBKHitsXBH HR TinCaps.286.378.3925216263127342 2012 Highlights: Peterson was a multi-sport star at McNeese State. Right now, he's still a better athlete than he is a baseball player though he's a pretty good baseball player. He finished second in the Midwest League in stolen bases with 51 in 64 attempts . The Padres think he will be able to stay at shortstop as he moves up the chain and as his pitch recognition improves expect to see more gap power. Negatives: He's still new to the game and his defensive instincts are still a work in progress. Offensively he is still learning to drive the ball. Projection: In an ideal world, Peterson is a hard-nosed shortstop who hits at the top of the order and a threat on the bases. MadFriars' Assessment: Peterson showed his durability by playing 117 of the 140 games and the fast infields of the Cal League should play to his strengths. He will be a little old for the league at 23 but he is still someone to watch. Because of his age, if he continues to hit as he did in the second half at Fort Wayne (.293.384.372), we will see him in San Antonio by the second half. 16. Matt Andriese Position: Starting PitcherRHP HeightWeight: 6-3215 Age: 23 BatsThrows: RR How Acquired: Third Round2011 TeamW-LIPERAGSKBBHitsEarned Runs Storm10-81463.58261313814058 2012 Highlights: Along with Burch Smith, Andriese was the best pitcher for the Storm last season. The third round pick out of UC-Riverside led the Cal League in ERA as the op Position consistently pounded his sinker into the dirt. Negatives: As with most sinker ball pitchers, when the ball comes up, it tends to go a long way in the other direction off the bat. Projection: If he can continue to keep the ball down, he has a chance to be a major league starter. As was noted with Roach, unless the sinker really has a lot of tilt it is difficult to be a one pitch pitcher in the big leagues. MadFriars' Assessment: Andriese is very good at throwing a sinker, slider and change for strikes and he should thrive in San Antonio. He's not the type of pitcher who is going to really wow" anyone except when you start to look at his numbers. If they are anything like they were last season, he will get noticed. 17. Zach Eflin Position: Starting PitcherRHP HeightWeight: 6-4200 Age: 19 BatsThrows: RR How Acquired: First Round2012 TeamW-LIPERAGSKBBHitsEarned Runs AZL Padres0-177.7134396 2012 Highlights: Eflin was the Padres' second overall pick and another quality prep pitcher the organization got out of Florida. Unfortunately, he caught mononucleosis which limited his appearances in the Arizona League. Many believe Eflin is a right-handed version of Fried at 6'4" with a fastball that sits in the 90 to 94 MPH range. His best secondary pitch is his changeup, with a curve that still needs work. Negatives: He's a little behind Fried and Weickel because of the mononucleosis last season. Projection: As with Friend and Weickel , it's hard to not think the world of a 6'4" pitcher who throws in the mid-90s as a teenager. MadFriars' Assessment: Because of the time he missed, Eflin might spend the first half of the season in extended spring before making his debut in Eugene. 18. James Darnell Position: Third BaseLeft Field HeightWeight: 6-3200 Age: 26 BatsThrows: RR How Acquired: Second Round2008 TeamAVGOBPSLGPA BBKHitsXBH HR T-Padres.267.365.500137162531137Padres.235.316 .4711922421 2012 Highlights: The forgotten man of the Padres 2012 campaign, Darnell opened the year in Tucson, got a brief cameo in San Diego, then injured his non-throwing shoulder for the second time in nine months just after he returned to Triple-A. The former second round pick murdered the Texas League in 2011 and has the right-handed power profile the club likes. Negatives: It's going to be very difficult for him to make the major league roster out of spring and even if he puts up big numbers in Tucson, it is tough to see room with Chase Headley and Carlos Quentin ahead of him. Projection: Darnell is a very good athlete and could really play multiple Positions. The big questions are where and if his shoulder can remain healthy. MadFriars' Assessment: Darnell will probably begin the year in Tucson at third, though he might bet plenty of looks at first base. He could be a candidate for a mid-season trade. 19. Walker Weickel Position: Starting PitcherRHP HeightWeight: 6-6195 Age: 19 BatsThrows: RR How Acquired: First Round2012 TeamW-LIPERAGSKBBHitsEarned Runs AZL Padres1-3144.506126167 2012 Highlights: Weickel was taken with the Padres' fourth selection last year out of Orlando and has the size everyone likes in a pitcher at 6'6", 200 lbs. After giving up earned runs in his first two appearances, he didn't allow another earned run in six of his final seven appearances. Opponents hit only .262 against him in the AZL. His height allows him to achieve a solid downhill plane on his fastball resulting in a heavy" pitch that is difficult for batters to barrel. Negatives: Once he gets about a month of the Midwest League under his belt, we will have a better idea of what he can and can't do. Projection: The reason Weickel was a first round pick was the thought that he could become a top of the rotation starter. MadFriars' Assessment: The TinCaps could have the most prospect-laden staff in the Midwest League next year with Fried, Eflin and Weickel. He looked very good in the AZL and with his big body he should be durable enough to throw a full year. 20. Kevin Quackenbush Position: Relief PitcherRHP HeightWeight: 6-3210 Age: 24 BatsThrows: RR How Acquired: Eighth Round2011 TeamW-LIPERAGSKBBHitsEarned Runs Storm3-257.20.94277022426 2012 Highlights: Since being drafted in the eighth round in 2011, Quackenbush has statistically been the best relief pitcher in the system. In two years he has posted a 0.81 ERA with 141 strikeouts in 100 innings against only 34 walks. He has 45 saves in 49 save opportunities. Negatives: Quackenbush is heavily reliant upon a four-seam fastball. He's going to have to develop at least one other pitch as he goes forward, particularly at the major league level where video is going to negate some of his deception. Projection: So far, Quackenbush is in line to join a long line of quality relief pitcher the Padres have developed in the past few years. MadFriars' Assessment: The key to his success is that most hitters simply can't pick up his fastball. He's going to have to get better with his other pitches, particularly in Double-A where he will be next year. But 141 strikeouts in 100 innings pitched against only 34 walks is a nice start to the first two years of a professional career. Compiled and written by John Conniff, David Jay and Ben Davey
Original Story:
http://www.foxsportssandiego.com/mlb/...
THE BACKYARD
BEST OF MAXIM
RELATED ARTICLES
There is a law in the world of physics that goes something like this: For every reaction there is an equal and opposite reaction. My last post was titled, "Five Ridiculously Optimistic Projections for the Padres." Well, if I follow the laws of physics I guess I need to post "Five Ridiculously Pessimistic Projections for the Padres. So, here we go. Coming off a huge offensive...
As the MLB season quickly approaches, we here at Cosby Sweaters wanted to provide you with the necessary tools to go into this year confident in your 2013 baseball knowledge. Over the next  4 weeks we will supply you with a summary of all 6 divisions and 30 teams that make them up. We will assess each team's line-ups,  pitching rotations, potential downfalls and give a final...
One of the challenges when it comes to ranking players by position in fantasy baseball is trying to determine which player is going to have that breakout season and return a profit to your auction buy or draft pick. When reviewing the list of first basemen for the 2013 season, my pick to break out is Jedd Gyorko of the San Diego Padres. It is cheating a little bit to call for a breakout...
The Padres played a pretty decent game yesterday against the Rangers. All things considered they held their own against a Rangers lineup that featured their top bats. The game was lost in the bottom of the ninth on a walk off hit into right field. Again it's spring where nothing matters except personal performance, so it was nice to see a great game from two players specifically...
Here is the local media outlets that report on the SAN DIEGO PADRES. Newspaper- The San Diego Union Tribune is the paper of record in the city. The online version of the paper is affiliated with Sign On Sand Diego. The broadsheet's online sports section includes a page dedicated to the Padres. Beat writer Bill Center
Yesterday was the first game of spring to be televised on Fox Sports San Diego this season. Today will be the second game televised against the Rangers. Yesterday the Padres beat the White Sox in what I would say was a very well played game by the squad. Great pitching performances as well as excellent hitting from most of the guys. The interesting thing to note from the game was...
Jake Peavy and Clayton Richard will always be linked as the key pieces of a trade between the San Diego Padres and Chicago White Sox. The two pitchers faced off Sunday, their first starts of spring training. Richard pitched two scoreless innings, leading the Padres to a 4-0 win over the White Sox. Peavy was hit hard, giving up three runs and five hits. Peavy yielded RBI doubles...
This is the seventh (getting there) in a ten-part series where I will identify the top three players at each position in the Padres' minor league system. Up next: Center Field. The first name that probably comes to the mind of most folks when it comes to pure center fielders is 21-year old Reymond Fuentes. The speedy outfielder has stolen 120 bases in the past three seasons. He's...
The tenure of Dick Enberg as the play by play announcer for the San Diego Padres has been oddly enjoyable. Entering his fourth year calling Padres games (now on Fox Sports San Diego), the 78-year old Enberg has provided a recognizable voice to telecasts featuring a largely unrecognizable and unremarkable team. During the first inning of Monday's Padres-Rangers Spring Training...
MLB News

Delivered to your inbox

You'll also receive Yardbarker's daily Top 10, featuring the best sports stories from around the web. Customize your newsletter to get articles on your favorite sports and teams. And the best part? It's free!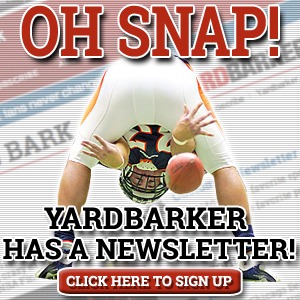 Latest Rumors
The Backyard

Today's Best Stuff

For Bloggers

Join the Yardbarker Network for more promotion, traffic, and money.

Company Info

Help

What is Yardbarker?

Yardbarker is the largest network of sports blogs and pro athlete blogs on the web. This site is the hub of the Yardbarker Network, where our editors and algorithms curate the best sports content from our network and beyond.