Found March 19, 2013 on Sliding Into Home:
From Anthony Rieber: Jeter, who broke the ankle in Game 1 of the ALCS last October, said he didn't think the stiffness was going to stop him from playing for the Yankees in the April 1 season opener against the Red Sox. "Two weeks is plenty of time to get ready," he said. However, asked when he might get back on the field, Jeter said: "I don't know. I really don't know. I wish I had an answer for you. But I don't know. I'll play as soon as I can. If I can play tomorrow, I'll play tomorrow. If it's the next day, it's the next day. But the luxury is that it's spring training." ... General manager Brian Cashman said his level of concern on Jeter was "none." But the Yankees still sent the 38-year-old Captain to see Dr. Daniel Murphy. Results of that visit were not immediately announced. ""It's just part of the rehab of a broken ankle, which has its up and downs," Cashman said by telephone. "There's nothing new, as far as I'm concerned." ... Jeter said he wasn't concerned about that and didn't consider Tuesday's news a setback, though it's hard to see how it isn't when he felt the stiffness after not playing since a four-inning stint at short on Saturday. "I've had a lot of good days," Jeter said. "This is just something that happened today, so hopefully tomorrow it'll be a lot better. I don't think it's a setback." ... "I'm not concerned because I was told this was going to happen," Jeter said. "Maybe if I wasn't told it was going to happen, I'd be concerned. From everything that I've been told from the doctors, it's normal . . . It's just stiffness, but once again it's not in the part that I broke. It's around there. So that's why I'm not concerned. I was told, 'You're going to feel it - not necessarily the ankle, but around the ankle,' just because I've been in a boot for so long."I've seen people overreacting to this all day, and I'm not going to join that party. Jeter will be fine.
Original Story:
http://feedproxy.google.com/~r/Slidin...
THE BACKYARD
BEST OF MAXIM
RELATED ARTICLES
New York Yankees pitcher Joba Chamberlain has suffered through a couple of injury-plagued seasons with the Bronx Bombers. He was placed on the disabled list in June of 2011, ultimately opting to have Tommy John surgery. While attempting to come back from that injury in March, 2012, Chamberlain suffered a devastating ankle injury while jumping on a trampoline, of all things. That...
Yesterday instead of playing against the Phillies, New York Yankees Derek Jeter went to the doctor. Jeter's trademark play. (Photo credit: Wikipedia) Why? Skipper Joe Girardi said that Jeter's surgically repaired ankle was feeling cranky. But according to the New York Daily News, Jeter was sent to Dr. Daniel Murphy where he had an MRI that showed mild inflammation in his ankle...
Derek Jeter was out of the New York Yankees lineup for the second consecutive day Wednesday because of inflammation in his surgically-repaired left ankle. The shortstop received a shot of cortisone Wednesday morning after he reported stiffness a day earlier and will be sitting out a few more days. While Jeter tries to rebound from the broken ankle in time for Opening Day, general...
New York Yankees 1 — Philadelphia Phillies 4   Ichiro Suzuki brought in the only run in today's 4-1 loss to the Philadelphia Phillies.   Ichiro is hitting .382 in his first Spring Training with the Yankees and brought in the Yankees only run with a double into left field in the 4th inning. Brett Gardner went 1 for 3 and scored on the double in the 4h inning. The rest of the...
The Yankees yesterday took out a restraining order to prevent StubHub from putting an office near Yankee Stadium, forcing fans who use the secondary market (aka scalping ) site to walk further to get their ticketed printed out. This is the latest tactic in the Yankees war on their fan base, the goal being to eliminate all backers by 2014, allowing the team to reach its goal of Zero...
Was at Vision Expo East 2013 at the Jacob Javits Center in Manhattan over the weekend and Bernie Williams of the New York Yankees was there taking pictures and signing autographs. The fiance was tempted to wait online for a picture but everybody and their mother was in line and we actually had some business to attend to. Oh well. It would've been fun...but at least we got to...
Eduardo Nunez got a hit, drove in a run and made an error while filling in for shortstop Derek Jeter as the New York Yankees beat the Boston Red Sox 4-0 Wednesday. Before the game, Yankees general manager Brian Cashman said he didn't know whether Jeter will be available to play on opening day. Jeter got an anti-inflammatory shot in his surgically repaired left ankle and missed...
The Dominican Republic is much more than a great place to vacation now (been there; loved it--highly recommend it). The small island nation is now home to the World Baseball Classic champions! Puerto Rico never had a chance against the DR in San Francisco Tuesday night. Edwin Encarnacion got the scoring started with a two run double in the first, and that would end up being...
Derek Jeter treated fans to some batting practice before a sore ankle sent him home early. Domonic Brown hit his sixth homer of the spring, Kyle Kendrick threw six impressive innings and the Philadelphia Phillies beat the New York Yankees 4-1 Tuesday. Those who came to see Jeter play his first road game of the spring left disappointed because the Yankees captain was scratched from...
Yeah, so remember the other day when I said Jeter would be fine? Well that might not be the case:Instead of opening the season at shortstop, Derek Jeter could wind up opening it on the disabled list. General manager Brian Cashman acknowledged the possibility yesterday after Jeter had a cortisone shot to recover from inflammation in his left ankle. "We can't rule it out...
MLB News

Delivered to your inbox

You'll also receive Yardbarker's daily Top 10, featuring the best sports stories from around the web. Customize your newsletter to get articles on your favorite sports and teams. And the best part? It's free!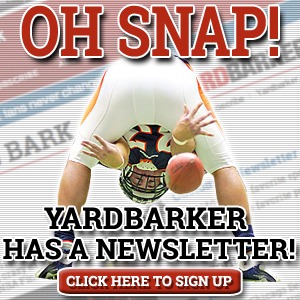 Latest Rumors
Best of Yardbarker

Today's Best Stuff

For Bloggers

Join the Yardbarker Network for more promotion, traffic, and money.

Company Info

Help

What is Yardbarker?

Yardbarker is the largest network of sports blogs and pro athlete blogs on the web. This site is the hub of the Yardbarker Network, where our editors and algorithms curate the best sports content from our network and beyond.