Found November 09, 2012 on isportsweb.com:
Darin Ruf went south for winter ball in Venezuela, which started last month on the 11th and runs to almost Thanksgiving.  How has he done so far? TAL'S HANDY CAPS   WELCOME, NEWCOMERS: Note:  My articles are designed to represent a baseball-man's thinking, the view from the dugout and the GM's box.  Most fans do not consider the budget, prospects on the radar, the stick-glove-or-power requirements, the track record, the competition and the intangibles. I published after every battle that was not washed out.  I had many summer-long highlights of puzzle pieces, which were especially important after drubbings and defeats.  Please go to my author archives or Phillies page for my most recent coverage.  Scroll down to Tal's Handy Links at the bottom.  Thank you.   Check out:  Philadelphia Phillies storyline: Expectations 1 October after   CAP-SIZE FORESIGHT: PLAYEREVENTDOLLAR +/-RESULT Ty WiggintonOption Declined- $3.5MRH Bench Bat: John Mayberry Jr. John Mayberry Jr.RH Platoon Role & PH-----Opening For A Free Agent CF With RH Power     Baseball-Fix Monday Schedule: Events will dictate the number from 1 to 4 each for November and December. January to mid-February will be every other week, and it will be weekly after that until the year begins.  This is an updated review (2nd posting). Only on a trial basis due to a strong response, the scheduled articles will be supplemented with special fill-ins between main postings.  Continuation is based on reasonable numbers, which appears to be extremely possible.   TIMEFRAMEMAIN ARTICLESSUPPLEMENTS November & December1st Monday Of The MonthThe Other Mondays January To Mid-FebruaryAlternating Mondays From 1/7The Other Mondays Mid-February To AprilWeekly-----     Darin Ruf Near The Beginning Of The Freeze After His 1st MLB HR During The 2nd At The Bank On September 25 Against The Nationals   1ST NOVEMBER  BASEBALL-FIX MONDAY       Amaro's Trouble Spots:   Third base and 3 outfield roles are open for the taking, which offers everyone a major shot, including Ruf.  Rube Amaro could acquire a centerfielder, using a platoon in both corner fly-ball zones.  Dom Brown and John Mayberry Jr. could patrol right field, while Juan Pierre teams up with Ruf in left.  And the rookie could give Ryan Howard an occasional rest at first. Also, there have been rumors about 3B Alex Rodriguez and CF Curtis Granderson, which followed the Yankees' quick exit from the postseason.  In other words, New York would ship them out with dispatch, picking up millions they are due.  However, it would take a spectacular deal with 3B Cody Asche, working his left-side stick up to Triple-A Lehigh Valley in 2013. Ruf High Fives After His 1st MLB HR During The 2nd At The Bank On September 25 Against The Nats Before harboring expectations for A-Rod or Granderson–remember–the Yanks did not even give A.J. Burnett away cheaply.  It is extremely doubtful that Amaro will be willing to pay $10M minimum per year for either of them.  Both are star players that would have to be replaced, which means winter's freeze will chill their hot-headed fans.  Meanwhile, keep in mind, clubs, scouts and baseball men from the Phils were not sold on Howard.  Ed Wade and Pat Gillick tried unsuccessfully to barter Ryan.  The red pinstripes had to trade Jim Thome instead. The same is true of "Babe" Ruf, who–like the Big Piece–is older and a minor-league basher.  Ryno is considered the exception.   A-ROD & GRANDERSON PLAYER & AGE2013 $ ABAVGHRRBIBB - IBBSB - CS Rodriguez, 37$28M *463.2721805751 - 313 - 1 Granderson, 31$15M **596.2324310675 - 410 - 3   ** Will be a FA after 2013 & * 5 tours with a $27.5M AAV (Average Annual Value)   Comparing The Outfielders' Approaches, This Photo Reveals The Inexperienced Ruf In LF During The 2nd At The Bank On September 27 Against The Nats Don't expect to hear any remarks that remind you of Dom Brown from last season, where Rube said he would not go north after camp. To avoid any controversy, the brain trust will say Ruf has a chance, like everybody else. However, he will enter Clearwater with a ticket for Lehigh Valley to get experience in leftfield. There will be no rush and they will want him to be in the lineup every day.  The young upstart will have an ample opportunity throughout March to impress management, but odds are he'll need a minimum of 3 months as an IronPig.   During his 1st 12 AB, the streaky Ruf had only an RBI double to start for the Tiburones in the Venezuelan League.  That was followed by a 6 for 17 run (.353) with 4 homeruns and 6 RBI before a hitless 13 at-bats. He went on an 11 for 30 streak (.367) with 5 blasts and 12 RBI.  Recently, he went 1 for 10, which includes November 8.  His appearances have been:  15 in LF, 5 as DH and 3 at 1B.  He hit 3rd once (contest 10 of 23) and the rest were in the cleanup slot.  He has crushed 9 bombs with 22 RBI so far.  The slugger was scheduled to complete his time there before November 22, and there are 5 remaining games, including the 21st. However, the league does not end at that time.   RUF & ASCHE (UPDATED) PLAYERLEAGUEABAVGHRRBIBBHBP Darin RufVenezuelan082.2440922094 Cody AscheArizona Fall071.2820111071 Asche 2012 Double-A263.300104722----- Asche 2012High Single-A255.349022512-----   Ruf Is Cheered Just Before The Freeze During The 2nd At The Bank On September 25 Against The Nats   If he is part of the opening-day 25, he will have earned it.  He has a huge mountain to climb in March, which has now become a bit less daunting. But even before January, Amaro will move methodically for a veteran set-up hurler, and a powerful right-handed stick in that exact order. When you consider his swapping options, he has minor leaguers but his only surplus is young relievers. The GM will do everything he can to locate an experienced hitter, because he wants someone he can definitely count on.  Remember, the league catches up with these new heroes when they find their holes–like Mayberry, Antonio Bastardo, Vance Worley and Mike Stutes.  "Babe" Ruf produced during his first impression, like Howard, and he will probably–at least–push the decision makers for a July call-up.   LINK-UP BELOW: Tal's Handy Caps on Facebook is for notification of posts and any holdups that may occur. It might be worth your while because there are delays of 2 hours on most feeds. This is my 1st storyline for 2013.  Check out my recent publication (The March Battle) and the 121 storylines for 2012 on the Phillies page or my author archives, where there is an excerpt photo. Tal's Handy Stats is daily coverage. I alternated the 2012 ERA For The NL East and the 2012 ERA For The MLB 5. Thank you, to all who bookmarked my page. TAL'S HANDY LINKS   TAL'S HANDY CAPS on Facebook  Philadelphia Phillies storyline: Hired guns in the hunt Phillies Tal Venada (Author Archives) Philadelphia Phillies: 2012 ERA for the NL East at final game 162 Philadelphia Phillies: 2012 ERA for the MLB 5 at final game 162  
Original Story:
http://feedproxy.google.com/~r/isport...
THE BACKYARD
BEST OF MAXIM
RELATED ARTICLES
Phillies GM Ruben Amaro Jr. will head to MLB's GM meetings with a lot of work to do. The holes on his team have been well chronicled and after a very disappointing 81-81 season to forget, it is RAJ's job to try to fill those holes and get the Phillies back on the winning side of the ledger. Amaro told CSN Philly's Jim Salisbury that the Phillies have engaged in a significant...
I love the Phillies because I grew up following the team. My late father was a Phillies' fan and he was very excited when they were finally having a great season in 1950. He listened to the radio (and later TV) broadcasts of every game that took place when he wasn't at work. I started rooting along as well, even though I was very young in 1950 (I was in the second grade). Then...
Categories: BREAKING NEWS News PhilliesTags: Kyle KendrickPhillies2012 Expectations Kyle Kendrick was expected to be a valuable, versatile, reliable arm that could pitch in a variety of roles for the Phillies. The righthander was coming off of one of his best seasons as a pro, during which he posted an 8-6 record with a 3.22 ERA pitching as a starter and out of [...](Read more...)
Upton to the Phillies doesn't seem possible. (AP) The Arizona Diamonbacks are once again shopping young, power-hitting outfielder Justin Upton in another effort to rebuild. There is a clear need for a game-changer in the Phillies outfield as questions still surround Domonic Brown, Darin Ruf, and John Mayberry Jr. The Phillies will be in the market searching for another option...
The Philadelphia Phillies need a stop gap at third base until prospect Cody Asche is ready to take over as the Phillies full time third baseman. Kevin Youkilis is the perfect solution for the Phillies and can be acquired for a reasonable price. The consensus among MLB scouts is that 22 year old Cody Asche will be major league ready for 2014. In the meantime, the Phillies need a player...
At the current GM Meetings, Ruben Amaro seems to be communicating with quite a few people/teams.  Ruben stated that his three needs (CF, 3rd base, late reliever), has been in several trade conversations. Amaro has looked at free agency, but have been heavily involved in trade talks. According to Jon Heyman of CBS Sports, the Phillies have been looking at third baseman Kevin Youkilis...
On today's show, TMoney discusses whether or not former Tampa Bay Rays outfielder BJ Upton is on the priority list for the Philadelphia Phillies.  He also delves into all the areas that the Phillies should continue consider priorities. Forget the names Vick and Reid.  As an Eagles fan for this week, TMoney makes a plea to keep your faith! To Listen, Just Push Play! ...
In honor of the upcoming 20th anniversary of the 1993 Phillies and their National League championship season, we review the free agent signings made by the Phillies leading up to the 1993 season. Here is a look back at the 1992 hot stove and the players signed in free agency by Philadelphia. Lee Thomas joined the Phillies in 1988 to take on the role of general manager. His success...
According to a report from CSN Philly's Jim Salisbury, the Phillies are in communications with free agent B.J. Upton's agent, Larry Reynolds. Upton is the ideal outfielder for the Phillies. The 28 year old, right handed hitter can play the field well, hit for power, and bring home runs, which is exactly what the Phillies' lineup needs in 2013. Without hitters like Hunter...
The Phillies are reportedly quietly in the mix for Hamilton. Photo: AP A lot of news from the the national beat writers within the last 24 hours. Per MLB Trade Rumors, Ken Rosenthal is reporting that the Phillies are among those interested in Josh Hamilton. The Texas Rangers reportedly capped their max offer at three years and a longer pact is certainly to be desired by the 2010...
The Phillies need outfielders.  They have some in-house candidates (John Mayberry, Domonic Brown, and Darin Ruf), but outside help is needed.  Free agents like BJ Upton, Angel Pagan, and Michael Bourn are all being floated as ideas, but they'll come at quite a hefty price tag and each have their own pitfalls.For example- "There are a lot of reasons to like Upton, but it...
Interleague play has been around since 1997, and while there are very real problems related to scheduling inequities, it isn't going anywhere. It's only getting more firmly entrenched in the game, with year-round interleague action on tap for the upcoming season. In fact, the Reds will open the 2013 season against the Angels, marking the first-ever interleague opener. The American...
Phillies News

Delivered to your inbox

You'll also receive Yardbarker's daily Top 10, featuring the best sports stories from around the web. Customize your newsletter to get articles on your favorite sports and teams. And the best part? It's free!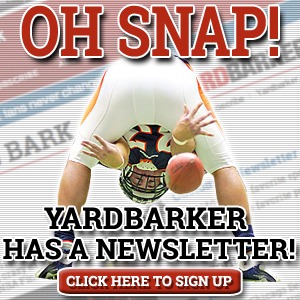 Latest Rumors
Best of Yardbarker

Today's Best Stuff

For Bloggers

Join the Yardbarker Network for more promotion, traffic, and money.

Company Info

Help

What is Yardbarker?

Yardbarker is the largest network of sports blogs and pro athlete blogs on the web. This site is the hub of the Yardbarker Network, where our editors and algorithms curate the best sports content from our network and beyond.