Found March 31, 2013 on Phillies Nation:
On Thursday, the Phillies Nation crew gave their picks for MLB awards. Today, we tell you who is going to the postseason and who will win it all. Do you agree? Alex Lee: NL EAST: Nationals (97-65) NL CENTRAL: Reds (93-69) NL WEST: Dodgers (94-68) WILD CARDS: Giants (89-73), Phillies (89-73) AL EAST: Blue Jays (92-70) AL CENTRAL: Tigers (98-64) AL WEST: Athletics (93-69) WILD CARDS: Angels (92-70), Rays (91-71) Playoffs: NL WILD CARD: Phillies over Giants NLDS: Nationals over Phillies, Reds over Dodgers NLCS: Nationals over Reds AL WILD CARD: Angels over Rays ALDS: Tigers over Angels, Blue Jays over Athletics ALCS: Tigers over Blue Jays WORLD SERIES: Nationals over Tigers ————————- Don McGettigan: NL EAST: Nationals (97-65) NL CENTRAL: Reds (92-70) NL WEST: Giants (91-71) WILD CARDS: Braves (92-70), Diamondbacks (89-73), *Phillies (86-76) AL EAST: Rays (94-68) AL CENTRAL: Tigers (97-65) AL WEST: Angels (96-66) WILD CARDS: Blue Jays (91-71), Orioles (90-72) Playoffs: NL WILD CARD: D...
Original Story:
http://philliesnation.com/archives/20...
THE BACKYARD
BEST OF MAXIM
RELATED ARTICLES
The Phillies finalized their 25-man roster over the weekend, opting to use Humberto Quintero as backup backstop over Steven LeRud and going with Phillippe Aumont instead of Michael Stutes to round out the bullpen. The questionable decision was giving the final spot to Rule 5 selection Ender Inciarte, a 22-year-old prospect who hasn't yet played above High-A. It's not necessarily...
POWER MOVE
When Cole Hamels takes the mound for the Philadelphia Phillies' season opener Monday, the world is going to be paying attention to one thing.  Is he still rockin' that glorious lip sweater? The lefty, who had been sporting a beard throughout Spring Training showed up to Friday's exhibition game with a little treat for everyone watching. Now, I'm going to go...
Philadelphia Phillies pitcher, Cole Hamels is no stranger to sporting unique appearances. During a recent exhibition game, Cole Hamels was using the team's hot-dog cannon and launching dogs into the crowd. If that wasn't cool enough, Hamels was pictured wearing this awesome new mustache!   Cole Hamels Mustache, Phanatic, Hot Dog Gun. Embarrassing Overload! @ogtedberg @avsny...
With Carlos Ruiz started to serve his 25-game suspension to start the 2013 season, it seems as though back-up catcher Erik Kratz is already starting to enjoy the extra face time behind the plate for the Phillies. Kratz will be the Phillies top catcher for the start of the season until Ruiz comes back, and now he is starring in his own advertising campaign for bacon. Godshall...
Friday, Philadelphia Phillies pitcher charged a nation by showing up for a game with a glorious upper lip companion.  Sadly, reports are that it is no more. Now, I'm no Photoshop wiz, but since no photographic evidence exists (yet), I've decided to put together some sort of rendering of what Hamels might look like without the mustache.
Categories: BREAKING NEWS News Outfielders PhilliesTags: Ben RevereJimmy RollinsPhilliesThe Phillies season will be starting in an hour when they play the Atlanta Braves in Georgia. Surprisingly there will be a new name coming to the plate in the first spot in the lineup for the Phils.  Charlie Manuel is sending centerfielder Ben Revere up there to start the game and not veteran...
The obituary for the 2013 Philadelphia Phillies has already been written by many baseball experts. Across baseball the prediction is that Charlie Manual's aging team will win 84 games, land in third place, and miss the playoffs. Many of us who were in Clearwater and watched this team day in and day out believe that this team is better than that, but in order to prove it, they will...
I can hear the reporters already: "Another bad April."  It seems like every year, the Phillies start off slowly and struggle during the first month of the season.  Could 2013 be different?  The answer could be in the schedule. The Phillies are not going to immediately start off with an easy team.  The Atlanta Braves are predicted by many to be a very good team in 2013.  ...
Ryan Howard's Game 1 homer in 2011's NLDS. The team is set. The season is here. There are no total shockers, but all the battles have been decided. The rotation has no news from it. Cole Hamels, Roy Halladay, Cliff Lee, Kyle Kendrick, and John Lannan were all pretty much...
Photo: Philliedelphia/Frank Klose In a move to shore up the Phillies bench, the Phillies sent utility infielder Freddy Galvis to the Miami Marlins for utility infielder Greg Dobbs, according to various media outlets. The move gives the Phillies a veteran left-handed bench presence with some power. Galvis was expendable because...
As I said, I will briefly come out of retirement when I feel the need to write something more than 140 characters (follow on Twitter here). And I'm always a sucker for previews. A new baseball season will always get my juices flowing, so here is my quick take on the Phillies 25-man roster and my predictions for the season. Catcher Carlos Ruiz – Ruiz is the only reason the Phillies...
Phillies News

Delivered to your inbox

You'll also receive Yardbarker's daily Top 10, featuring the best sports stories from around the web. Customize your newsletter to get articles on your favorite sports and teams. And the best part? It's free!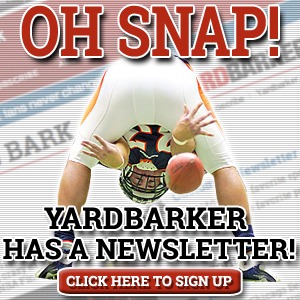 Latest Rumors
Best of Yardbarker

Today's Best Stuff

For Bloggers

Join the Yardbarker Network for more promotion, traffic, and money.

Company Info

Help

What is Yardbarker?

Yardbarker is the largest network of sports blogs and pro athlete blogs on the web. This site is the hub of the Yardbarker Network, where our editors and algorithms curate the best sports content from our network and beyond.