Found May 18, 2012 on Bronx Pinstripes:
<a href="http://NYYUniverse.com/wp-content/plugins/wordpress-feed-statistics/feed-statistics.php?url=aHR0cDovL05ZWVVuaXZlcnNlLmNvbS90aGUtbGluZXVwL3RlaXhlaXJhcy10cm91Ymxlcy9hdHRhY2htZW50LzE0NDM1ODA3N19jcm9wXzY1MHg0NDAv" rel=\"attachment wp-att-6547\">
Mark Teixeira has struggled to find his stroke so far this season.
With Mark Teixeira sitting out tonight, it's a good time to look at his production so far in the 2012 season. Or, lack thereof. Tex is hitting just .228 with five homers, 20 Rbi, and an awful "un-Teixeira-like" OBP of .283. We know he is a notoriously slow starter, but this trend has continued for two plus seasons.
Has facing increased shifts as a lefty batter affected his swing? Has his bronchial infection sapped him of energy and stamina to play day in and day out? Whatever the reason, the Yankees need an answer, and quick. After a great first year in pinstripes in 2009 (.292 avg, 39 hr, 122 RBI), Tex has slowly declined in average and situational hitting. Lucky enough for the Yankees his power is still there. He hit 33 homers in 2010 and 39 in 2011. However, for Teix to be a lethal force in the lineup and for the team to succeed, he needs to hit better with runners in scoring position.
This year with RISP, Tex is 9-44 (.205) with 13 RBI. He only has 10 strikeouts, so swinging and missing isn't the problem – its making solid contact. Even worse, with RISP and two outs (the most precious RBI situation), he his an ugly 3-20 (.150) with three RBI.
Has Tex turned into a gold glove Jason Giambi? I sure hope not. I know at the end of the day, the name of the game is run production, and Teixeira has done that over the past three seasons. But it is starting to get frustrating when men are constantly left on base and Tex continues to roll over on ground balls, pop up weakly or chase that slider in the dirt. Tex and the Yankees can't sit back and rely on the home run. In fact, New York is 0-9 in games this year when they don't homer – not a good sign at all.
Could the batting order be bothering him? His average hitting third this year, where he's hit for most of his Yankee career is .385 (5-13). In the five spot where he's been most of this season he is hitting .219 (28-128).
For his career, Tex is a .280 hitter with 319 homers and a .370 OBP. For whatever reason, his average has plummeted since '09 (.248 in '11, .256 in '10). His highest average for a season came in 2008 (.308) when he split time with the Braves and Angels. The good thing however, is that he isn't letting his offensive struggles affect him in the field. Tex is still playing a gold glove caliber defense, and saves a run almost every game.
Since Teixeira is going to continue to hit in the middle of the Yankees lineup, it is imperative that he starts to pick it up with the bat. Granted a lot of Yanks aren't hitting, Tex's problems seem to be most glaring. If he starts to produce, pressure gets taken off of the rest of the lineup. Hopefully a day off tonight will clear his head, rest his lungs, and put him in the right frame of mind to turn his season at the plate around.
Original Story:
http://NYYUniverse.com/the-lineup/tei...
THE BACKYARD
BEST OF MAXIM
RELATED ARTICLES
<a href="http://NYYUniverse.com/wp-content/plugins/wordpress-feed-statistics/feed-statistics.php?url=aHR0cDovL05ZWVVuaXZlcnNlLmNvbS9taW5vci1sZWFndWVzL3dpdGgtdGhlLWJ1bGxwZW4tZGVwbGV0ZWQtaXMtaGVscC1vbi10aGUtd2F5L2F0dGFjaG1lbnQvd2hpdGxleV9mdWxsLw==" rel=\"attachment wp-att-6508\">Could Chase Whitley have the biggest potential impact of any Scranton/Wilkes-Barre...
Andy Pettitte pulled the Yankees out of their three-game losing streak by putting on a lights-out performance on the mound last night, by giving the club eight shutout innings as they went on to win 4-0 over the Reds. Ivan Nova gets the start this afternoon in pinstripes. In his last start, Nova suffered a sprained ankle after attempting to field a ground ball hit his way, but it...
Now does everyone see why the New York Yankees believed Andy Pettitte would provide a major upgrade to their starting rotation? In just his second start following a 19-month layoff, the unretired lefty tossed eight scoreless innings Friday night in a 4-0 interleague victory over Cincinnati, halting their three-game skid. It was Pettitte's first regular-season win since...
<a href="http://NYYUniverse.com/wp-content/plugins/wordpress-feed-statistics/feed-statistics.php?url=aHR0cDovL05ZWVVuaXZlcnNlLmNvbS9ueXkvaW50ZXJsZWFndWUtZXF1YWxzLXN1Y2Nlc3MtZm9yLXlhbmtlZXMvYXR0YWNobWVudC9icmFuZG9ucGhpbGxpcHNuZXd5b3JreWFua2Vlc3ZjaW5jaW5uYXRpbmt0b3F2ZWxmNHBsLw==" rel=\"attachment wp-att-6419\">The Yankees will begin Interleague play against...
NEW YORK (AP) -- Andy Pettitte pitched eight shutout innings for his first regular-season win since July 2010, leading the New York Yankees over the Cincinnati Reds 4-0 Friday night. Making his second major league start since ending his one-year retirement, the 39-year-old left-hander (1-1) limited the young, free-swinging Reds to four hits -- all singles. With a fastball that reached...
The Yankees have acquired minor league infielder Matt Antonelli off waivers from the Baltimore Orioles. The 27-year-old appeared in 29 games with Triple-A Norfolk this season, batting .204 (19 for 93) with four doubles, one home run and seven RBIs. The Yankees announced the move Thursday. Antonelli has played games at first base, second base, third base and shortstop this season...
The Yankees could have made major headway in the AL East this week. With a pair of games each against the Baltimore Orioles and Toronto Blue Jays, this was their chance to pick up some games on their competition. Instead, they head home in shambles as they prepare to open the interleague portion of their schedule. Last night, Drew Hutchison became the latest first-timer to put the...
MLB News

Delivered to your inbox

You'll also receive Yardbarker's daily Top 10, featuring the best sports stories from around the web. Customize your newsletter to get articles on your favorite sports and teams. And the best part? It's free!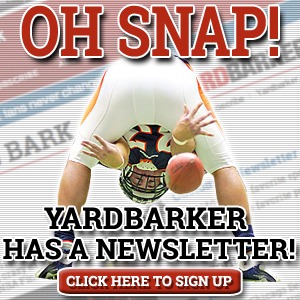 Latest Rumors
Best of Yardbarker

Today's Best Stuff

For Bloggers

Join the Yardbarker Network for more promotion, traffic, and money.

Company Info

Help

What is Yardbarker?

Yardbarker is the largest network of sports blogs and pro athlete blogs on the web. This site is the hub of the Yardbarker Network, where our editors and algorithms curate the best sports content from our network and beyond.