Found January 07, 2013 on Awful Announcing:
Back in November, we brought you the news of the Los Angeles Dodgers and their potential $6 billion, 25 year TV deal with Fox. But here we are in 2013, and the deal has still not been finalized. As time continues to roll on, the Dodgers may be going in a different direction from Fox, and could actually ink a deal with Time Warner instead. Fox lost their exclusive negotiating rights with the Dodgers five weeks ago, and since then, Time Warner has stepped in to the discussions as well. The reason for the Dodgers opening up negotiations has to do with the versatility that Time Warner can provide the club. Guggenheim Partners, new principal owners of the team among others, also own Dick Clark Productions. A deal with Time Warner could also help that asset out with distribution, whereas a deal with Fox would only benefit the Dodgers. The proposed Fox deal is also interesting because of the way it was set up. Under MLB's revenue sharing agreement, 34% of a team's annual rights fee must be thrown into the pool. In the $6 billion agreement the Dodgers and Fox were discussing, you'd think that the Dodgers would have to pay in $2 billion over the 25 years... until looking at the way things were set up. The Dodgers/Fox deal only had an annual rights fee of $84 million per season, increasing by 4% each year. The deal also contained $100 million per year in dividends that would be paid to the team, and that money is where the discrepancy comes into play.  The main issue at play is ownership in a potential RSN with Fox or Time Warner. With the Dodgers planning on launching their own RSN, the league believes the team must have an ownership stake in it for the $100 million dividend to not be subject to revenue sharing. Without Dodgers ownership in the RSN, the dividend would be subject to revenue sharing, costing the team an additional $34 million per season in addition to the 34% of the rights fees they're contributing. Most of the RSNs that have popped up in recent months and years (including CSN Bay Area, CSN Houston, CSN Philadelphia, SNY, YES, NESN, MASN, etc) have at least partial ownership by the teams involved. However, there are some (the Root Sports RSNs in Pittsburgh, Denver, and Seattle to name three) that have no team ownership. Predictably, the teams that don't have any ownership in their RSNs are bringing in much less revenue per year. If the Dodgers are forced to take an ownership role in their new RSN in order to get that $100 million dividend free from revenue sharing restrictions, it will be a huge coup for them, and will essentially confirm that their new TV deal is the new high watermark in sports. However, if the team doesn't want to take an ownership role, and that dividend is subject to revenue sharing, the league as a whole may be better off with an extra $34 million thrown into the pool yearly. Whatever the decision ends up being, it will be a key ruling for other teams who are seeing their rights agreements expire in the next couple of years. If the Dodgers don't need to have ownership in the RSN to get that dividend, ownership may not matter as much.  And for that matter, if the team *is* forced to have a partial stake in the RSN to have their dividends exempt from revenue sharing, why wouldn't every team that has rights agreements expiring try to start up a new RSN that they have a stake in? Whatever the outcome of the Dodgers TV negotiations ends up being, things are going to definitively change in the future. [LA Times]
Original Story:
http://www.awfulannouncing.com/2013/j...
THE BACKYARD
BEST OF MAXIM
RELATED ARTICLES
Matt Kemp has begun upper-body workouts for the first time since offseason shoulder surgery. Kemp's agent, Dave Stewart, relays that The Bison is pain-free three months after his surgery. —– Chad Billingsley continues to progress from his elbow injury and has reported no setbacks thus far, according to Ken Gurnick. "Physically, Chad's doing great, and he's excited about...
The Dodgers have invited 12 players to their Winter Development Camp, which, after operating for its first five years of existence at Dodger Stadium, will move to Camelback Ranch due to construction at Chavez Ravine. Zach Lee, Joc Pederson, Chris Reed, Onelki Garcia, Paco Rodriguez, Chris Withrow, Steven Ames, Matt Magill, Tim Federowicz, Matt Wallach, and newcomers Jeremy Moore...
Although the Los Angeles Dodgers have been pretty quiet since the back-to-back blockbuster signings of Zack Greinke and Hyun-jin Ryu last month, the Dodgers continue to bolster their minor league system with international free agent signings. A week after signing Mexican prospect Alfredo Amezaga, the Dodgers dipped into international waters once again, signing 17-year-old prospect...
Ben Badler of Baseball America, one of the best when it comes to international signings, reported today the Dodgers signed Ariel Sandoval for $150,00. Sandoval, 17, is an outfielder from the Dominican Republic. Badler said the Dodgers' brass was impressed with Sandoval's potential to hit for average and power. He also has above-average speed that is currently good enough...
The Dodgers finalized a one-year contract with left-handed reliever J.P. Howell, according to a person familiar with the situation who spoke under the condition of anonymity because the deal hasnt been officially announced by the team. Howell, 29, figures to be one of two left-handers in the Dodgers bullpen. His pitching style is markedly different from that of the teams only other...
Murray Chass claims he knows Mike Piazza used steroids. Wait, before you start mumbling expletives at Chass under your breath, keep reading. The former New York Times reporter is not alone. Joel Sherman, a columnist for the New York Post, also raised suspicion about the Mets former catcher. Both Chass and Sherman covered the Mets in the Piazza era. These guys spent a lot of time...
Left-hander J.P. Howell and the Los Angeles Dodgers have finalized a $2.85 million, one-year contract. The 29-year-old reliever was 1-0 with a 3.04 ERA in 55 games for the Tampa Bay Rays last season and held left-handed batters to a .200 average (17 for 85). He has a 21-23 record with a 4.42 ERA in 33 starts and 234 relief appearances for Kansas City (2005) and Tampa Bay (2006...
Having spent more than $200 million to bulk up their starting pitching this winter, the Los Angeles Dodgers are turning their attention to improving the aging stadium they've played in since 1962. President and CEO Stan Kasten says the goal is to improve the experience for fans while preserving the history of the third-oldest ballpark in the major leagues. Kasten unveiled the...
Yesterday, Clayton did a nice job digging up as many Hall of Fame ballots as he could to put together a sneak preview of what we could expect on Wednesday when the BBWAA will announce who will be inducted into Cooperstown. With about 12% of all the ballots in, it looks like Mike Piazza will not have nearly enough votes to make the Class of 2013, and in fact the data shows that only...
In the months leading up to the official announcement of the results of the 2013 Hall of Fame ballot, many voting eligible BBWAA writers release their choices on who they selected to make it to Cooperstown. Yesterday, I spent 12 hours compiling as many of these released ballots as I could find, tallied them and came up with a small sample of what the 2013 ballot results may look...
Dodgers News

Delivered to your inbox

You'll also receive Yardbarker's daily Top 10, featuring the best sports stories from around the web. Customize your newsletter to get articles on your favorite sports and teams. And the best part? It's free!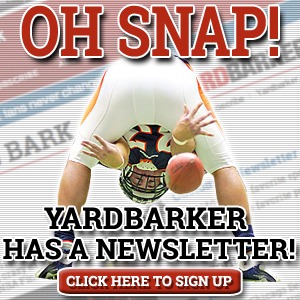 Latest Rumors
Best of Yardbarker

Today's Best Stuff

For Bloggers

Join the Yardbarker Network for more promotion, traffic, and money.

Company Info

Help

What is Yardbarker?

Yardbarker is the largest network of sports blogs and pro athlete blogs on the web. This site is the hub of the Yardbarker Network, where our editors and algorithms curate the best sports content from our network and beyond.