Found April 18, 2013 on Bronx Pinstripes:
PLAYERS:
Robinson Cano
,
Phil Hughes
,
Martin Prado
,
Patrick Corbin
,
Andy Pettitte
,
David Hernandez
,
Francisco Cervelli
,
Joba Chamberlain
,
JJ Putz
,
David Phelps
,
Cody Ross
,
Eric Chavez
,
Derek Jeter
,
Eduardo Nunez
,
Boone Logan
,
David Robertson
,
Heath Bell
,
Didi Gregorius
TEAMS:
New York Yankees
,
Arizona Diamondbacks
Robinson Cano would hit his second home run of the series in tonight's extra innings loss. Arizona Diamondbacks 6 — New York Yankees 2 (12 Innings)   A mess of a 12th inning ends the three-game winning streak in tonight's 6-2 loss to the Arizona Diamondbacks.   Phil Hughes started the game for the Yankees tonight and had a smooth start until the third inning. Rookie shortstop Didi Gregorious made his Diamondbacks debut and the first pitch he saw became a souvenir. The next run to score off the fly ball pitcher would be via the long ball again. Third baseman Martin Prado hit a home run to leadoff the sixth inning. In seven innings, Phil Hughes gave up two runs on a pair of home runs with six hits and six strikeouts. In 14 innings, Phil Hughes has given up five home runs, all with the bases empty. Arizona starter Patrick Corbin grew up a Yankees fan, specifically of Andy Pettitte, made clear by his choice of numbers (46), but today he was opposing them. Through seven innings, Corbin shined, having Yankees hitters flailing at bad pitches. He struck out seven with just two hits with three walks. One of the two hits was by Robinson Cano, who hit his fifth home run of the season in the sixth inning. Cano's home run cut the deficit in half as he continues to swing a hot bat. In the eighth inning, the Yankees made a strong attempt at making up the deficit and even going ahead. Two walks and a single would load the bases with one out and Robinson Cano coming up to the plate against right-handed reliever David Hernandez. But Hernandez would find better success than last night, striking out Cano and Youkilis to end the rally. In the ninth inning, Francisco Cervelli would complicate Joba Chamberlain's inning of work, getting called for catcher's interference but it wouldn't hurt them and escaped with just one run to make up. Francisco Cervelli would make up for his defensive error by hitting a game-tying home run off of Diamondbacks closer J.J. Putz. This is Cervelli's second home run of the season. Free baseball would follow. The score would remain tied at two until the 12th inning. David Phelps took the mound for his second inning of work, but led off the 12th inning like he led the 11th, a double. With a runner on third, Francisco Cervelli would get tagged with his second catcher's interference of the game and a hit by pitch would follow. With the bases loaded, Cody Ross came through with a run-scoring single to break the tie. Former Yankee Eric Chavez would clear the bases with a double into right center field. With the Diamondbacks up by four, the Yankees would lose, unable to find a rally. With the recent news regarding Derek Jeter, it's worth noting that Eduardo Nunez committed his first error at shortstop for the season tonight. Boone Logan and Joba Chamberlain combined for two scoreless innings and David Robertson also put in a scoreless inning.   Win – Heath Bell (1-0) Loss – David Phelps (0-1)   Notables Diamondbacks *Eric Chavez – 2 for 5, BB, 2B, 3 RBI (4) *Didi Gregorius – 2 for 5, R, 2B, Solo Home Run (1) in the 3rd, RBI (1) Yankees *Robinson Cano – 1 for 4, R, BB, Solo Home Run (5) in the 6th, RBI (12) *Francisco Cervelli – 1 for 5, R, Solo Home Run (2) in the 9th, RBI (7)   Current Yankees Record: 8-6   Get your Yankees Tickets from our friends at TiqIQ.
Original Story:
http://bronxpinstripes.com/game-day/y...
THE BACKYARD
BEST OF MAXIM
RELATED ARTICLES
Derek Jeter has a had a setback in his surgically repaired ankle. Jeter traveled to Charlotte for an unscheduled visit on Thursday to meet with Dr. Robert Anderson, the doctor who performed his initial surgery.  During the visit, a CT scan revealed a small crack in the surgically-repaired left ankle.  Jeter will avoid surgery and wait for the bone to heal on its own.  He is expected...
New York Yankees shortstop Derek Jeter learned Thursday after making an unscheduled trip to Charlotte to see his ankle surgeon that he has a small crack in the area of his previous injury, reports the New York Daily News. "Asked if something happened during
Yankees captain Derek Jeter will be sidelined until after the All-Star break because of a new fracture in his injured left ankle. Jeter was hurt last October in the opener of the AL championship series. He played sparingly in spring training and started the season rehabbing at the team's minor league complex in Tampa, Fla. After three straight days of workouts, the 38-year...
Pronk's fourth home run was a game-winning home run. Arizona Diamondbacks 3 — New York Yankees 4   Travis Hafner comes through in the eighth in tonight's 4-3 win over the Arizona Diamondbacks.   CC Sabathia started tonight's game and struggled in the beginning. A two-run home run by first baseman Paul Goldschmidt put the Yankees in an early hole. Sabathia would settle down...
The news on New York Yankee star shortstop Derek Jeter keeps getting worse. An April 17 CT scan revealed a slight fracture in the same area of Jeter's left ankle that has kept him from playing during the regular season. Yankees' general manager Brian Cashman predicts that Jeter will now miss the entire first half. Jeter played in only 11 Spring Training games due...
The New York Yankees got some bad news Thursday when they learned that a CAT scan on Derek Jeter's rehabbing left ankle revealed a small crack still exists in the area where the previous fracture was. Brian Cashman announced that the Yankees star shortstop won't be back on the team until "sometime after the All-Star break" to give the bone more time to heal. ...
    Bad news for the Yankees as Derek Jeter has been diagnosed with a small crack in his left ankle. The setback will now keep the iconic short stop off the field until after the All-Star break. As reported by ESPN Yankees GM Brian Cashman confirmed the injury on Thursday before the Yankees night game vs the Diamondbacks at home. Cashman stated: "We have to back off and let...
Ben and Sam discuss Brett Gardner`s new approach at the plate, and how hitters adjust to pitchers.
NEW YORK (AP) -- Travis Hafner had a pinch-hit homer in the eighth inning to make a winner of CC Sabathia, who settled down after a shaky start and helped the New York Yankees beat the Arizona Diamondbacks 4-3 Wednesday night. Brett Gardner had a game-tying two-run single in the seventh for New York, which broke through after being stymied by Wade Miley for six innings. Sabathia...
Gov. Al Smith throws out the first pitch (Photo courtesy of the Library of Congress) On this day 90 years ago the Yankees played the inaugural game at Yankee Stadium on a chilly 49-degree afternoon. In front of 74,200 fans, many of whom having driven down a dirt road leading to the Stadium, the Bronx Bombers dealt the Boston Red Sox a 4-1 loss. Pitcher Bob Shawkey went the distance...
Derek Jeter's extended absence leaves Yankees with painful questions about future.
Sometimes players are described as "bad-ball hitters." Or, sometimes players will be described as having strike zones that range from the head to their heels. Vladimir Guerrero used to own these tags, and once upon a time, so did Nomar Garciaparra. It is possible to succeed while swinging at everything, and nobody personifies that today better than do Robinson Cano and Pablo...
MLB News

Delivered to your inbox

You'll also receive Yardbarker's daily Top 10, featuring the best sports stories from around the web. Customize your newsletter to get articles on your favorite sports and teams. And the best part? It's free!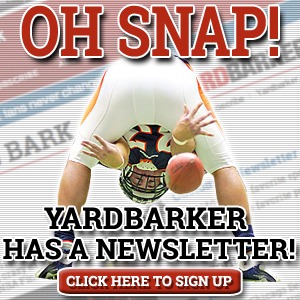 Latest Rumors
Best of Yardbarker

Today's Best Stuff

For Bloggers

Join the Yardbarker Network for more promotion, traffic, and money.

Company Info

Help

What is Yardbarker?

Yardbarker is the largest network of sports blogs and pro athlete blogs on the web. This site is the hub of the Yardbarker Network, where our editors and algorithms curate the best sports content from our network and beyond.