Found June 17, 2013 on isportsweb.com:
Jayson Nix, the do-it-all infielder for the New York Yankees, is in an unenviable position. He has been charged with filling in for the injured Derek Jeter, a task as impossible as…taking the place of Dumbledore at Hogwarts. With Jeter out, Jayson Nix has stepped up Fans in the Bronx don't want to see anyone other than Derek Jeter at shortstop. First, because he is good. Because he has won five World Series championships. Because he has delivered clutch hit after clutch hit, never bending under the intense pressure of New York. Because he wants to win as furiously as every fan in the bleachers chanting his name. But beneath all that, boils a more profound reason. To the diehards in New York, Jeter represents an era of invincibility, of unprecedented success. When recalling the golden years of the late 90's, there is one face, one opposite-field swing, one jump-throw from the hole that is conjured up first in the minds of these fans. Everything else falls into place after. So to see someone other than the Captain at shortstop is to be confronted by the cold reality that this era is coming to an end. For fans that have come to know success – and the limelight that comes with it – like a favorite movie, that's a hard truth to acknowledge. And so fair or unfair, any player in Jeter's stead is viewed by the New York crowd with somewhat cynical eyes, as if he alone is responsible for the passage of time. Outside of hitting .576, there is little one can do to alter this outlook. Still, Nix is doing his best. Though he struggled early on, hitting just .219 through the first month of season, he has picked up his game of late. Over the past 14 games, he owns a .328 batting average and has knocked in eight runs. Recently, manager Joe Giardi has moved him up to the 2-hole in the batting order, the same place where Jeter has spent the most of his time as a hitter over 18 MLB seasons. That's not all Nix and Jeter now share in common. What has enabled Nix to fill in capably for the team's captain is the undercurrent that has driven Jeter's historic career: a fearlessness of failure. Instead of playing conservatively in Jeter's place, careful not to overstep his role, Nix has lately played with a daring audacity. He has shed his identity as a station-to-station player, taking risks on the base paths that he shied away from over the first month and half of the season. In the past 20 games, he has stolen eight bases, after swiping just two through the first 37. More impressively, he has yet to be caught stealing on the year. With Gardner leading off and Nix hitting behind him, the Yankees have discovered a speed threat at the top of the order, in that serendipitous hey, look what we found kind of way. In the field, Nix has been equally confident. Twice during the weekend series against the Angels, he ignored the safe play for a more adventurous one and successfully quelled a pair of rallies. On Saturday, with runners on first and second and none out, Nix fielded a sacrifice bunt and, without hesitating, fired a strike to third to cut down Howie Kendrick. Then on Sunday, under the same situation, he gobbled up a groundball near third, raced to the bag for the force before whipping a throw to second to eliminate both lead runners. The Yankees escaped both innings without giving up a run. When filling in for a living legend – one whose enduring career makes us believe that times can always be good – it is this kind of bold play that honors the man absent while making his absence bearable. Jeter is set to return soon after the All Star break. When he does, and leads the Yankees onto the field for the first time this year, the fans will settle back into the comfort of knowing things haven't changed. But in the meantime, they should appreciate the effort that Nix is putting forth in thankless position.
Original Story:
http://feedproxy.google.com/~r/isport...
THE BACKYARD
BEST OF MAXIM
RELATED ARTICLES
How do you feel about the current stats of the New York Yankees?  New York Yankees (Photo credit: Keith Allison) After going 4-6 and falling to third place in the AL East, you'd be hard pressed to find a Yankees fan distraught to have the team back home after this West Coast road trip. Getting swept by the Athletics and losing two of three to the Halos, the Yankees are now 8-11...
Here's an update on both injured Yankees via Bryan Hoch:The Yankees placed first baseman Mark Teixeira on the 15-day disabled list Tuesday with inflammation in his right wrist, and are hopeful that the minimum 15 days will be enough for Teixeira to calm his wrist down. He said that it affects him most when hitting left-handed, and that allowing it time to heal should help him...
New York Yankees' pitcher Michael Pineda continues to make strides on his rehab assignment and will make his next Minor League start on Thursday for Class A Advanced Tampa. As reported by Bryan Hoch of MLB.com, "Yankees general manager Brian Cashman said that the 24-year-old is expected to throw about 80 pitches in the outing against the Blue Jays' Florida...
McCann looks at a ball (Photo credit: rjcox) When plan A fails there is always plan B….right?  Correct. How does this relate to the current state of the New York Yankees? Well, I think it is about time for Yankees to look beyond their All-Star disabled list (DL). The hope that Jeter, A-Rod, Granderson, Youkilis, and Teixeira will ever be healthy enough to play at the level expected...
Kevin Youkilis' days in pinstripes could be over. Youkilis will undergo back surgery on Thursday, and he is expected to miss 10-12 weeks, according to the Yankees. Youkilis, who was placed on the disabled list on Friday, needs surgery to repair a herniated disc. The 34-year-old played all 18 innings in a marathon loss to the Athletics on Thursday, and he was subsequently placed...
There has not been a larger focus on the Yankees' minor league system in recent memory as there is throughout this 2013 campaign and especially into next year's season.New York is riddled with player's in their walk year, including: Robinson Cano, Hiroki Kuroda, Andy Pettitte, Phil Hughes, Joba Chamberlain, Curtis Granderson and Mariano Rivera. Players like Ichiro Suzuki and...
The Yankees seem to be getting a little long in the tooth. (Photo credit) Even when the Yankees lose, they win. They lost the best shortstop of all time to the 60-day disabled list at the beginning of the season. They lost one of the best hitting infielders of all time to the 60-day disabled list at the beginning of the season. They lost one of their best power hitters to the 15...
ANAHEIM, Calif. New York Yankees closer Mariano Rivera began his Hall of Fame career in 1995 against the California Angels at Anaheim Stadium. He picked up the first of his 632 career saves 51 weeks later against the Angels at the same ballpark. And if Rivera goes through with plans to retire after this season, one of his most dramatic saves ever came yep, against the Angels at...
The Yankees have announced that Kevin Youkilis will have back surgery Thursday. He will be out a minimum of 10-12 weeks. Effectively, this ends his brief career with The Evil Ones. 
Back in the 1980s, when the New York Yankees were in a championship drought, there was one player most fans were inevitably drawn to. The gritty first baseman with the thick eye black. The guy who crouched low and then uncoiled that sweet, powerful swing from the left side of the plate. Donnie Baseball. During a rare down period for baseball's most successful franchise, Don...
For eight innings on Sunday, all was going right for the Yankees. CC was dominating, the offense was finally producing more runs than a taco bell, and overall, everything just seemed to be going their way. But with just three outs left, all hell broke loose. A double by Mike Trout and a walk to Albert Pujols cut Sabathia's 9th inning short, keeping him from going to distance....
The game between the Los Angeles Dodgers and New York Yankees has been postponed by rain, delaying the renewal of their old October rivalry. The game was called Tuesday night about 30 minutes before the scheduled first pitch. It will be made up as part of a day-night doubleheader Wednesday, with start times of 1:05 p.m. and 7:05 p.m. A star player and fan favorite when he was captain...
Yankees News

Delivered to your inbox

You'll also receive Yardbarker's daily Top 10, featuring the best sports stories from around the web. Customize your newsletter to get articles on your favorite sports and teams. And the best part? It's free!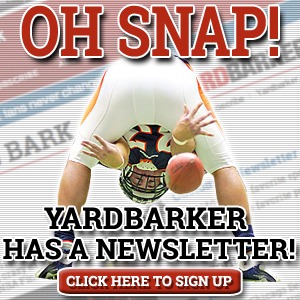 Latest Rumors
Best of Yardbarker

Today's Best Stuff

For Bloggers

Join the Yardbarker Network for more promotion, traffic, and money.

Company Info

Help

What is Yardbarker?

Yardbarker is the largest network of sports blogs and pro athlete blogs on the web. This site is the hub of the Yardbarker Network, where our editors and algorithms curate the best sports content from our network and beyond.