Found March 22, 2013 on ChadMoriyama.com:
The legend of Yasiel Puig continues to grow, and speculation that he will start with the year with the Dodgers went from 0% just a week ago to … something non-0% recently, though the long-term question remains where he'll end up playing for the team even if he does live up to the hype. Sure, Carl Crawford is out for a week or two (or a month) and he could get injured again, but it's no guarantee. Plus, A-Gon is anchored at first, so no moving Andre Ethier there. So maybe a trade, right? So do the Dodgers, though the decision on Puig involves enough people that it can't take place in the keep-your-25-best vacuum. Crawford's return from Tommy John surgery complicates things. If he is ready April 1 for the season opener against the defending champion Giants, Puig is far less likely to stay. The Dodgers want him to play every day. Their current outfield of Crawford, Matt Kemp and Andre Ethier have contracts worth a combined $387 million. "We've got a pretty sexy outfield even without him," Dodgers starter Zack Greinke said. Indeed, though freeing up a spot for Puig by trading Crawford or Ethier is a possibility. One of the great advantages of the $7 billion local-television deal the Dodgers signed this offseason is paying the freight for trading partners in exchange for a greater haul of talent. Which means that if the Dodgers find a shortstop or third baseman they like – because Luis Cruz and Juan Uribe aren't exactly bright spots for the highest-paid team in the history of professional sports – they could offer players and cash. "Send me Ethier and $85 million," said one GM, referring to the amount owed on the right fielder's five-year contract, "and I'll give you whoever you want." Basically the beginning of this then: No matter how much money a team has, there are limited roster spots, and the more the team invests big money in players they might not really want, the harder it is to move them to teams who DO care about money without operating at an extreme loss … and really horribly stupid. Perhaps the scarier thought though is that the Dodgers might actually be willing to do something close to what's proposed by the opposing GM because if Puig is as good as advertised, they might not have a choice.
Original Story:
http://feedproxy.google.com/~r/ChadMo...
THE BACKYARD
BEST OF MAXIM
RELATED ARTICLES
Javy Guerra has been optioned to AAA after a rough Spring in which he dealt with injury and has been limited to just a couple of appearances in-game. The Dodgers have a stacked pen and with Guerra's injuries and struggles at times last year he was going to have to excel during Spring Training in order to secure a spot on the Opening Day roster. Tony Gwynn, Jr. has also been assigned...
Hyun-Jin Ryu pitched at Camelback Ranch on Sunday -- the last day of my spring training trip. I was lucky enough to see him on that day. While it started off rough, he ended up throwing a gem (by spring training standards). Ryu gave up a run on three hits in the first inning, with little help from his defense. Luckily for Ryu, Adrian Gonzalez hit a 3-run home run in the first...
As news broke this morning of Hanley Ramirez's injury (out at least eight weeks), the reality of Juan Uribe remaining with the club became a virtual lock. Manager Don Mattingly already said Luis Cruz would take over at shortstop for Ramirez, which makes a little sense, I suppose. But I'd rather see Dee Gordon take it and have Cruz remain at third base. Gordon, who...
The Los Angeles Dodgers wanted Hanley Ramirez to be their Opening Day shortstop. That is not going to happen, because of an injury he suffered during the World Baseball Classic. Ramirez will have surgery on his right thumb Friday and will miss about two months, the Dodgers announced Thursday. "The MRI on Hanley Ramirez's right thumb indicates that the ligament that stabilizes...
WORLD BASEBALL BUMMER
Dodgers shortstop Hanley Ramirez reportedly will miss eight weeks after tearing a ligament in his right thumb during the World Baseball Classic.
In the This Is My Nightmare series, we'll take a look at what the absolute worst case scenario for each team would be in 2013. Think of it as the negative complement to our You May Say I'm A Dreamer series that we'll be running during our preview series. The nightmare has already begun for the Dodgers with the news that Hanley Ramirez will miss eight weeks after...
It's really tough for a player with five years and more than $100 million remaining on his contract to be labeled as an x-factor. But when that player is just two seasons removed from a seven win season and has amassed less than one win over the last two seasons...yeah, he's got a chance to make a bit of an impact going forward. My x-factor for the Los Angeles Dodgers...
Shortstop Hanley Ramirez of the Los Angeles Dodgers suffered a torn ligament in his thumb and will miss the next two months of action. His blow not only impacts the Dodgers, but fantasy owners as well at a position that is often times hard to find top tier talent at. For his fantasy baseball ranking, I knocked him down from the second ranked shortstop to number 11 and he now has...
TUCSON, AZ The Los Angeles Dodgers and Chicago Cubs wore their traditional blue and white uniforms as they played an exhibition game, won by Los Angeles, 5-4, with a crowd of over 11,000 in attendance. The mood, however, was colored Green and the real winners were the memory of a little girl who had her life taken away in a most brutal and senseless fashion, and the city of Tucson...
On this episode of "Dugout Blues," Jared Massey (Dodger Diamond) and talk about the recent injury issues and one prospect who's dominating. This is another abbreviated episode. We'll return to a full show for episode 30. Hanley Ramirez is out for at least eight weeks with a torn ligament in his thumb. That's going to hurt the offense, but could improve...
With a rebuilt roster and a payroll soaring well beyond the $200 million mark, the Dodgers are loaded up to either make a World Series run or become one of the biggest high payroll busts in history. Which will it be? Dodgers on TOC End of Season Postmortem 2013 Season Preview You May Say I'm a Dreamer (12:00 PM) 2013 Burning Question (1:30 PM) This Is My Nightmare...
I find it fascinating that few bring up the 1941 Brooklyn Dodgers when talking about the series of Dodgers teams that lost to the New York Yankees in the World Series. The Dodgers won the NL Pennant in 1947, 1949, 1952, 1953, 1955 and 1956, losing to the Yankees in 5 of the 6 World Series. When those Dodgers teams are talked about, much is said about Gil Hodges, Jackie Robinson,...
Dodgers News

Delivered to your inbox

You'll also receive Yardbarker's daily Top 10, featuring the best sports stories from around the web. Customize your newsletter to get articles on your favorite sports and teams. And the best part? It's free!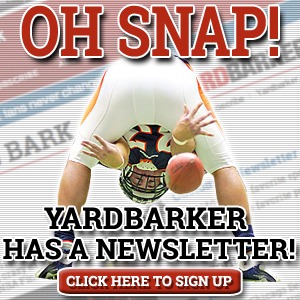 Latest Rumors
Best of Yardbarker

Today's Best Stuff

For Bloggers

Join the Yardbarker Network for more promotion, traffic, and money.

Company Info

Help

What is Yardbarker?

Yardbarker is the largest network of sports blogs and pro athlete blogs on the web. This site is the hub of the Yardbarker Network, where our editors and algorithms curate the best sports content from our network and beyond.