Found June 03, 2013 on ChadMoriyama.com:
Behold! My skills! To reenact the scene where Mo Vaughn tackles George Bell to protect Aaron Sele. Seriously though, apparently something like this is likely to happen, but should it? While I understand the emotions as much as anybody, the Dodgers will unfairly never get actual retribution for Carlos Quentin being an idiot, and getting Stephen Fife ejected in the first inning is only going to destroy an already weakened pen. Hardly seems worth it for a team that has enough problems as it is. —– Speaking of Yasiel Puig, I was going to write a serious piece about him, but I feel that Jon Weisman basically covered all the bases on this. It never ceases to amaze me how many baseball fans act as if they've never seen a player slump, much less struggle to recover from surgery. They expect straight lines. I don't know why, because in baseball, they don't exist. The only straight lines in baseball go from home plate toward the right-field and left-field corners. Even Mike Trout got the derisive whispers this past April. Imagine. There's no mistaking how difficult it has been to watch Kemp play this year. I don't know exactly what his future holds, but I don't see any reason to believe that what we've seen this season is the best we'll see from him for the rest of his days. I don't understand how baseball fans can have such short memories, when it's a game built on lasting ones. Kemp made a name – and a nickname – for himself out of the gate in 2006, hitting seven home runs in his first 15 games. A month later, he was back in the minors. I'm excited about Yasiel Puig's arrival – curiosity, hope and the potential of witnessing the birth of greatness are a good combination to have when tuning into a game, especially when your team is in last place. But I pray I'm not alone in anticipating how uneven the road might be, not only over the coming days, but also weeks, months and years. It doesn't pay to be too hopeful or too cynical. Life is jagged lines, and baseball is life. Basically, this. The whole thing is on point. If it seems like I'm trying to throw water on this fire, it's because I am. And it's not because I'm not as excited as you. Heck, the fact that I even have to say that seems comical in retrospect. I ranked Yasiel Puig as my top prospect heading into 2013. I think he has an All-Star ceiling and a solid chance to get there. Years ago, I drew criticism for being too prospect obsessed. Yet now, because I want to defend him against the hype that has led to borderline delusional expectations of him, I'm the illogical one? Please. The comparisons to Mike Trout and how he can come up and destroy the league have already started, and those expectations are far more likely to destroy him than any giddy but rational behavior fans could implement. Essentially, I'm hyped and concerned at the same time. While I'm arguably even more exited than most of you about him, I'd rather not encourage the masses and then have people turn on him immediately if he swings and misses a bunch or makes a flurry of silly mental errors, both of which he can be prone to do. Whatever happens, my GIF machine is ready and I'm at attention to be entertained. I just hope people are able to keep their minds in check for once in the middle of it, though I'm afraid that'll be asking too much, as usual.
Original Story:
http://feedproxy.google.com/~r/ChadMo...
THE BACKYARD
BEST OF MAXIM
RELATED ARTICLES
Yasiel Puig debuted for the Dodgers today, you may have heard. He did things. Guy is a GIF waiting to happen. Here are all of his plate appearances, in order: Also, he's a bit fast: Oh yeah, and that throwing thing? He can do that: Where's The Throw™, you ask? Right here.
Yasiel Puig homered twice and drove in five runs in his second major league game, helping the Los Angeles Dodgers rally for a 9-7 victory over the San Diego Padres on Tuesday night. The 22-year-old Cuban defector made a curtain call from the top of the dugout steps after his second homer, a two-run shot with two outs in the sixth, when the Dodgers scored three runs to snap a 6-all...
WELCOME TO THE SHOW
With Matt Kemp still on the DL, the Dodgers have decided to call up 22-year-old Yasiel Puig in hopes of giving their offense a bit of a boost.
Seeking an offensive spark for a team mired in last place and dogged by injuries, the Los Angeles Dodgers are turning to prized prospect Yasiel Puig. He was called up on Monday from Double-A Chattanooga, where he hit .313 with eight homers, 37 RBIs and 13 steals in 40 games. His batting average and a .599 slugging percentage led the Southern League. The 22-year-old outfielder was...
Los Angeles Dodgers rookie  outfielder Yasiel Puig electrified  the Dodger Stadium crowd blasting his first major league home run, an estimated 439 foot bomb to left-center field. It was a  three-run shot that tied the game 5-5. Puig had doubled in his first at-bat, then added his second major league home run with a two run shot in the bottom of the sixth to right field to put...
Dodgers top prospect Yasiel Puig had quite an encore after his memorable debut, providing a much-needed spark to the club., http://juicedsportsblog.com/sports-news/news/puig-adding-to-his-growing-legend
  (credit: Christian Petersen/Getty Images) All I can say is he is incredible!  Dodger fans finally have something to cheer for.  They may have just landed their own version of Mike Trout.  The best thing that has happen to the LA may be the injuries to Matt Kemp and Carl Crawford. Los Angeles was force to call for some help and who better to bring a spark to an under...
The 2013 season has not gotten off to the start that the Los Angeles Dodgers and their faithful fans had hoped for. The first two full months of the season have been marred by injuries and no one on the roster seems to be immune from this rash of ailments. Let's take a quick look at the list of injuries, the tentative return to play for each guy, and how significant each injury...
The Los Angeles Dodgers have officially promoted the $42 million man calling up top prospect Yasiel Puig. The native of Cuba has been tearing it up in Double A with the Chattanooga Lookouts hitting at a .313 clip with 8 home runs and 13 stolen bases in 40 contests before the promotion. The much heralded 22-year old will make his major league debut on Monday as the Dodgers are set...
LOS ANGELES (AP) -- Eric Stults pitched seven solid innings and the San Diego Padres threatened twice in the late innings. They just couldn't find a way to beat the rival Dodgers. Stults gave up home runs to Adrian Gonzalez and Scott Van Slyke, and rookie Yasiel Puig's pinpoint throw from right field completed a game-ending double play in San Diego's 2-1 loss against...
MLB News

Delivered to your inbox

You'll also receive Yardbarker's daily Top 10, featuring the best sports stories from around the web. Customize your newsletter to get articles on your favorite sports and teams. And the best part? It's free!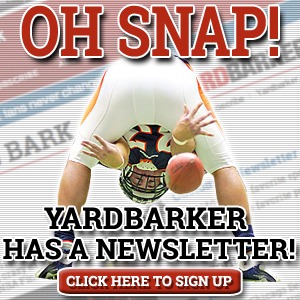 Latest Rumors
Best of Yardbarker

Today's Best Stuff

For Bloggers

Join the Yardbarker Network for more promotion, traffic, and money.

Company Info

Help

What is Yardbarker?

Yardbarker is the largest network of sports blogs and pro athlete blogs on the web. This site is the hub of the Yardbarker Network, where our editors and algorithms curate the best sports content from our network and beyond.