Found December 02, 2012 on Ted's Army:
Every morning, we compile the links of the day and dump them here... highlighting the big storyline. Because there's nothing quite as satisfying as a good morning dump. Free-agent first baseman Adam LaRoche, who hit a career-high 33 homers in 2012 with a strong line of .271/.343/.510/.853 while winning a Gold Glove and Silver Slugger award as both the top offensive and defensive first baseman in the National League, told the Washington Post that he remains extremely interested in returning to the Nationals, but that he and the team have yet to find middle ground on the term of a contract. LaRoche, 33, wants a three-year commitment from Washington, while the Nationals — most recently through a face-to-face meeting on Friday between the first baseman and GM Mike Rizzo — are holding the line at two years. "I think they're really wanting to stick to two years. I'm trying to talk them into lengthening that. To be honest, probably just one year. I'm not looking for four or five. I understand I'm 33 years old," LaRoche told the Post. "I can't say it moved forward. We understand each other a lot more now. I think he understands where I'm coming from. He understands I want to be there, kind of my argument for three years not being unreasonable. So, I don't know." According to the story, LaRoche has also received interest from the Red Sox, Rangers, Mariners and Rays, while noting that "none of those talks [has] advanced past an early stage." WEEI: Hot Stove:Red Sox among five teams interested in Adam LaRoche Well, the news is certainly beginning to pick up. The winter meetings begin tomorrow and new names are popping up more frequently. Some expected, some unexpected. Some I like, some I don't. You get the idea. Now, it is Adam LaRoche. Yeah, the same Adam LaRoche that spend six games with the Sox in '09, who was later replaced by Casey Kotchman. The Sox were one of 3 teams that LaRoche called home that season (PIT, ATL). LaRoche had a what you could call career year last season, and some may think it was convenient that his .271 average, 33 homers and 100 RBI came in a contract year. LaRoche has had 4 seasons with a higher batting average, hit 32 homers in '06, has hit 25 homers in 3 different seasons, and 100 RBI before. So last season was just another good season for the 33-year-old. Almost forgot the Gold Glove and Silver Slugger awards...so it was a slightly better season than the rest. Now let's talk what is important, the dollars. Adam LaRoche made $8 Million last season, which was the highest season salary in his career. Coming off a season like that, all Adam has going against him is his slightly advanced baseball age, and only 43 games in '11 due to injury. Looking for a 3-year deal shouldn't be hard for him, as long as he can prove he is healthy. LaRoche has never missed any extended time as he did in 2011, so that should also be easily convincing to interested clubs. I would imagine that he will get his career payday with whatever team picks him up. I wouldn't be surprised if Adam gets somewhere in the $13-$15 million per year range. That could be a low-ball, especially with a few of the contracts that have already been dished out around the league. If the Rangers are in fact interested, they will be the only other team that would out-bid the Sox if the Nats don't commit to the 3 years he was asking him for. I'm not saying the Sox are going to get in a bidding war, but they will have a ceiling that could be exceeded by the Rangers. If the Sox do advance beyond the early stages, Anything beyond that $13 Million per year may be excessive. That number is less than what some of us were expecting to be thrown at Napoli. When it comes down to the two, I would much rather see LaRoche here than Napoli, I don't care if he is 3 years older. Since no numbers have been thrown into the mix yet, and the certainty that all of those teams are interested, it is hard to guage what the market for LaRoche will be. Again, I hope the Sox do show further interest and eventually make an offer, as long as it is under $15 Million per season. On Page 2, Jonny Gomes is going to play a lot. On Saturday, the Red Sox officially announced the signing of outfielder Jonny Gomes to a two-year, $10 million contract. Gomes, 32, appeared in 99 games for the A's last season, batting .262 with 18 home runs, 47 RBI, a .377 on-base percentage, and .491 slugging percentage.  He appeared in 39 games (25 starts) in left field, three in right field, and served as the designated hitter in 53.  He will primarily play left field for the Sox.  "I see him playing a lot of left field," said general manger Ben Cherington. "We think his bat fits well in the lineup, in the ballpark. Did a lot of work on him and he's developed a really good reputation as a leader in the clubhouse,  a guy that can mentor young players and make an influence. He plays with an edge. He's used to the AL East. So just thought it would be a good fit all the way around." Asked if Gomes will be an everyday player, Cherington replied: "We expect him to play a lot. Exactly how many at-bats that ends up being, that's up to [manager] John [Farrell] and I guess up to Jonny to some degree and how he performs. But he'll have an opportunity to play a lot. We see him as an important part of the team and the lineup." CSNNE: Cherington: Gomes has "opportunity to play a lot" So, have the Red Sox found their left fielder? I guess so. There is not much available out there that will give you much more than Gomes, other than Josh Hamilton. If that is what the Sox think is best, then I am on board. Gomes will certainly contribute more than the likes of a Nava and Kalish, so let's go with it. I can't imagine it would lead to anything worse than the left field contribution in 2012. Related: Globe: Cherington says Gomes will play 'a lot | WEEI: Ben Cherington on Jonny Gomes: 'I see him playing a lot of left field' The rest of the links: Globe: Red Sox still have plenty to do | Red Sox have big plans for Jonny Gomes | Red Sox notes and quotes from Fenway Park | Jonny Gomes wins the press conference | Cherington talks shop before winter meetings | CSNNE: Gomes groomed to be Sox left fielder | Farrell in full preparation mode | Cherington previews winter meetings | ESPN Boston: Lavarnway unfazed by uncertain future | Herald: Salty, Ryan ignore rumors | Boras: I owe debt to Miller | No long-term relationships | Fact: If you used, you lose | Surprises could be in store for Red Sox | WEEI: Ben Cherington on trading starting pitcher: "We have to be open minded"
Original Story:
http://www.tedsarmy.com/blog/2012/12/...
THE BACKYARD
BEST OF MAXIM
RELATED ARTICLES
Left-hander Zach Duke has agreed to a one-year contract to stay with the Washington Nationals. The NL East champions announced the deal with the free agent on Monday. The 29-year-old Duke joined the Nationals as a minor league free agent in March, spending most of last season at Triple-A Syracuse. He was 1-0 with a 1.32 ERA in 13 2-3 innings over eight appearances as a reliever...
Following their acquisition of center fielder Denard Span from the Minnesota Twins, the Washington Nationals are "definitely shopping" first baseman/outfielder Mike Morse, reports Jayson Stark of ESPN. In the wake of Denard Span deal, #Nationals are "definitely shopping Mike Morse a little bit," says AL exec. Could deal Morse & sign LaRoche — Jayson Stark...
The hot stove is burning, and winter meetings start this week. There will be endless rumors of who is signing where and what player is available to be moved. One guy that seems to be on the block, according to multiple sources, is Nats second baseman Danny Espinosa. I'm not so sure he should be. Espinosa certainly comes with his share of problems. Primarily, he led the National...
Left fielder Michael Morse is the Washington Nationals player most likely to be moved, especially if the team re-signs free-agent first baseman Adam LaRoche. Don't be surprised, though, if second baseman Danny Espinosa also is the subject of trade discussions at the baseball winter meetings, which begin in Nashville on Monday. Espinosa, 25, is likely to draw interest from teams...
  Throughout the offseason, The Nats Blog will look back at every player's 2012 season to summarize and analyze his performance, and we'll look ahead to his possible role in 2013. We'll go from #1 Steve Lombardozzi all the way to #63 Henry Rodriguez with about two posts per week until Spring Training. Enjoy. If someone told you that a player who committed 57 errors...
Lidge is ready to retire. (MLB) After several injury-riddled seasons and dealing with the loss of velocity on his fastball, it appears Brad Lidge is hangin' 'em up. Jayson Stark of ESPN broke the news via Twitter that Lidge, 35, will retire. Last season, Lidge was cut by the Nationals after posting an ERA near 10 during his stint there. He was brought in for veteran leadership...
Left handed pitcher Zach Duke agreed to a Major League deal with the Washington Nationals according to Amanda Comak of the Washington Times. Duke, 29, went 1-0 with a 1.32 ERA, 2.51 FIP, 6.6 K/9, 2.6 BB/9 and 0.0 HR/9 in 13.2 innings for the Nationals in 2012. Image by randomduck under the Creative Commons License Agreement.
The Tampa Bay Rays are discussing a potential trade with the Nationals that would send one of the team's starting pitchers, most likely James Shields or Jeremy Hellickson, to Washington in exchange for Mike Morse, Danny Espinosa and possibly more, reports Jim Bowden of ESPN. James Loney and Rays close to one-year deal....Loney would replace Carlos Pena at 1B...also...
When the Washington Nationals shut down Stephen Strasburg in September, most of the collective baseball world felt the doom fall over the team.  Sure, the team wasn't about to admit it.  They were still a damn good team.  But they were missing their ace, and they were heading into the playoffs without him.  Ultimately, the Nats lost in five games in the Division Series....
MLB News

Delivered to your inbox

You'll also receive Yardbarker's daily Top 10, featuring the best sports stories from around the web. Customize your newsletter to get articles on your favorite sports and teams. And the best part? It's free!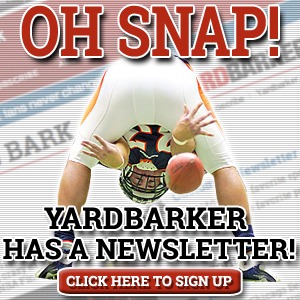 Latest Rumors
Best of Yardbarker

Today's Best Stuff

For Bloggers

Join the Yardbarker Network for more promotion, traffic, and money.

Company Info

Help

What is Yardbarker?

Yardbarker is the largest network of sports blogs and pro athlete blogs on the web. This site is the hub of the Yardbarker Network, where our editors and algorithms curate the best sports content from our network and beyond.