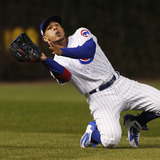 The Seattle Mariners have had talks with free agent outfielder Jon Jay, according to a report.MLB.com's Mark Feinsand says the two sides are talking and there is some momentum. Jay, 32, is a versatile outfielder known for posting fairly high batting averages but with little power. He's a .288 career hitter yet only has 33 career home runs in eight seasons.Jay spent most of his career...
Editor's Note: This is the first of BP Wrigleyville's offseason player profiles. Over the next few months, we'll review every player on the Cubs' roster this year one-by-one and look ahead at their potential roles next year. First up: Jon Jay. Position CF/LF 2017 Stats Avg OBP SLG TAv FRAA VORP WARP .296 .374 .375 […]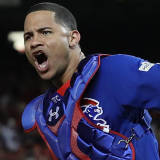 The tables have turned in the upcoming edition of the National League Championship Series. In a rematch of last year's NLCS pairing, the parallels are stunningly consistent. A year ago, the Cubs stood supreme as baseball's best team, and held the home front down for the series. Now it is the Dodgers who are the beneficiaries of pole position in the NL, and are preparing to take on...
If you had said two years ago that Kyle Hendricks would be starting the NLDS opener and throwing seven innings of two-hit shutout baseball against one of the most potent offenses in the National League, most people would have said you were crazy.Now in 2017, Hendricks as a Game 1 starter is a bona fide reality. After winning the ERA title in 2016 and shining in the 2016 postseason...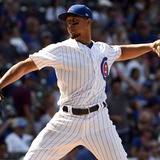 The Chicago Cubs were getting blown out by the Milwaukee Brewers by enough of a margin on Thursday that Joe Maddon decided to let one of his position players close out the game. And sure enough, Jon Jay ended up pitching better than many of the team's other pitchers.Jay, who typically plays outfield for the Cubs, pitched the top of the 9th inning in an 11-2 loss. He threw 16 pitches...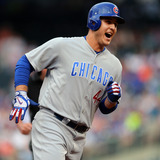 Anthony Rizzo responded to his first game atop the Cubs' batting order in impressive fashion.Joe Maddon has been searching for a leadoff hitter all season. So far, Javier Baez, Ian Happ, Jon Jay, Kyle Schwarber, Matt Szczur, and Ben Zobrist have each manned the top spot. On Tuesday, it was Rizzo's turn, and it didn't take long for the decision to pay dividends. The first baseman...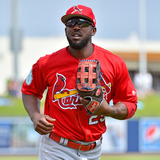 There were a lot of crazy moves made this offseason. The free agency pond was full of talent which sounds great, but sometimes too much of a good thing can be frustrating.Still, guys found new homes. Some were reunited with old teams and hope to repeat a power-surged season and a few guys may end up retiring with the team that signed them this offseason.While not every free agent...
It probably says something about what the Chicago Cubs think of Jon Jay that they jumped to sign him before the month of November even came to a close. A signing that was likely the official signal toward the departure of Dexter Fowler, Jay could prove to be a significant contributor in a situation that figures […]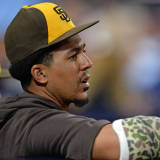 The defending World Series champs worked quick to replace an imminent departure from their title winning squad. The Chicago Cubs reportedly signed veteran outfielder Jon Jay to a one-year, $8 million contract on Tuesday. Cubs agree to terms with OF Jon Jay on 1-year, $8 million contract. — Mark Gonzales (@MDGonzales) November 29, 2016 Jay, 31, will likely be called on to replace...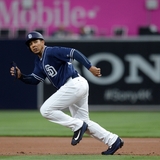 A bad season for the San Diego Padres got worse on Tuesday when the club placed Jon Jay on the disabled list with a broken forearm. Alex Dickerson headed to San Diego & Jon Jay to the DL with a broken forearm. #padres. Update with Andy Green at 12:35. — Darren Smith (@DSmithShow) June 28, 2016 This is bad news for the Padres on two fronts. One is that Jay was having a nice...
MORE STORIES >>
Cubs News

Delivered to your inbox

You'll also receive Yardbarker's daily Top 10, featuring the best sports stories from around the web. Customize your newsletter to get articles on your favorite sports and teams. And the best part? It's free!